Friday, June 6, 2014

Nairobi, Kenya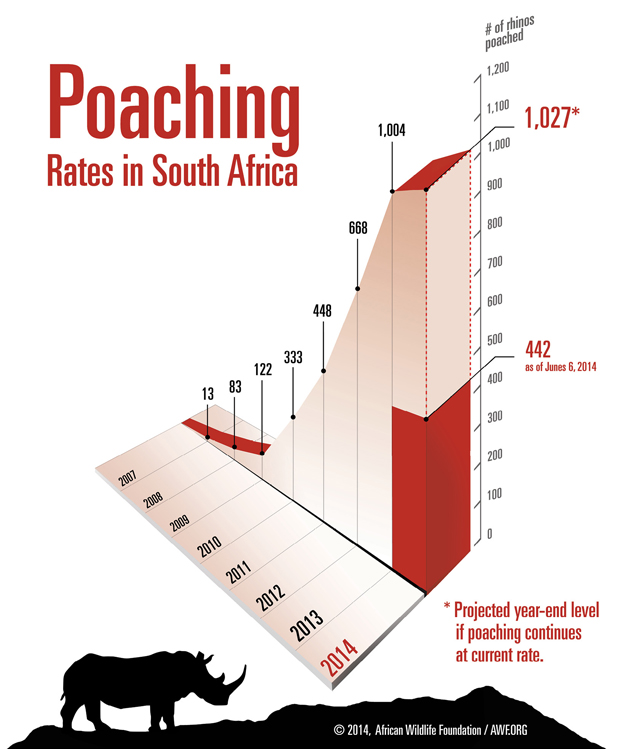 Rhino poaching in South Africa has increased exponentially since 2007, when a total of 13 rhinos were killed. As of June 6, 2014, 442 rhinos have been killed by poachers.
The announcement comes as South Africa—the epicenter of the rhino poaching crisis—is on track to lose an estimated 1,027 rhinos by the end of the year, according to the African Wildlife Foundation.
The Vietnamese Ministry of Health recently confirmed that rhino horn has no medicinal effect when used to treat cancer, a declaration the African Wildlife Foundation (AWF) commends and says comes at a critical time when governments in Africa are battling rhino poaching and rhino horn trafficking. As of June 6th, 442 rhinos have been poached in South Africa—a rate of almost 3 killed per day that puts the country on course to lose an estimated 1,027 rhinos by the year's end. South Africa, the country with the largest population of African rhinos, is at the center of the rhino poaching crisis.
"Vietnam's Ministry of Health deserves credit for addressing this falsehood straight on," said Dr. Patrick Bergin, CEO of African Wildlife Foundation. "It is an implicit denunciation of illegal rhino horn trafficking and a good first step in educating consumers that their demand comes with severe, potentially long-lasting consequences on Africa's rhino population." Bergin notes the announcement comes none too soon, with rhino poaching in South Africa having risen exponentially in the past few years. Where only 13 rhinos were said to be poached in South Africa in 2007, by the end of 2013, more than 1,000 had been poached.
Vietnam is considered to be one of the world's largest markets for rhino horn, due to a growing middle class and false beliefs that the horn has medicinal properties that reportedly cure everything from cancer to hangovers.
AWF is already working on reducing demand of rhino horn in Vietnam and elsewhere. On World Wildlife Day this past March, the conservation group launched the "Stop Using Rhino Horn" campaign in Vietnam with partners WildAid and local NGO CHANGE. The demand-reduction campaign uses television, radio, online, and print advertisements to urge people to stop consuming rhino horn. Vietnamese celebrities—including musician Quoc Trung, producer–MC Anh Tuan, actresses Hong Anh and Minh Trang, and Miss Vietnam Thu Thuy—have lent their star power to the effort, and a number of Vietnamese TV, radio stations, and media agencies have signed commitments to support the campaign.
The "Stop Rhino Horn" campaign has also garnered the support of other Vietnamese officials. In his keynote speech at the March campaign launch, Vice Minister of the Ministry of Information and Communications Dr. Truong Minh Tuan clearly stated: "We are committed to support this meaningful campaign by using our communication channels to change behaviors and educate the public on laws related to endangered species, and join with international communities in saving these species for an ecologically balanced Earth."
AWF is further working policy channels to decrease rhino horn and other wildlife demand. It has partnered with the Aspen Institute to facilitate a series of discussions on wildlife trafficking with influential businesspeople in Africa and China. Additionally, as a member of the U.S. Advisory Council on Wildlife Trafficking, Bergin is co-chairing the subcommittee on awareness and demand reduction and working with other Council members to share recommendations on combating global illegal wildlife trafficking.