Wildlife economies: What are they and how do they impact conservation?
Wildlife economies: What are they and how do they impact conservation?
By Kaddu Sebunya | May 6, 2020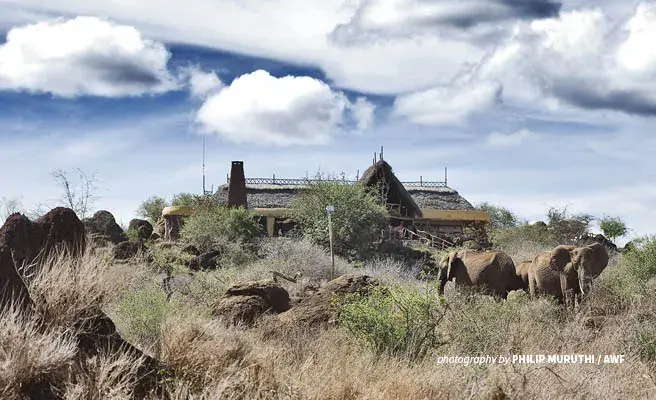 About the Author
Kaddu Sebunya has been chief executive officer since January 2019, after serving as the AWF President beginning in January 2016. Kaddu has over 20 years of conservation experience at the grassroots, national, and regional levels in the US, Africa, and Europe. Today he leads the organization ... More
An analysis of COVID-19's impact on conservation — and especially African conservation – is not complete without considering the economic ramifications this pandemic has on the wildlife, wild lands, and people who, typically enjoying the benefits of a wildlife economy, are financially reliant on the tourism industry.
African Wildlife Foundation's CEO Kaddu Sebunya sat down to discuss the unintended – and unavoidable – consequences brought by COVID-19 and the sudden drop in tourism. This interview has been edited for length and clarity.
What does the term "wildlife economy" mean?
Joyce Msuya, Assistant Secretary-General of the United Nations and Deputy Executive Director of the UN Environment Programme brilliantly summarized wildlife economies and their benefits during the Africa Wildlife Economy Summit: "A sustainable wildlife economy benefits people and nature, using habitats and wildlife in an ecological, economic and socially sustainable way," she said. "When communities living closest to wildlife have a clear role and stake in managing nature, they have a stronger incentive to conserve it."
It is important to bear in mind that a wildlife economy only works if it is sustainable for people and nature. Currently, too many people across the world have an unsustainable relationship with nature.
The current pandemic which is believed to have started with wildlife is a timely example of this unsustainable relationship. And unfortunately, the lesson learned from COVID-19 is a hard one: Wildlife should be protected in the wild and people should treat wildlife and wildlands as essential for human survival.
In what way is a tourism-based economy considered a wildlife economy?
Much of the tourism industry — particularly nature tourism and ecotourism – is also complemented by conservation and relies directly on wildlife and/or wild lands for survival.
In Africa, these enterprises are built on Africa's natural landscapes and wildlife. The value of these businesses exists far beyond a company's bottom line. They actively contribute to not just the company's finances, but also, even more importantly, they contribute revenues that drive wildlife protection, local economies ensuring people benefit from wildlife, and habitat protection.
Why is COVID-19 uniquely devastating to Africa's tourism industry?
COVID-19 is affecting millions of industries globally, with tourism being one of that is particularly badly hit. In response to the coronavirus, people around the world are practicing social distancing. This means airports, national borders, and entire countries have been placed on lockdown, bringing tourism to a sudden halt which will take months to recover from.
In 2019, tourism contributed USD $8.9 trillion to the global GDP and was responsible for over 300 million jobs. COVID-19 is devastating to the tourism industry as a whole, with the world now expected to lose over 100 million tourism jobs due to the pandemic. In Africa the loss will be compounded. Tourism is one of the primary economic drivers and areas for job growth on the continent. In fact, during the 2007-2008 global financial crisis, Africa was the only region that continued to see growth in tourism.
The impacts on the continent are devastating. The African continent is the second-fastest-growing tourism region in the world, and tourism accounts for about 8.5 percent of the continent's entire GDP and roughly 24 millions jobs.
Then, when you look at nature-based tourism, it becomes even more devastating.
What does this decline in tourism mean for African conservation?
When looking at the loss of revenue resulting from this sudden halt in tourism on the African continent, it is critical to consider the impact even beyond Africa's economy. The downstream casuality will prove detrimental to the continent's wildlife and wildlands.
What many people don't understand is that the loss of tourism has the potential to wipe out entire communities, including the surrounding wildlife and landscapes as well.
The drastic decline in tourism revenues is a twofold threat: it endangers people who benefit and/or profit from tourism enterprises and it endangers the continent's natural resources (wildlife and wild lands).
Nature-based tourism often goes hand-in-hand with conservation. As one of the primary businesses built on Africa's wild lands and wildlife, tourism drives jobs for community members and significant contributions to regional economies, and revenues from safaris and other travel-related industries provide critical funding for wildlife protection and protected areas management.
Africa is home to 8,400 protected areas. What we must realize is even while we are fighting to protect habitat and resources found outside of national parks and other protected areas, we are simultaneously fighting to provide support and capacity to already underfunded protected areas — which are at risk of running out of funds.
A 2018 study, which AWF was involved in, analyzed the costs needed to just secure lions in protected areas and found that protected areas were underfunded to the tune of up to USD $1 billion dollars — translating to 90 percent of these protected areas not having sufficient funding to secure their vulnerable lion populations.
Additionally, as a result of the travel restrictions, we may experience a short-term decline in wildlife trafficking, but poaching, on the other hand, has the potential to explode. Wildlife authorities, conservancies, and national parks, that rely on revenue from tourism to pay their rangers to run anti-poaching operations, have now lost their source of revenue. This means that most governments and private operators will not be able to cover the cost of traditional conservation of protected areas, endangering both wildlife and livelihoods.
Tourism is a financial asset to the communities and areas that reap the economic benefits of nature-based tourism, either through employment or from fees paid by the lodges as rental fees for the land. These communities have a strong emphasis on tourism enterprises and depend on what we call a "wildlife economy." Without tourism, they may not be able to make a living and fund nourishment, housing, schooling, and other basic human needs, risking their health and the wellbeing of their families.
These communities are also good stewards of their natural resources. They know both the intrinsic and financial value of wildlife and wild lands. A sudden loss in tourism revenue means less funding for direct conservation activities, but it also means that people will be struggling to meet their basic needs which could turn to people to unsustainable livelihoods — bushmeat hunting, extraction, deforestation, or poaching to name a few. Our biggest worry now is that gangs likely to capitalize on this situation and recruit desperate local communities, rangers, and tour guides and with their knowledge of the bush and the animals many will be very good at it. While this is a worst-case scenario, it is a possibility if people are left without any alternative. If this happens, we also risk losing these current environmental stewards and conservation advocates who are raising the next generations of conservationists.
One of African Wildlife Foundation's key goals is to ensure human activity and development are sustainable and can be mutually beneficial. AWF pioneered community ownership of wildlife-based luxury lodges over two decades ago. And while a core focus has been to develop sustainable ecotourism-based enterprises, we also ensure communities are set up to be sustainable for the long term which includes sustainable livelihoods for communities and sustainable conservation programs. A focus on sustainable livelihoods, ensures we are always considering the long-term and empowering communities to develop diversified livelihoods which while being environmentally sound also ensures communities do not risk financial ruin when a particular industry takes a hit.
What is an example of a region or community successfully built around a wildlife economy that will be affected by the sudden nature tourism decline due to COVID-19?
In Rwanda, 15 percent of the country's GDP comes from tourism and travel-related industries. In 2018 alone, over 15,000 mountain gorilla permits — worth USD $19.2 million — were issued by the Rwandan government to tourists looking to track the gentle giant and experience it up close in Volcanoes National Park.
Unsurprisingly, Rwanda has done a great job of protecting its mountain gorilla population and protected areas. In fact, mountain gorillas are the only species of great apes that are increasing in population. This is due in no small part to Rwanda's sustainable tourism enterprises.
Take for example, Sabyinyo Silverback Lodge developed in partnership with African Wildlife Foundation, Governors' Camp Collection, the International Gorilla Conservation Program, and the local communities, Sabyinyo Silverback Lodge was created to support mountain gorilla conservation and contribute to the local economy.
Governor's Camp Collection operates the world-class lodge, and it is owned by the Sabyinyo Community Livelihoods Association (or SACOLA), which comprises members from the surrounding communities. Through the SACOLA trust, Sabyinyo Silverback Lodge has delivered over USD $3.3 million in revenue since 2006.
Thanks to lodge revenues over the years, SACOLA has widened its scope to reach over 5,800 households in the villages outside Volcanoes National Park. With income from the SACOLA trust via the Sabyinyo Silverback Lodge, the economic pressures to clear forest for small farms or bushmeat hunting for local markets are lessening. SACOLA's socio-economic development initiatives improve all aspects of community life. SACOLA helped create two villages for the area's most marginalized people, particularly genocide survivors, providing new housing to allow them to reintegrate into the wider community on a better footing. The trust also provides general community support including schooling, electricity, water tanks, investment opportunities, healthcare, infrastructure and more.
And the economic benefits have the potential to multiply. Some members of this community are investing their money collectively through Savings and Credit Co-Operatives (better known as SACCOs) administered through community banks. A widow of the genocide is now able to work with other genocide survivors on a poultry business thanks to her investment. This serves the group's household needs but also produces enough eggs and chickens for sale.
Is there anything that can be done to lessen the impact on communities and conservation?
African Wildlife Foundation is always looking forward and ready to pivot under urgent circumstances. We are no stranger to crises. When poaching escalated suddenly about a decade ago, AWF was on the frontlines actively forming strategic partnerships on the ground and deploying our Urgent Response Fund — a USD $10 million dollar commitment of funds deployed to fight the killing, trafficking, and demand of Africa's wildlife and wildlife products. And we have been successful to date. We have seen a drop in the price of ivory, China's domestic ivory ban, stability or increase in all of the populations of rhinos under AWF's protection, and an increase from 44 percent to 91 percent in Kenya's wildlife-crime conviction rates to name a few. We are also continuously working toward our goal of conserving wildlife populations while we tackle the new threat of COVID-19.
We are prepared to fight this crisis. We have the history and proven success, and we have just completed a new, 10-year strategic vision that will speak to a further alignment between Africa's wildlife, its people, and wild landscapes. This vision will guide us as we adapt to the new challenges brought by COVID-19 and beyond as we strive to integrate nature into healthy economies.
Our supporters, partners, governments, and the entire conservation community is poised to counter the threats presented by the pandemic. Africans must lead and advocate for wildlife-friendly policies, governments must ensure there are policies and frameworks that ensure people benefit from wildlife and landscapes — and that wildlife and landscapes are a national priority and won't be underfunded quickly in response to threats like COVID-19. People worldwide should educate themselves on the pandemic in their areas and practice good habitats recommended, or in some cases mandated, by their governments. Together, we can slow and stop the pandemic, and we can also ensure we are knowledgeable about travel advisories and as supportive as we can be, when appropriate, of tourism-related industries. We should also ask our governments to ensure they are responding to COVID-19, providing economic support, and considering their local wildlife populations.
For our part, African Wildlife Foundation is committed to the safety of our staff and partners. AWF will continue to dedicate ourselves to creative solutions with our myriad of partners and dedicated supporters to ensure wildlife and wild lands thrive. We are operational at this time, but we are already preparing for our programs to inevitably be impacted. We are currently doing a project by project assessment, and adjusting work plans accordingly, and we will be communicating with our supporters about programs that may be impacted, but rest assured we are more confident than ever that our emphasis on capacity building and local leadership from the ground up is more promising than ever.
> Show your dedication by taking this pledge in support of protected areas, communities, and wildlife threatened by COVID-19