World Gorilla Day: Silverback Rafiki's legacy lives on
World Gorilla Day: Silverback Rafiki's legacy lives on
By Terry Mukera | September 24, 2020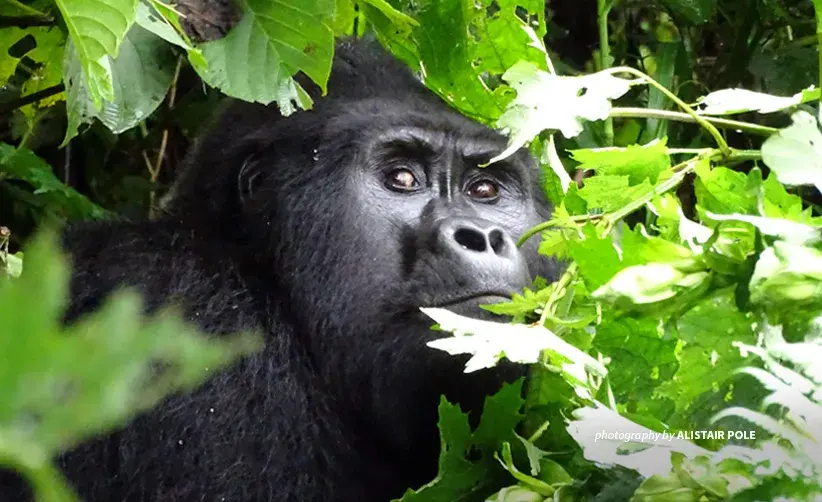 About the Author
Terry Mukera is a former Editorial Associate at African Wildlife Foundation. She developed and wrote articles for AWF's publications like the Travel Africa magazine and other print marketing products like the annual report. Terry is passionate about storytelling and its crucial role in ... More
In the wake of the shocking death of Rafiki, one of Uganda's best-known and most-loved gorillas, conservationists are closely watching the Nkuringo gorilla group in Bwindi Impenetrable National Park.
In June, Rafiki was speared by a poacher who later admitted to hunting pig and antelope in the park. He said he killed the gorilla in self-defense when the silverback charged. The Ugandan man has since been sentenced to 11 years in prison, while three men who entered the park with him are awaiting trial.
The death of the only silverback in the Nkuringo clan of 17, which Rafiki led since 2008, left the mountain gorilla group unstable, with the possibility of disintegration. Experts must look to past incidents for clues about what could be next.
When a silverback dies, group members may disperse into other groups. "Many times, solitary silverbacks or another group will interact with a group that has lost a silverback," says Craig Sholley, Senior Vice President at African Wildlife Foundation and a mountain gorilla expert. "Then, you've got a lot of dynamic tension. If there are infants in the group that has lost the silverback, there's a strong possibility that an intervening silverback who's looking to take over will engage in infanticide."
The death of their infant(s) causes mothers to stop suckling and go into estrus, making it possible for the intervening silverbacks to mate with that female and reproduce.
Having a new silverback that is not habituated to tourists (accustomed to their presence) would be a significant setback. The Nkuringo group was the first in the park's south to be habituated, and their presence aided Uganda's gorilla tourism. (Bwindi has four sectors, North, South, East, West. There are habituated mountain gorillas in each.) If Nkuringo is suddenly headed by an unhabituated or "wild" silverback, the gorillas may not want to come into view of tourists or other humans.
But there is a semi-habituated group in the south, said Oscar Plans, group general manager at Wildplaces Africa, which owns nearby Clouds Mountain Lodge, a project supported by AWF. "By the time tourism is coming back to Uganda, there will probably be a new fully habituated gorilla family," he says.
Since AWF filmed this story, Nkuringo's eldest blackback gorilla, Rwamutwe, has assumed leadership, and the group has stabilized. Rafiki's family visits his gravesite in the forest regularly.
How silverback deaths can impact mountain gorilla families
Shinda, died November 2008
In this case, the group split into two, one led by 21-year-old Ugenda and the other by Ntambara, with Ugenda keeping the larger group of 19. Ugenda's group had two other silverbacks, 18-year-old Urugamba and 14-year-old Wageni, and the three collaborated on group protection. At first, Ugenda was the group's central figure, but as time passed, Urugamba began gaining favor. Urugamba's sexual interest in certain females led to aggression between the two silverbacks. He moved about 400 meters away, along with five other individuals. The groups split seven times but reunited no more than a day after each split.
Turakora, died March 2016
Here, the females surrounded 15-year-old silverback Urwibutso instead of 16-year-old Pato. After about 3 to 4 weeks, the situation changed, and the three females came to prefer Pato.
Bwenge, died September 2014
Bwenge succumbed to an injury after a fight with another silverback. As he was the only male in his group, Maggie, an older female, took over for weeks, something the Dian Fossey Fund field staff had never observed before. Maggie guided the group as it traveled and kept them away from lone silverbacks who posed threats.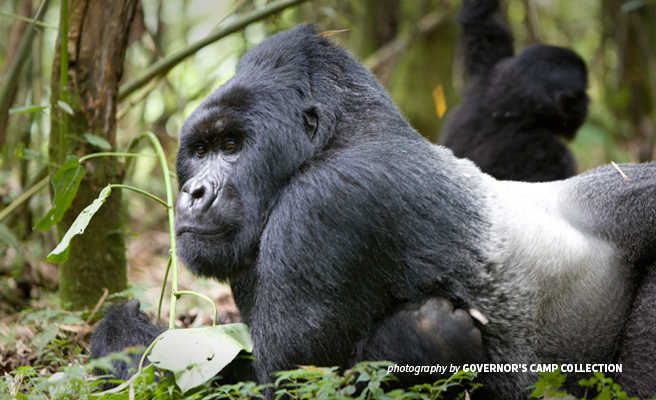 Silverback mountain gorillas lead families in Rwanda's Volcanoes National Park
Protecting mountain gorillas during COVID-19
For almost 60 years, AWF has partnered with communities to ensure they receive direct benefits from national treasures such as the magnificent mountain gorillas and their forests. Rafiki's death highlights the need to continue concerted efforts to protect this endangered endangered great ape. Though mountain gorillas are an unquestionable conservation success, their population is still fragile, at just over 1,000.
Through our COVID-19 emergency response efforts, AWF is investing significantly in Uganda and has recently mobilized additional support for the conservation of Bwindi Impenetrable National Park — and its precious mountain gorillas.
> In honor of World Gorilla Day, join AWF in protecting mountain gorillas and ensuring COVID-19 does not threaten their survival