Eco-guard intergenerational footsteps inspire positive change in DRC
Eco-guard intergenerational footsteps inspire positive change in DRC
By Rachel Emisave | August 3, 2023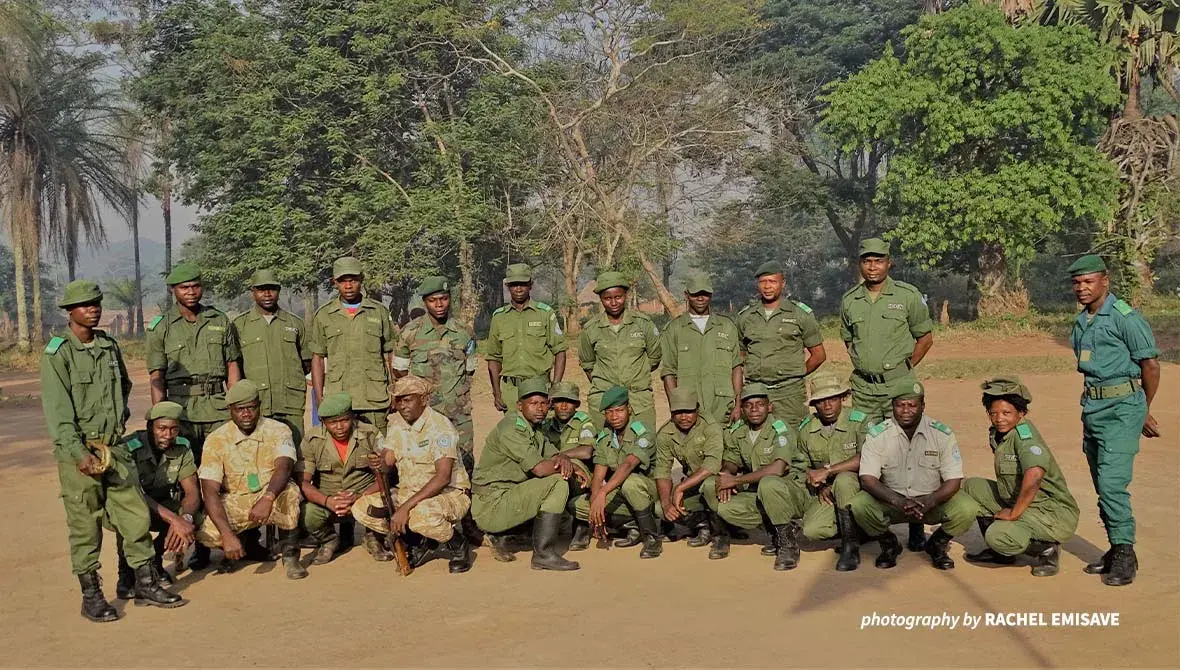 About the Author
Rachel Emisave is African Wildlife Foundation's Communications Assistant based in the Democratic Republic of Congo.
More
"No single dictionary in the world can define an eco-guard better than the valiant hero who, sacrificing his life, defends on behalf of biodiversity," says Romain Kyandoghere, Domaine de Chasse de Bili-Uere Deputy Site Manager. "Trust me, I know what I'm talking about," he continues, raising his shoulder slightly and flashing a confident smile.
Romain is an ex-veteran doctor who, over the past 20 years, has had to leave chicken coops, farms, and ranches behind and move closer to the forest to protect wildlife. During patrols, he supervises junior eco-guards and coaches them on how to deal with community members, while passing on practical knowledge of biomonitoring data collection.
"If I must answer the question, who am I?" Romain reflects, "I would say: The guardian of fauna and flora biodiversity; a person who puts his strength at the service of the planet by ensuring that the degradation of ecosystems is avoided for the good of mankind, fauna, and flora."
Unlike a decade ago, today, the eco-guard profession is as well-known as many others. It is attracting increasing interest, particularly among young people, who are now more aware of both the benefits of nature conservation and the dangers to the planet of neglecting this cause.
AWF honors the impactful sacrifices of eco-guards and their families. Ahead of World Ranger Day, I spoke to these heroes in Bili-Uere Protected Area Complex, Lomako Yokokala Faunal Reserve, and Iyondji Bonobo Community Reserve, asking what drives eco-guards and their families to serve—and why young people are inspired to follow their lead.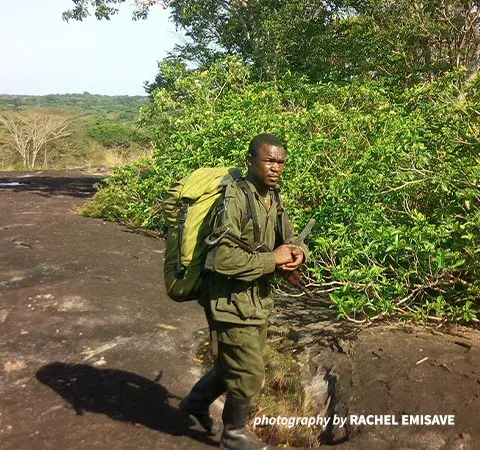 Why young people choose to become eco-guards
"I remember the day I was recruited like it was yesterday," says Gérard Bofeko, Iyondji Bonobo Community Reserve Site Manager. "Unmarried as I was, I had to say goodbye to my family, who were saddened by the choice to work in conservation. Everyone was in mourning the day I left for training, because the eco-guard profession in those days was forgotten and considered a professional blunder."
"It's almost as if I'm dreaming," he continues with a smile, "when I hear young people from the local community of Iyondji repeatedly asking me when the next recruitment will take place, so that they can be eco-guards."
It was to be expected that this interest in the eco-guard profession would be due to the benefits now associated with it. But contrary to all expectations, "This interest has been aroused by the generations who have agreed to don the green military uniform with no thought of lucre, but rather of the future of the land," adds Prince Iyomi, a Domaine de Chasse de Bili-Uere eco-guard.
"For as long as I can remember, I've watched my father wear his outfit regularly, without complaint. Whenever my sisters and I asked him about his job, he said it was the best in the world, and the only one that gave us the chance to understand the complementary nature of flora and fauna. My father used to explain to us that there are animal species that are responsible for the growth of trees, and that eliminating them would lead to deforestation. At that time, I didn't understand anything he said, but today, I know that we owe animals a lot much more than we can imagine," he adds serenely.
Family members also bear the sacrifice of service
Between regular patrols, low pay, and the lack of a mechanism to take care of widows and orphans of eco-guards when they die, this profession is emotionally upsetting for most families, who are still waiting for living conditions to improve, albeit after having peacefully accepted the choice made by their loved ones.
"Could it be a blessing in disguise?" Bernard Iyomi, Domaine de Chasse de Bili-Uere Site Manager, asks. "I don't know how to explain it to this day. My son saw how I struggled to educate his sisters and him; I was away from home for 11 out of 12 months in a year, except when there were special missions, and above all, I didn't want him to make the same choice of profession as me. But since his passion was greater than my prohibition, he chose to become an eco-guard. My impending fear was that my son wouldn't be able to endure what I could, and above all, my greatest concern was that his children would suffer the same emotional imbalance that he had.
"If my wife were still alive today," he adds, "she would surely have recounted how many sleepless nights she spent alone with the children at the hospital, how many times she had to answer the children's questions as to which day their father would attend the proclamation of their final-year results—not to mention the pressure from society, exerted by her friends who mocked her for staying married to an absent husband."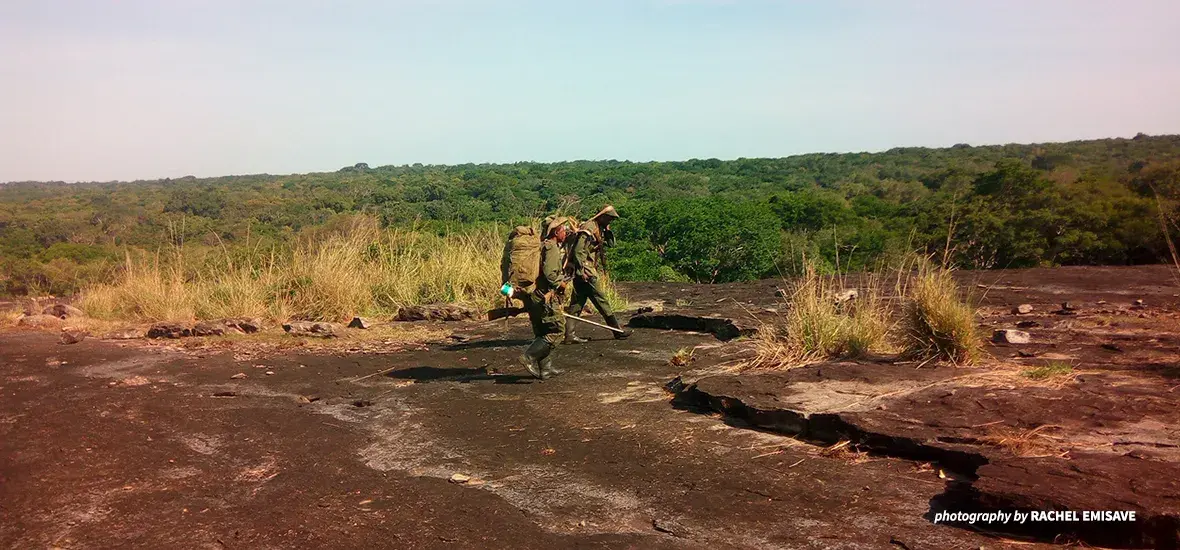 The eco-guard profession today deserves to be recognized for the sacrifices made by the heroes themselves, but also by the heroes behind the scenes, those women and men who support these rangers—not forgetting the children who, without having wished it or wanted it, for the most part have to withstand parental absenteeism as a result of their sacrifice.
The wives and husbands of eco-guards explain that, without constraint, they support their spouses and accept to endure all that goes with it, because most of them see how much conservation means to their partners.
One of the husbands confesses, "It's not easy to watch your wife going on a four-to-ten-day patrol. I understand the merits of their struggle, but also to give our children an example of solidarity in the home, and finally, for the fulfillment of our wives, who find in this profession their perfect happiness."
Supporting rangers in the field and beyond
"I don't regret choosing to be an eco-guard, following in my father's footsteps," concludes Prince Iyomi. "Even if we started the world over again tomorrow, I'd make the same choice without blaming myself for anything. More than ever, this profession gives us the opportunity to contribute to saving the planet and opens many corridors of personal development."
Indeed, with increasing funding dedicated to conservation, eco-guards are open to advanced technologies.
In the Bili-Uere and Maringa-Lopori-Wamba landscapes, the African Wildlife Foundation provides technical support to the Institut Congolais pour la Conservation de la Nature, the national protected area management agency under whose supervision the eco-guards work. Within the framework of this partnership, AWF facilitates the training of eco-guards in the use of data collection equipment, supporting their attendance at forums and in-depth training courses on conservation outside the DRC, while ensuring that they are kept up to date with the latest technological developments.
AWF has provided ICCN with a Landcruiser jeep which allows them to be deployed in the field, drones which they use to capture images in low-risk areas, computers for encoding and analyzing LAB data, equipment to deal with bad weather during patrols, outfits, and a spacious office that allows administrators to work easily.
"Being an eco-guard may not be the highest paying job in the world, but it is worthwhile for its contribution to humanity and worthy of inspiring future generations," Albert Ifasso, an eco-guard working in the Lomako Yokokala Wildlife Reserve, reiterates. "I spend 11 months in the field without visiting my family. Far from complaining, it's an apostolate that I've chosen, that I love, and that I wouldn't exchange for anything in the world".