Unsung heroes: Eco-guards monitoring DRC's biodiversity
Unsung heroes: Eco-guards monitoring DRC's biodiversity
By Rachel Emisave | July 25, 2023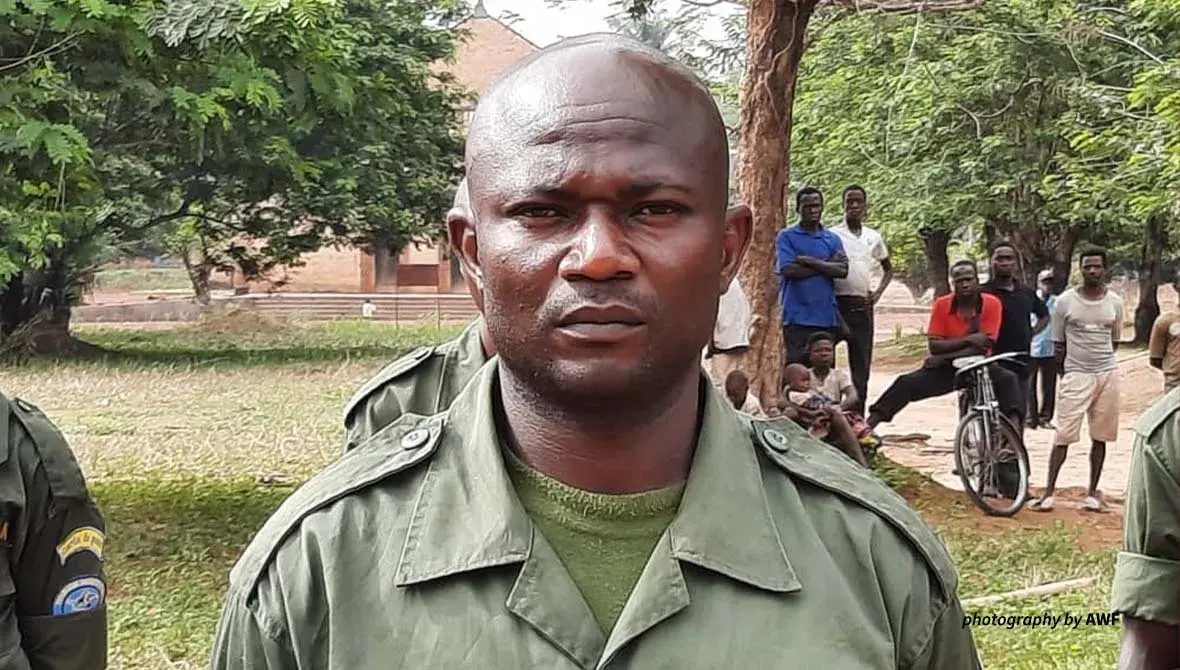 About the Author
Rachel Emisave is African Wildlife Foundation's Communications Assistant based in the Democratic Republic of Congo.
More
In the lead-up to World Ranger Day, the African Wildlife Foundation (AWF) explores and celebrates the stories of selfless men and women who have committed their lives to ensuring wildlife and wild lands thrive while keeping people at the center of conservation where we work.
In the Democratic Republic of Congo, Institut Congolais pour la Conservation de la Nature (ICCN) eco-guards contend with various challenges working in remote landscapes rich in biodiversity. Eco-guards work with conservation partners and local communities day and night to defend against threats. Among their ranks are ecologists who painstakingly assess the conservation status of biodiversity in protected and conserved areas.
Pitchou Mwana Katya is one such eco-guard. He is known for adapting to situations, no matter how difficult they may be. Trained as a biologist, Pitchou Mwana joined the eco-guard corps of the Bili-Mbomu Protected Area Complex in March 2022.
The father of four has devoted his life to ecological monitoring research for the past ten years. Conservation has defined who he is; it is a constant motivation for him to live up to his full potential daily.
"Ignoring conservation means endangering every element of the universe," he explained. "As far as flora and fauna are concerned, they are elements that contribute to make a peaceful life possible for man on earth."
And so, the mild-mannered man jumped from the civilian life to the military one. Pitchou Mwana became an eco-guard driven by his passion for biomonitoring and the security context of the environment in northern DRC. Indeed, the central zone of the Bili-Mbomu Protected Area Complex is characterized by a high concentration of wildlife, which attracts poachers as well as armed rebel groups that are active in this part of the country. For instance, the Lord's Resistance Army often clashes with the eco-guards and is a constant risk to communities settled in the area.
The insecurity and instability give rise to organized poaching and wildlife trafficking by armed units, seriously threatening the survival of the landscape's most emblematic species and significantly reducing the size of the eco-guard force.
"I didn't want to be a burden for others, because as a civilian, during clashes, I was someone to be protected. My wish was that I could contribute to the repression of poachers and today, this is possible [as an eco-guard]. Together with other members of the unit, we fight as a team," Pitchou Mwana said.
But the work is fraught with challenges. Pitchou recalls an incident when a fellow tracker drowned during a biomonitoring patrol. "My teammates and I were left in deep desolation and sadness, but with no other alternative, we continued the mission without him.
"This event, although unfortunate and painful, has fostered in me a spirit of determination that I often share with my teammates to further motivate them. To date, many of our colleagues scattered in the protected areas of DRC have lost their lives because of this profession. We must continue the fight and strengthen our capabilities, adapting to new conservation challenges so that their efforts are not in vain," reflected Pitchou Mwana, eyes brimming.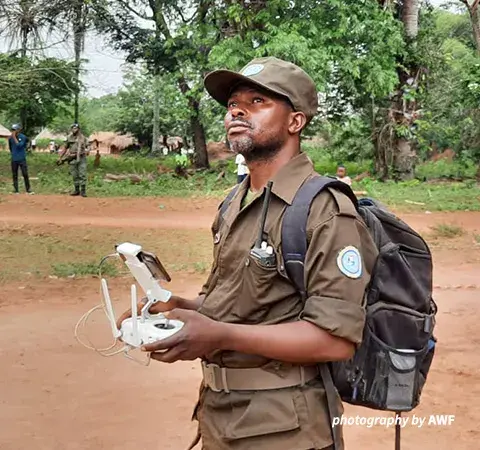 Providing technology for ecological monitoring
AWF provides technical and financial support to the ICCN to fight against poaching and develop community-based conservation initiatives that sustainably manage the use of natural resources. Overall, the interventions ensure a strong security belt around wildlife by limiting illegal killing and habitat degradation through conservation-friendly economic activities such as sustainable agriculture.
Jean Joseph Mapilanga, Director, Head of ICCN's Technical and Scientific Department, underscores the risks involved for eco-guards deployed across DRC.
"Five years ago, a hundred of our valiant ecoguards fell on the front line, thus reducing the number of the corps in our protected areas. However, by consolidating security and protection mechanisms supported by specialized training provided by our technical and financial partners, we are gradually meeting this challenge and ensuring the safety of wildlife in the Democratic Republic of Congo," he said.
AWF's support extends from the Bili Uere landscape to Maringa-Lopori-Wamba, and we adapt patrol interventions to both contexts. Antoine Tabu, AWF DRC Country Coordinator, explained: "AWF provides eco-guards with SMART (Spatial Monitoring and Reporting Tool) devices for ecological monitoring and trains them in their use. The eco-guards are now skilled in data collection and the use of processing tools, which allows them to be more efficient, especially in correctly documenting wildlife indices and knowing where to focus conservation efforts.
"AWF also supported ICCN in the recruitment of 40 new eco-guards between 18 and 26 years old to increase poaching enforcement capacity in Bili-Uere and provided financial support for the retirement and payment of 40 previous eco-guards based at the Digba station," he added.
This new unit of two women and 38 men, of which Pitchou Mwana is a member, is a rapid intervention unit that allows the ICCN to deploy when needed. The team also collects data during wildlife patrols and censuses to inform conservation planning and strategies.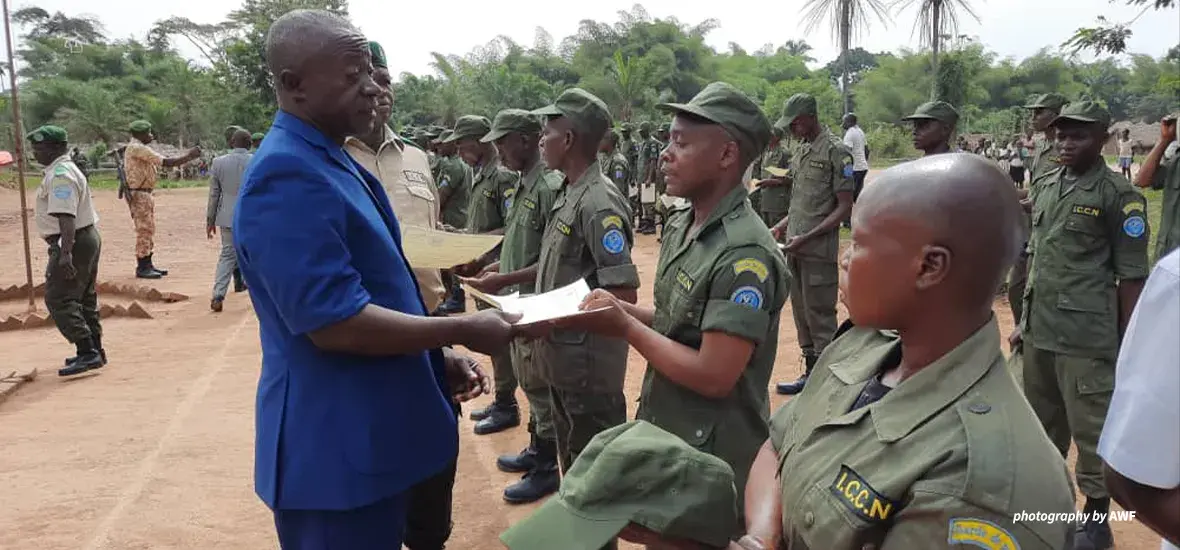 "Without our partners, we cannot hope to obtain results that meet our expectations. Thanks to the new technologies made available to our eco-guards, we have during the last patrols recorded an increase in the indices of wildlife in the community forest," attested Gentil Kisangani, Site Manager of the Lomako-Yokokala Wildlife Reserve.
The Lomako-Yokokala Wildlife Reserve is a protected area deep in the equatorial rainforest between the Lomako and Yokokala rivers, tributaries of the Maringa and Lopori in the Lolonga watershed. With an estimated surface area of 362,500 hectares, it is home to several species, including bonobos, forest elephants, Congolese peacocks, and Bongo antelopes.
"Preserving wildlife means guaranteeing the future of all humanity," said Tabu. "Aware of this evidence, AWF invests in the Congo Basin using a pluralist approach that brings together local communities, scientists, and national and local leaders to provide answers to questions relating nature conservation and sustainable development, while adhering to human rights policies."
AWF's rights-based approach to conservation respects, protects, and promotes human rights across the landscapes where we work. These principles apply irrespective of our partners' and beneficiaries' ethnic group, gender, race, sexual orientation, age, or class, and they center people in all our conservation initiatives, whether we are working with communities or supporting eco-guards and rangers.
>> Learn more about AWF's Complaints and Conflict Management Mechanism as part of our rights-based approach to conservation