Young Africans are the next conservation leaders
Global Leadership
Young Africans are the next conservation leaders
By Eileen Kairu | April 9, 2021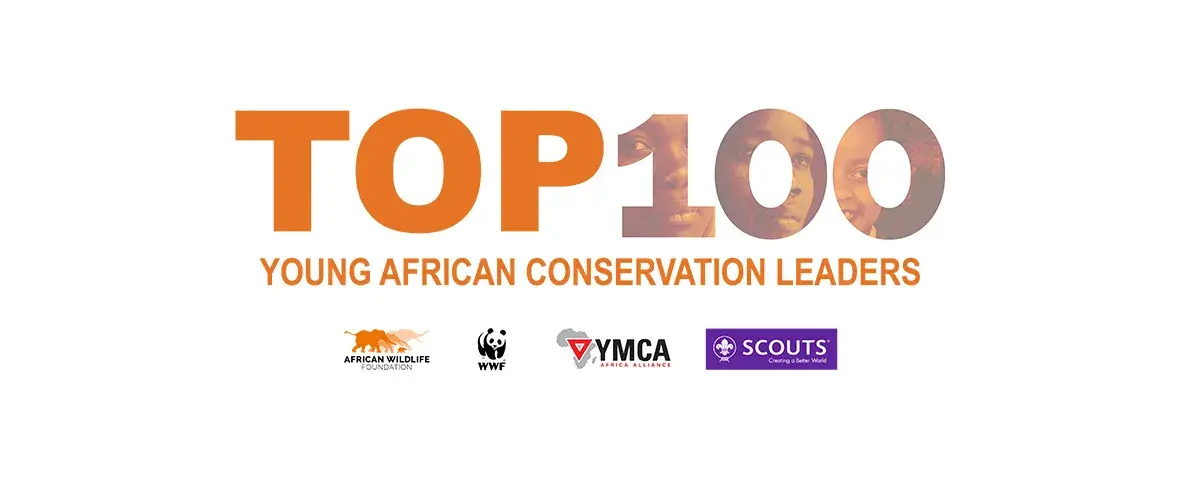 About the Author
Eileen Kairu is African Wildlife Foundation's Strategic Communications Manager. She leads in the development of creative and engaging policy and advocacy resources and campaigns that contribute to sustainable homegrown conservation solutions. Passionate to advance youth initiatives across the con ... More
International Youth Day is celebrated annually on August 12, commemorating youth action to address global issues. On this historic day in 2020, African Wildlife Foundation, the Africa Alliance of YMCAs, the World Organization of the Scout Movement, and WWF launched the Top 100 Young African Conservation Leaders Award.
Youth networks and conservation organizations were invited to nominate young people under 35 who have led impactful conservation projects based in Africa or have participated in conservation initiatives in the last three years. Whether the young leaders worked at the community level or an international scale, all nominations underwent a rigorous judging and verification process. The selection committee — comprising two judges from each partner organization — assessed 565 nominations from 425 youth organizations and networks. The eight judges represented a wide range of experience in conservation, environment & sustainability, policy, youth engagement, education, government relations, social entrepreneurship, biological sciences, and communications.
Apart from being profiled in a special publication, the selected leaders will receive a one-of-a-kind training, connect with experienced mentors, and participate in advocacy campaigns over nine months. The program is designed to elevate their conservation practice with innovative leadership tools and skills, while forging critical connections with like-minded individuals and institutions.
Following the Top 100 Young African Conservation Leaders Awards ceremony on March 23, 2021, AWF Vice President of External Affairs Frederick Kwame Kumah shares how empowering the next generation of African leaders can transform the continent's agenda for both conservation and sustainable development.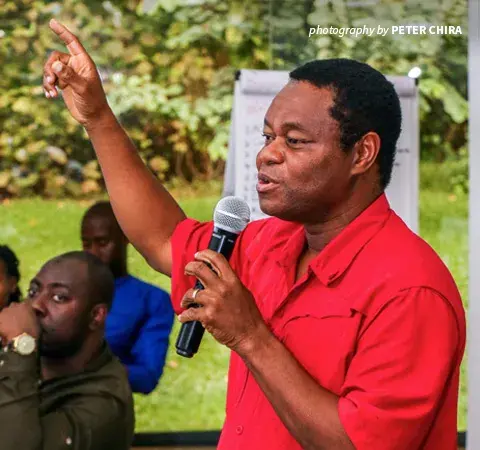 Why is it important to recognize the contributions of young Africans to nature conservation?
For many decades, the conservation discourse has been led largely by non-Africans, mainly because we have not built a pipeline of leadership that is homegrown. Since AWF's inception in 1961, our commitment to working with African leadership has been resolute and we are cognizant of the fact that Africa is now the youngest continent with over 70 percent of its population under the age of 30. As such, we have focused on bringing more young people into the fold. This cohort is also the most educated generation in the continent's history, and the core of leadership in all sectors — conservation included.
What is AWF's vision for the Top 100 Young African Conservation Leaders?
The Top 100 Young African Conservation Leaders Awards aligns perfectly with AWF's youth empowerment strategy. The initiative helps build a much-needed pipeline of conservation leaders for Africa by developing their skills in conservation practice and nurturing their abilities as change makers. Showcasing the work of young men and women conserving Africa's biodiversity through this award will inspire more African youth take up active roles to ensure nature thrives as the continent meets development targets.
As the training and mentorship of the Top 100 Young African Conservation Leaders takes place over the next nine months, we are looking to create an ecosystem of young people who are learning from one another and building each other up so that they can take strategic action as a collective. Our overall aim is to create leaders for today; leaders who are networked and have access to opportunities to serve and share as alumni of this program.
How does AWF boost youth engagement in conservation continentally and on an international level?
For the Top 100 Young African Conservation Leaders Awards, AWF opted to work with the Africa Alliance of YMCAs, the World Organization of the Scout Movement, and WWF because of our shared vision for sustainable development and youth empowerment on the continent. For AWF, partnering with such youth organizations increases our reach and breadth. For instance, the World Organization of the Scout Movement are represented in over 39 countries on the continent; the Africa Alliance for YMCA is in over 20 countries. Additionally, these two organizations are unique because they are not directly involved in conservation, but they share an ethos of youth empowerment that can propel conservation discourse beyond the sector and provide an opportunity for organizations like AWF and WWF to influence more young people to champion the cause of nature.
Such partnerships build on our rich history of connecting with global advocacy groups and institutions that believe youth should have a seat at the table. In November 2018, AWF hosted an important workshop for the Global Youth Biodiversity Network, a platform set up by the Convention on Biological Diversity to represent youth voices from around the world. Bringing together 50 young Africans from 17 countries, the intensive five-day workshop at our headquarters in Nairobi allowed country chapters to share ideas with young researchers and conservationists ahead of the 2018 UN Biodiversity Conference in Egypt.
AWF was also instrumental in convening youth from across the continent to develop a declaration and a vision for African youth addressing issues relating to the sustainable use of natural resources. This initiative was significantly successful and led to the formation of the Africa Youth for Nature — a network of young Africans from diverse fields and backgrounds who equally appreciate nature.
AWF aspires to keep empowering African leaders of the future to revitalize our understanding of conservation and sustainable development.