Youth from China and Africa explore community-based conservation
Global Leadership
Youth from China and Africa explore community-based conservation
By Jia Qiao | January 28, 2021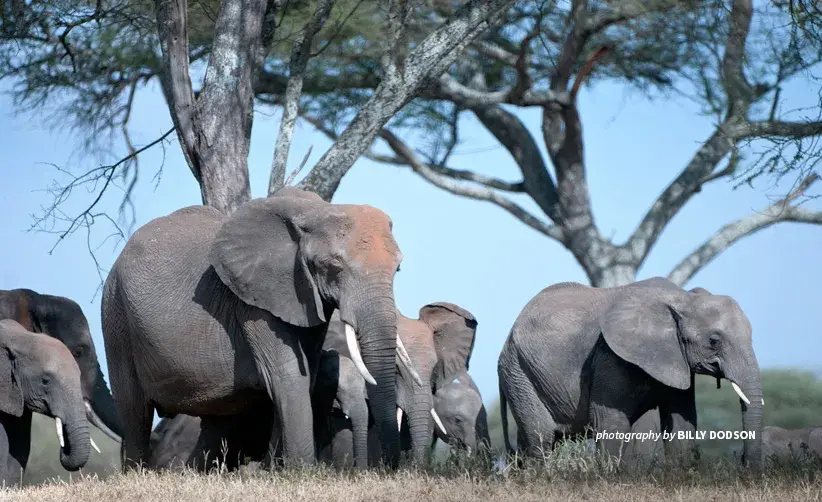 About the Author
Jia Qiao is African Wildlife Foundation's Manager, External Relations, China. She holds a Master of Public Administration (M.P.A.) from Nanjing Agricultural University in China, and attended Egerton University, Kenya for a six-month exchange program. Jia grew her passion for wildlife conservati ... More
Although indigenous groups comprise less than five percent of the global population, they are responsible for many of the world's intact landscapes. However, many of these communities are often not included in land-use planning and management decisions, particularly on the global scale, with limited representation in negotiating global conservation agreements and solutions.
African Wildlife Foundation recognizes that community-led conservation creates long-lasting benefits. In the final installment of the China-Africa Youth Dialogues organized in conjunction with China-based conservation organization Friends of Nature, the webinar on January 22, 2021 raised awareness among young Chinese and African conservationists about the role of indigenous people and local communities in biodiversity protection. Five conservation practitioners who have been engaged in community conservation and working closely with indigenous groups in Africa and China were invited to exchange their experiences and stories.
Jia Qiao, AWF's Manager, External Relations, China discusses the importance of engaging young people in the biodiversity policy institutions such as the U.N. Convention on Biological Diversity with Jinmei Liu, General Counsel of Friends of Nature.
Jia: In both Africa and China's most biodiverse regions, indigenous people and local communities have co-existed with wildlife for centuries. Their livelihoods directly depend on natural resources, but land-use changes and socio-economic conditions have led to overexploitation in the last few decades. As human settlement continues to grow around intact and wildlife-rich areas, engaging local actors — including community elders, women, and the youth — is necessary for Africa and China to meet their social, economic, and conservation goals.
AWF's Youth Program has been engaging African youth in a series of consultative meetings in collaboration with the Global Youth Biodiversity Network that is aimed at gathering the perspectives of young people for the Post-2020 Global Biodiversity Framework and facilitating their participation in this important strategy.
Jinmei: When it comes to youth engagement in biodiversity protection and climate justice issues, one of my favorite quotes that continues to inspire me is: "We do not inherit the land from our ancestors — we borrow it from our children." This is the reason that we should encourage and support young people to get involved in these issues because these generations are the real owners of this planet.
Friends of Nature believes that the interests and welfare of youth are closely connected with biodiversity management and policy development. As such, if the outcome of the implementation of the Convention on Biological Diversity is positive, then the younger generation can benefit. On the other hand, if the outcomes are negative, so is the influence on the younger generation.
We also believe that youth are the real owner of natural resources and their inclusion in creating and managing measures to protect biological diversity is essential. Even before the COVID-19 pandemic, global leadership was facing significant challenges on issues of conservation and climate change, so the participation of young people in the discussion of the Post-2020 Global Biodiversity Framework is extremely important for the additional reason of generation equality.
Jia: AWF has a long history of supporting young Africans to take charge of their natural resources and heritage. Having been in operation since 1961, we understand that the threats facing African wildlife and wildlands change over time, particularly now as the continent continues to invest in infrastructure development, industry, and commercial agriculture while its population rises.
Jinmei: Younger generations have demonstrated a great understanding and enthusiasm through their participation and mobilization to create change in global issues. Their insight and experience can contribute to the innovative solutions needed to tackle these challenges — not just in the biodiversity arena but also in other environment issues. Other stakeholders such as government and business should listen carefully to them and give spaces and opportunities to the younger generation to speak out their voices and participate in these issues as they shape their daily lives and directly affect their future.
Thanks to support from AWF, Friends of Nature has had the opportunity to collaborate with an African conservation organization with a long history of empowering youth for conservation. We have worked together to organize a series of webinars bringing together Chinese and African youth on their contribution toward the Convention on Biological Diversity's new strategic plan. By building these relationships on a shared mission, we hope to open a window for both African and Chinese youth to learn from one another.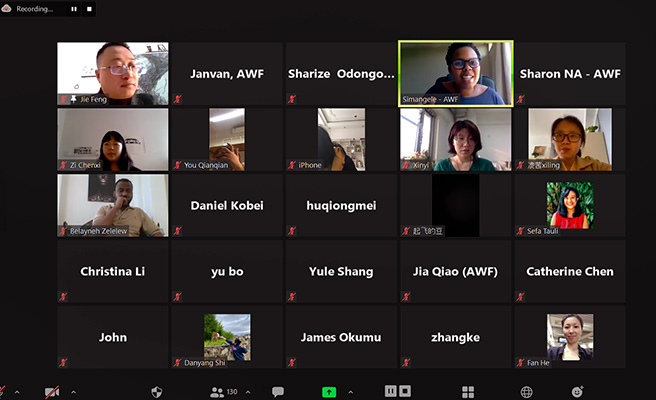 More than 120 participants attended the third webinar in the China-Africa Youth Dialogue series
Indigenous people and local communities are essential in conservation
Jia: For this webinar exploring the role of indigenous people and local communities in biodiversity conservation, we have invited speakers and panelists from China and Africa with diverse experiences fostering community-level action in the protection of biodiverse landscapes. Our main speakers were Feng Jie from China and Daniel Kobei from Kenya. Feng oversees various wildlife and landscape protection projects, as well as community livelihood development initiatives for the Shai Shui Conservation Center. Kobei is the Founder and Executive Director of the Ogiek Peoples' Development Program and represents indigenous peoples in a special forum at the U.N. Convention on Biological Diversity. Regarding how the indigenous youth could be engaged to influence decisions on a global platform such as the biodiversity convention, we invited Josefa Tauli, an Igorot indigenous youth from the Cordillera Region in the Philippines. She currently represents indigenous and local youth on the Steering Committee of the Global Youth Biodiversity Network.
They were joined by panelist Dongzhouqunpei, the chairman of the Snowland Great Rivers Environmental Protection Association, which is committed to sustainable development in the Qinghai Tibet Plateau. The organization promotes natural resource management and ecological protection, building on the traditional practices of the local Sanjiangyuan community. Also on the panel is Adamu Adija is a Mbororo indigenous woman from Cameroon. She has been involved in community activism for several years, serving as coordinator and research consultant for the African Indigenous Women's Organisation. Her master's degree in international politics focuses on indigenous diplomacy as an alternative conflict resolution mechanism.
Jinmei: Both China and Africa have very rich biodiversity resources — we both have natural protected areas, national parks, iconic wildlife species, and essential ecosystems. But at the same time, we both are facing significant challenges such as a growing number of endangered and threatened species as well as conflict between infrastructural development and conserving land for national parks and community development. Human population growth in China and African countries are also projected to rise greatly in the coming decades.
In many ways, China and Africa are still developing economically so investment in mechanisms and resources to solve many of our problems is low. Given that the challenges are similar, it is easier to understand one another — at a personal level and also at the governance level. With mutual support and cooperation, both China and African countries can work together to develop sustainable and inclusive solutions for these challenges.
Jia: AWF partners with local communities to develop strategies for the sustainable use of arable land, forests, water sources, and pastures. This inclusive and participatory approach centers the perspectives of people who have always lived alongside wildlife, using indigenous knowledge to simultaneously restore ecological integrity and drive local prosperity. Communities have a unique, comprehensive knowledge of their own landscapes and wildlife. That is why AWF believes in working to upskill the people who already live in key landscapes to protect their own resources.
> Watch the full China-Africa Youth Dialogue webinar on the role of indigenous people and local communities