Organizational Updates
ACBA and the Chinese CSO Alliance Host Second Dialogue on the Role of IPLCs in Conservation
General Inquiries
Tel:+254 711 063 000
Ngong Road, Karen, P.O. Box 310
00502 Nairobi, Kenya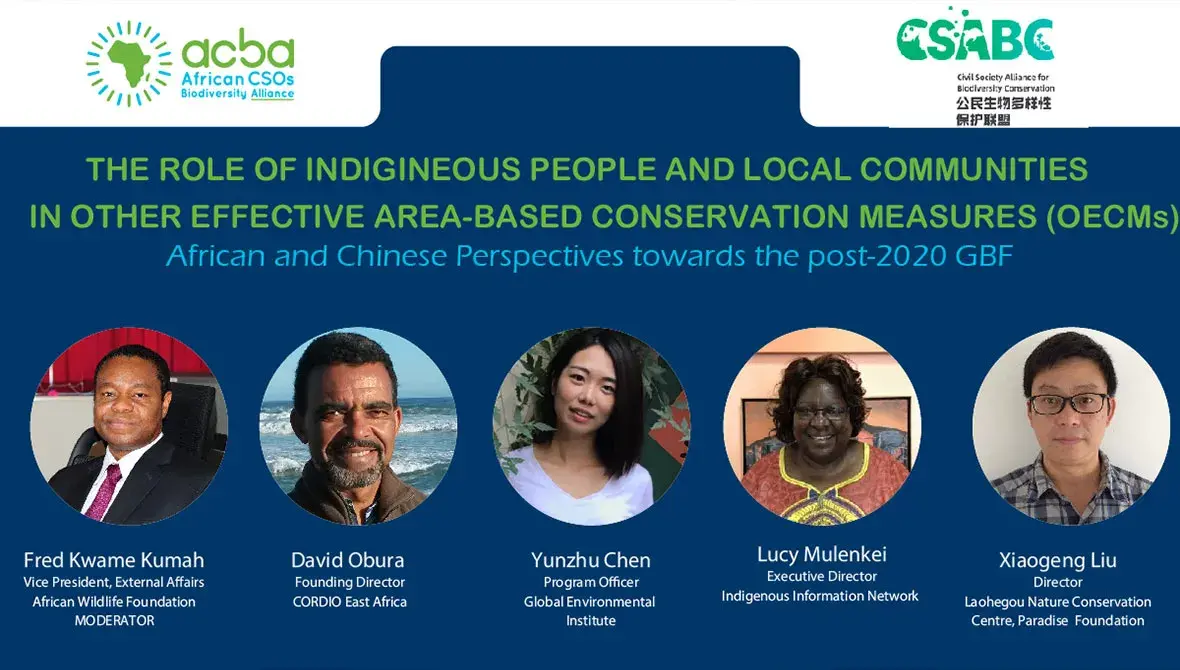 "Africa and China are continents with Indigenous people, therefore their efforts in conservation must always be considered. They are not obstacles to nature, rather, they are true ambassadors in conservation. It is important to note that they have a strong relationship with nature and play their role."
On May 31, 2021, the African CSOs Biodiversity Alliance (ACBA) and the China Civil Society Alliance for Biodiversity Conservation (CSABC) held their second joint dialogue on The Role of Indigenous People and Local Communities (IPLCs) in Other Effective Area-based Conservation Measures (OECMs).
Community buy-in is fundamental in empowering IPLCs through land sovereignty for example benefits global efforts to expand conservation. Therefore, there is a call for spaces and systems which are inclusive of local actors, equitably reflect their ambitions for conservation, and generate benefits for IPLCs and nature. 
This dialogue aimed at sharing key lessons learned and best practices on how Other Effective Conservation Measures (OECMs) by IPLCs can contribute to the global goals of the Post-2020 Global Biodiversity Framework. 
"To achieve our goals for conservation, people do need to be involved whether they live in urban or rural spaces. In order to see change, happen, everyone has to be involved," said Fred Kwame Kumah, the Vice President of External Affairs at the African Wildlife Foundation (AWF) during his opening remarks as the moderator of the session.  
Xiaogeng Liu spoke of his anti-poaching work as the Director at Laohegou Nature Conservation Centre, located in Sichuan Province, China which started in 2011. Their core team of rangers consists of rehabilitated poachers that are now dedicated to protecting wildlife and nature across the landscape. The protected area has become a model for social welfare protection that formed the basis of the formation of six other similar sites across the country which goes to show the importance of working closely with a government that supports sustainable development.
"We have been working collaboratively globally and regionally beyond mobilizing at the national level to get our perspectives heard on the Convention on Biodiversity and in many other forums. One of the unique qualities of African IPLCs is that we have been working quite closely with our governments,"  Lucy Mulenkei, Executive Director of the Indigenous Information Network, emphasized.
Yunzhu Chen, Program Officer at the Global Environmental Institute (GEI) added that in the ecosystem project GEI supports in Myanmar, "local communities play a crucial role. The projects and their funding must be vetted by the communities, who also take up a major role in managing and operating projects in their area. Without their buy-in, we cannot achieve our conservation actions."
Kumah concluded the webinar by elaborating that additional and deliberate effort is needed across the board to ensure that IPLCs are empowered. Upholding community rights and ensuring greater support for their roles is imperative to protect biodiversity.