ACBA Collaborates with BirdLife International Africa to Celebrate World Migratory Bird Day
Organizational Updates
ACBA Collaborates with BirdLife International Africa to Celebrate World Migratory Bird Day
General Inquiries
Tel:+254 711 063 000
Ngong Road, Karen, P.O. Box 310
00502 Nairobi, Kenya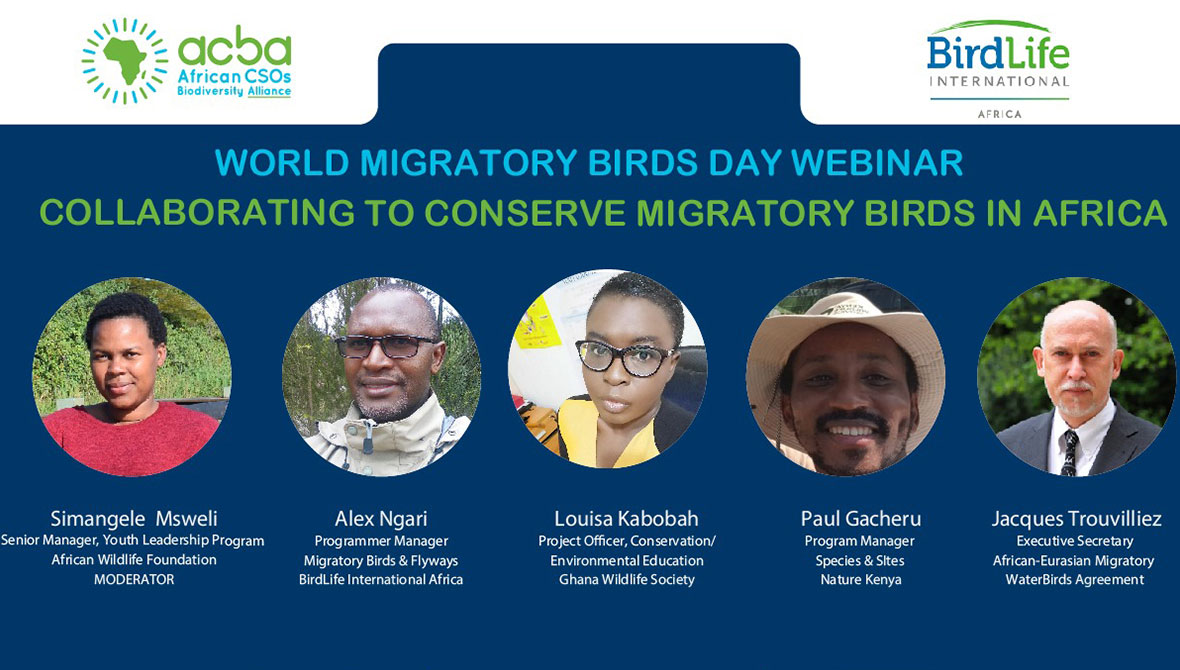 On May 7, 2021, the African CSOs Biodiversity Alliance (ACBA) alongside BirdLife International Africa co-hosted a webinar to celebrate World Migratory Bird Day. The event is marked twice a year — every second Saturday of May and October to raise awareness and highlight the need for the conservation of migratory birds and their habitats. This year's theme was 'Sing, Fly, Soar – Like a bird!'
Attracting over 50 participants from across the continent, the webinar aimed at sensitizing the public on the recent population trends. The wealth of information presented did prove the dire need to collaborate with non-conventional partners in a bid to improve existing policy instruments that are in place to conserve migratory species.
Moderated by Simangele Msweli from AWF, the webinar brought together a panel of experts on this topic: Alex Ngari from BirdLife International Africa; Paul Gacheru from Nature Kenya; Jacques Trouvillie from Africa-Eurasian Migratory Waterbirds Agreement; and Louisa Kabobah, from Conservation Education at the Ghana Wildlife Society.
Ngari highlighted that bird migration is a creative evolutionary solution to a problem posed by the tilting of the earth, which brings about seasons. Billions of birds migrate twice a year to escape unfavorable seasons, find food as well as raise the young. During their migration, they face a number of challenges.
"The biggest challenge to migratory birds is habitat loss which is a result of human beings. Other threats are poor planning and design of energy infrastructure and killing, trapping taking on the trade of birds," noted Ngari.
Africa is the youngest continent; therefore, it is important to engage the youth in Africa's conversation agenda. They play an essential role in the protection and conservation of not only migratory birds but also all other species in Africa.
"Youth engagement helps us with threat removal that helps us to inform policy in order to safeguard flyways. Providing a platform for youth participation motivates the youth to participate fully within the sphere of monitoring and conservation of migratory birds," said Gacheru.
By the end of the informative webinar, it was clear that in order to continue singing, flying, and soaring, migratory birds need our help. Cross-border collaborations are key to ensuring that we maintain a healthy population of migratory birds on a global scale.
The recording of the full webinar can be accessed here.