ADF Solutions Partners with African Wildlife Foundation to Combat Wildlife Trafficking
General Inquiries
Tel:+254 711 063 000
Ngong Road, Karen, P.O. Box 310
00502 Nairobi, Kenya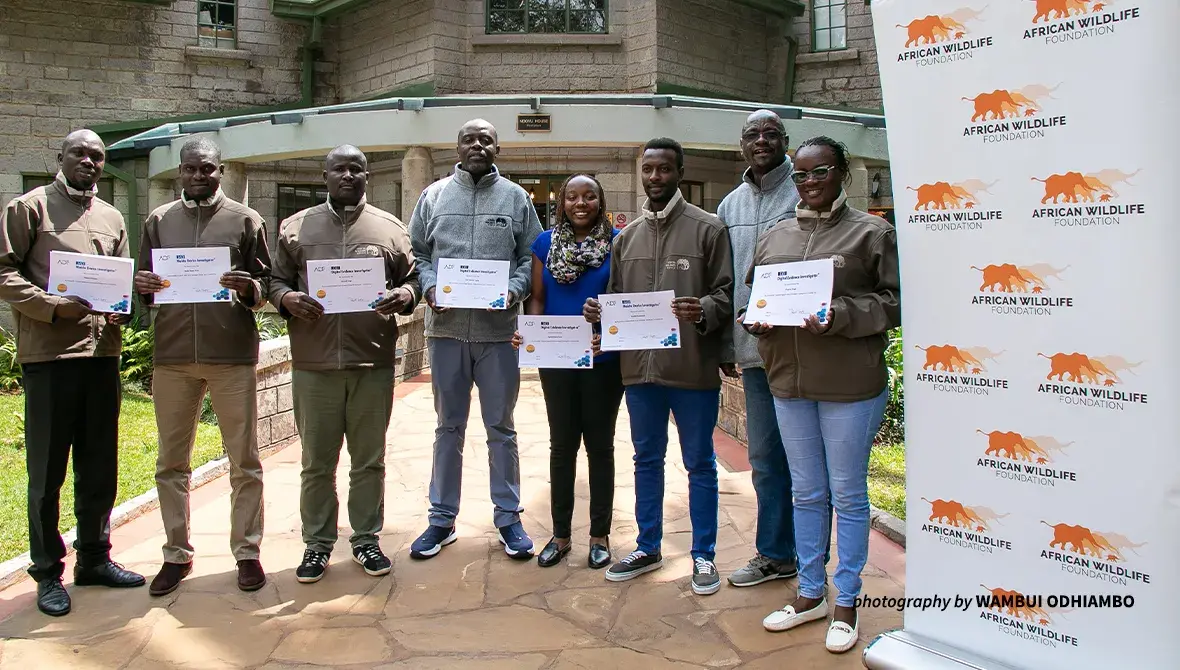 Reston, VA — ADF Solutions, Inc. (ADF Solutions), a global leader in digital forensic software, has announced a strategic partnership with the African Wildlife Foundation (AWF) to combat wildlife trafficking in Africa. This collaboration aims to leverage cutting-edge technology and forensic expertise to enhance efforts to combat illegal wildlife trade and protect endangered species.
Wildlife trafficking poses a significant threat to Africa's rich biodiversity, impacting ecosystems, economies, and communities across the continent. The partnership between ADF Solutions and AWF seeks to address this issue by combining ADF's advanced digital forensic software with AWF's extensive on-the-ground conservation work and knowledge.
"We recognize that wildlife crime is undergoing a profound shift into the digital realm. By empowering wildlife authority teams with the necessary tools to gather compelling evidence of wildlife trafficking, we bolster the judicial system's capacity to deliver just and appropriate sentences. We extend our heartfelt appreciation to ADF Solutions, Inc. for their invaluable charitable contribution, equipping us with cutting-edge digital investigation tools," said Beulah Erhiawarien, Director of Corporate and Foundation Relations at AWF.
By partnering with AWF, ADF Solutions aims to provide best-of-breed digital forensic tools and training to support law enforcement and wildlife conservation advocates faced with identifying and prosecuting those involved in illegal wildlife trafficking networks.
"We are thrilled to partner with the African Wildlife Foundation in the fight against wildlife trafficking in Africa," said Bret Peters, CEO of ADF Solutions. "Our digital forensic tools, combined with AWF's conservation expertise, will empower wildlife investigators to stay one step ahead of criminals engaged in illegal wildlife trade. By disrupting these networks, we can safeguard Africa's precious wildlife and preserve its unique natural heritage for future generations."
The African Wildlife Foundation, a leading international conservation organization, has been working tirelessly for over 60 years to protect Africa's iconic wildlife and their habitats. Through this partnership, AWF will leverage ADF Solutions' forensic software to analyze digital evidence, uncover criminal networks, and gather critical intelligence to disrupt wildlife trafficking operations.
AWF's Manager of Cybercrime Investigations Ernest Agina expressed enthusiasm about the partnership, stating, "To effectively combat wildlife trafficking, we must leverage technology and partnerships that enable us to gather critical intelligence and evidence. ADF Solutions' expertise and tools will significantly enhance our capabilities, enabling us to better understand the complex networks driving this illegal trade and enabling us to take decisive action. We look forward to working together to protect Africa's wildlife and promote a sustainable future for the continent."
Both organizations believe that collaboration and the application of cutting-edge technology are vital in addressing the challenges posed by wildlife trafficking. By combining their respective strengths, ADF Solutions and AWF aim to strengthen enforcement efforts, raise awareness, and drive meaningful change in combating illegal wildlife trade in Africa.
For media inquiries, please contact:
ADF Solutions:
Brittany Roberts
Director of Marketing
broberts@adfsolutions.com
301-658-2411
African Wildlife Foundation:
Wambui Odhiambo
Senior Executive Communications Specialist
wodhiambo@awf.org
+254728886987
About ADF Solutions:
ADF Solutions is a global leader in digital forensic and media exploitation software. Their innovative tools enable law enforcement agencies, corporations, and military organizations to swiftly and efficiently analyze digital evidence to uncover critical intelligence. ADF Solutions' solutions are used worldwide to fight crime, enhance cybersecurity, and protect national security. For more information, visit https://www.adfsolutions.com/
About the African Wildlife Foundation:
The African Wildlife Foundation (AWF) is the primary advocate for the protection of wildlife and wild lands as an essential part of a modern and prosperous Africa. Founded in 1961 to focus on Africa's conservation needs, we articulate a uniquely African vision, bridge science and public policy, and demonstrate the benefits of conservation to ensure the survival of the continent's wildlife and their habitats. For more information, visit https://www.awf.org/