AWF And KWS Conduct Workshop to Analyse Law Enforcement Academy Development Report
Organizational Updates
AWF And KWS Conduct Workshop to Analyse Law Enforcement Academy Development Report
General Inquiries
Tel:+254 711 063 000
Ngong Road, Karen, P.O. Box 310
00502 Nairobi, Kenya
Last week, African Wildlife Foundation (AWF) and Kenya Wildlife Service (KWS) conducted a two-day workshop funded by the United Nations Office on Drugs and Crime (UNODC) at Maanzoni Lodge in Machakos to analyze the results of the needs and gaps assessment of the KWS Law Enforcement Academy (LEA) curriculum at Manyani. The analysis involved thorough scrutiny of the needs identified within the report and how soon they can be incorporated in the current curriculum development to ensure speedy integration.
The workshop is also part of a grant funded by the Bureau of International Narcotics and Law Enforcement Affairs (INL) titled 'Countering Wildlife Trafficking in Kenya.' The project is being implemented by AWF and the International Fund for Animal Welfare (IFAW). The first objective of the grant is to build interdiction, investigative, and enforcement capacity to stop the poaching and transit of protected wildlife and one of the activities under this objective is to audit law enforcement training at KWS Law Enforcement Academy.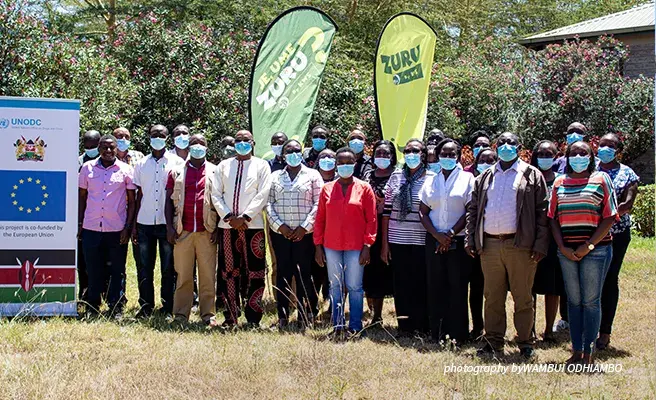 Speaking at the workshop, AWF Senior Manager, Wildlife Law Enforcement Program Didi Wamukoya said, "We are very happy that this review will play a big part in enabling the LEA curriculum to keep up with the current global trends on law enforcement considering the last one was done in 2013. African Wildlife Foundation assures you of our support to elevate the curriculum to global standards to ensure our rangers are well equipped to deal with criminals in this digital age."
Wamukoya also encouraged the participants at the workshop to dedicate their best effort to the document by applying their experience garnered through their years at KWS and align the gaps identified to the KWS mandate.
The results obtained from the discussions during the workshop will be integrated within the report and the final report will be shared with the three organizations for reference.