Press Release
AWF and Nature's Best Photography Announce the 2022 Winners of the Benjamin Mkapa African Wildlife Photography Awards
General Inquiries
Tel:+254 711 063 000
Ngong Road, Karen, P.O. Box 310
00502 Nairobi, Kenya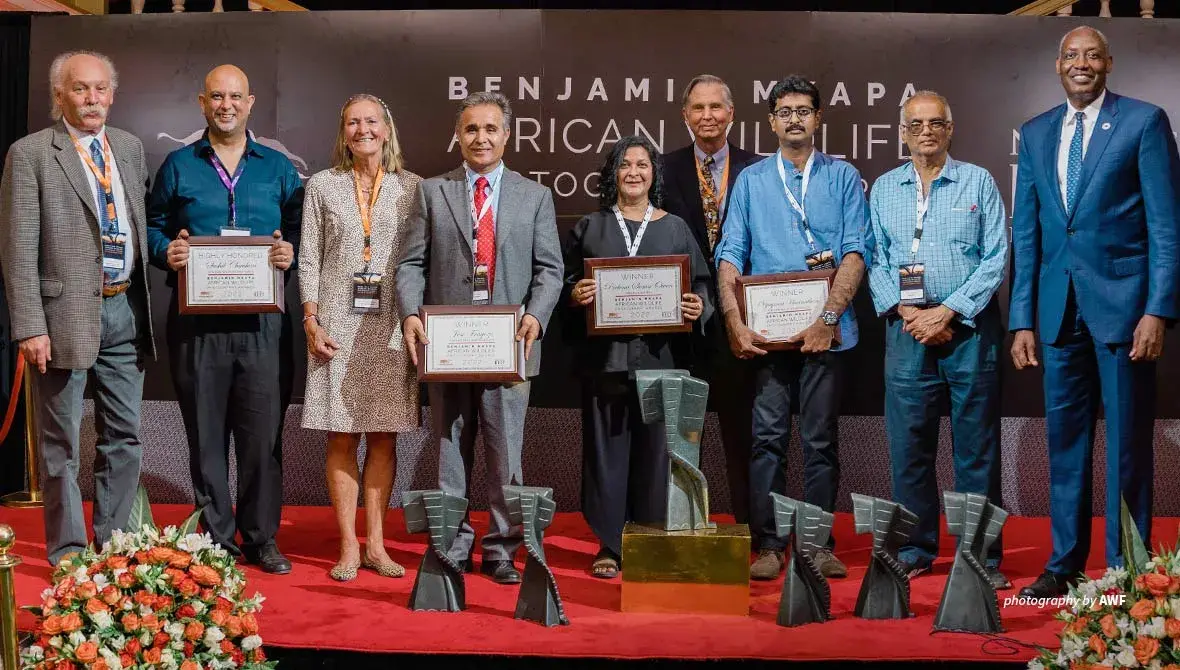 This year's competition attracted 9,500 entries from 57 countries including entrants from 16 African countries.
NAIROBI, KENYA AND WASHINGTON D.C., U.S. (October 28, 2022) — Building upon the success of the inaugural Mkapa Photography Awards, African Wildlife Foundation (AWF) and Nature's Best Photography (NBP) are proud to announce the winners for the second year of the prestigious award as selected by the panel of world-class judges and conservation advocates.
The 2022 results were revealed at the Mkapa Awards Ceremony and Exhibition Grand Opening on October 27, 2022, at the Nairobi National Museum in Nairobi, Kenya. The exhibition of 77 prints and 4 videos will travel to other global locations throughout the year.
In line with AWF's mission to ensure wildlife and their habitats thrive in modern Africa and Nature's Best Photography's initiative to display the beauty, diversity, and importance of wild Africa – our collaborative goals are to attract photographers at all levels of expertise, while encouraging young talent to become advocates for generational behavioral change towards wildlife conservation. This impressive body of work brings immediate and long-lasting impact to public understanding and stewardship of wild Africa.
Adding a very personal legacy connection to this program, the Mkapa Awards are named in honor of the late, iconic African leader and former Tanzanian President, H.E. Benjamin Mkapa, for his dedication to conservation education throughout Africa, and his impactful support of AWF programs across the continent.
Here's the link to the 2022 Mkapa Awards Watermarked photos with captions.
"Bringing Africa to the World, and the World to Africa" defines this global competition, geared towards developing new, multi-media platforms that engage and involve Africans and those traveling to Africa in a blended narrative of conservation and visual storytelling.
The Guest of Honor, US Ambassador Meg Whitman speaking at the event said, Art, like the photography on display as part of the 2nd Mkapa Award exhibition, has the power to transport us -- whether to the plains of Kenya or North Dakota – and help us see our planet in new and interesting ways. African Wildlife Foundation, Nature's Best Photography, and the participants in this year's Mkapa competition understand that power. Their work values the essential role of conservation efforts in a thriving, modern Africa. They use their talents to encourage us to appreciate the many creatures -- great and small -- with whom we share this planet.
Speaking at the awards ceremony, AWF CEO Kaddu Sebunya said, "Through this competition and numerous other strategic partnerships some already running and others in the pipeline, AWF is committed to finding these voices, helping them, and amplifying their voices – we remain committed to help define and refine the Africa's agenda for conservation and development and representing these voices, … trumpeting these voices for African conservation to the world over."
"In our second year of this unique photography competition, we were delighted to see interest spread globally and in particular throughout Africa. The subject matter of images submitted represents not only greater species diversity but also focus on a broader set of critical issues and the Africans championing conservation on the front lines," said AWF Senior Vice President and program co-founder Craig Sholley.
The 2022 Mkapa Awards Photographer of the Year wins a grand prize award of US $5,000, and a large specially-commissioned stone elephant sculpture. Each of the 13 Category Winners receive US $1,000 and a stone elephant sculpture. In addition, all Winners are displayed as stunning large-format prints and HD video, along with Highly Honored finalists at the Nairobi National Museum in Kenya through February 2023.
2022 Mkapa Awards Conservation Heroes Category Winner, Anthony Onyango of Nairobi says, "Nature photography for me goes beyond just taking a picture, but informing and inspiring people to protect nature. It is truly an honor to be among the winners this year and it is testament that we Africans have what it takes to emerge among the best."
The competition enhances the visibility of African wildlife through the following categories: African Conservation Heroes, Coexistence and Conflict, African Wildlife at Risk, Fragile Wilderness, African Wildlife Behavior, African Wildlife Portraits, Africa's Backyard Wildlife, Art in Nature, Creative Digital, Mobile, Africa in Motion/Video, and two Youth Photographers of the Year, one inside Africa and one international. The overall Grand Prize was chosen from among all categories.
Co-founder of the Mkapa Awards, Nature's Best Photography President, Stephen Freligh, says, "Through my 40 years as a publisher of photographic works, I have personally witnessed the positive results of combining the creative and documentary talents of professional, amateur, and youth photographers alike. Their extraordinary memories are our new, defining discoveries and their stories are our ever-changing window to nature."
Learn more about the Mkapa Awards
About African Wildlife Foundation
The African Wildlife Foundation is the primary advocate for the protection of wildlife and their habitats as an essential part of a modern and prosperous Africa. Founded in 1961 during the African independence movement in order to build our capacity to steward our natural resources, AWF articulates a uniquely African vision, bridging science, education, public policy, and field programs to demonstrate the benefits of conservation and build a future for Africa where people and wildlife thrive. Learn more at www.awf.org
About Nature's Best Photography
Now in its 27th year Nature's Best Photography was founded to inspire, educate, and motivate a better understanding, appreciation, and conservation of the natural world through the art of photography, storytelling, and personal wellness initiatives. This dynamic public engagement platform has produced award-winning publications, large-format print exhibitions, multimedia televised presentations, and prestigious museum events hosted around the globe. Visit https://www.naturesbestphotography.org/
AWF MEDIA CONTACT: For press photos and more information on photographers or to arrange interviews contact: Wambui Odhiambo of AWF in Nairobi, Kenya at wodhiambo@awf.org, +254 728 886987.
NBP MEDIA CONTACT: To arrange interviews with photographers, contact: Stephen Freligh, NBP Awards Director, in McLean, Virginia, at sfreligh@naturesbestphotography.org or phone 703-307-7010. To receive awards press photos, high-res photographs, captions, and graphics requests, email deb@naturesbestphotography.org.