Press Release
AWF and UNEP Select Young African Policy Fellows to Enhance Biodiversity Negotiations
General Inquiries
Tel:+254 711 063 000
Ngong Road, Karen, P.O. Box 310
00502 Nairobi, Kenya
(NAIROBI, KENYA — June 21, 2022) The African Wildlife Foundation (AWF) in partnership with the U.N. Environment Programme (UNEP-Africa Office) today officially announced 15 young African policy fellows set to be engaged in an intense six-month training program to build their capacity toward becoming Africa's top biodiversity negotiators. The 15 fellows were selected from over 600 applicants who submitted applications to be a part of the first Charles R. Wall Young African Policy Fellows Program.
This one-of-a-kind initiative attracted young scholars who have been involved in a significant level of policy and advocacy engagement in national, regional, and global policymaking processes. "I believe the future of Africa is in great hands, as demonstrated by the quality of the 600 applications that we received. The 15 fellows who will walk this journey with us, come from diverse backgrounds, signifying the strength we have in diversity as Africans," said Simangele Msweli, Senior Manager of the Youth Leadership Program at AWF.
The program aims to elevate young African voices by equipping them with various skillsets that will eventually unlock more opportunities in biodiversity policymaking platforms that speak to the synergies and challenges within the continent. Levis Kavagi, Regional Coordinator, Ecosystems and Biodiversity Programme, UNEP, Africa Region added, "This fellowship will add a tented pool of young negotiators in the international biodiversity governance space."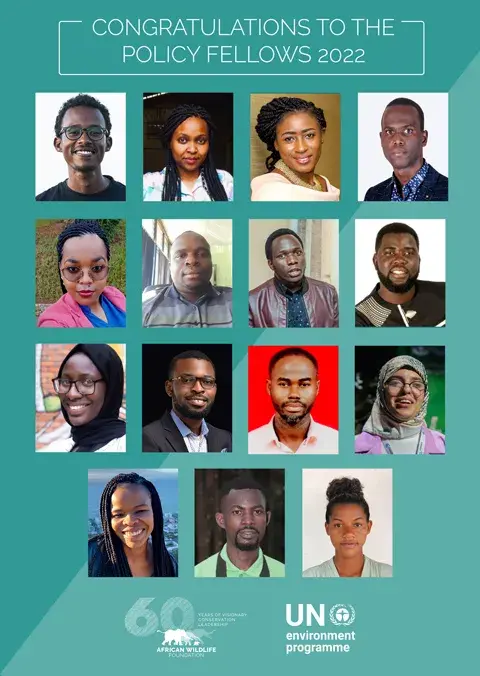 The selection panel shortlisted a total of eight young men and seven young women from 15 African countries (Algeria, Cape Verde, Madagascar, Nigeria, Gambia, Ghana, Zimbabwe, Namibia, South Africa, Kenya, Uganda, Rwanda, Tanzania, Cameroon, and the Democratic Republic of Congo).
"I applied to the Charles R. Wall Policy Fellow Program because I envision an engaging and impactful curriculum that will accord me the opportunity of improving my policy and advocacy skills while helping to bridge the gap between biodiversity science and policy," stated Fideline Mboringong from Cameroon, a successful applicant and international development professional with a background in international cooperation. The program will enable young African leaders to engage in international biodiversity governance, especially the Convention on Biological Diversity (CBD) like the ongoing Open-Ended Working Group 4 (OEWG4) negotiations in Nairobi, Kenya, and other related Multilateral Environmental Agreements.
One of the fellows, Kaija Emmanuel, who works with the Dutch Embassy in Uganda as a Sustainability Advisor, added, "I want to make a contribution to the creation of an enabling environment for meaningful youth participation and the eventual realization of Africa's biotechnology potential towards the achievement of the African Union Agenda 2063." The fellows are set to have two virtual workshops before a physical workshop in Nairobi, Kenya in September 2022.
This engagement falls under the broader Charles R. Wall Leadership Program that aims to enhance African-led solutions and effective conservation leadership through two distinct capacity-building programs: The African Policy Fellows Program and the Conservation Leadership Management Program which is set to be relaunched in the last quarter of the year.
About African Wildlife Foundation
The African Wildlife Foundation is the primary advocate for the protection of wildlife and wild lands as an essential part of a modern and prosperous Africa. Founded in 1961 to focus on Africa's conservation needs, we articulate a uniquely African vision, bridge science, and public policy, and demonstrate the benefits of conservation to ensure the survival of the continent's wildlife and wild lands.
About the United Nations Environment Programme
UNEP is the leading global voice on the environment. It provides leadership and encourages partnership in caring for the environment by inspiring, informing and enabling nations and peoples to improve their quality of life without compromising that of future generations.
MEDIA CONTACTS: For more information or to arrange interviews contact: Wambui Odhiambo, AWF Media Specialist at wodhiambo@awf.org or Mohamed Atani from the U.N. Environment Programme at mohamed.atani@un.org