Organizational Updates
AWF and Zimparks Host Local Media in Tour of Mid Zambezi Valley Conservation Efforts
General Inquiries
Tel:+254 711 063 000
Ngong Road, Karen, P.O. Box 310
00502 Nairobi, Kenya
Harare, Zimbabwe, November 8, 2022 – The African Wildlife Foundation (AWF) Zimbabwe in partnership with the Zimbabwe Parks and Wildlife Management Authority (Zimparks) played host to 10 members of local media stations in a bid to showcase the significant strides and conservation efforts towards ensuring that wildlife and their habitats thrive in Zimbabwe.
Since 2018, AWF invested over USD 10 million in the Mid Zambezi Valley through infrastructural developments, provision, and digitalization of radio communication equipment, providing fuel, field and camping equipment, patrol rations, vehicles and boats for anti-poaching patrols, and facilitating specialized training and capacity building programs for rangers as part of efforts to combat poaching and reduce illegal wildlife trade and trafficking of wildlife products in the landscape.
AWF is currently implementing projects funded by the European Union under the Convention on International Trade in Endangered Species, Monitoring the Illegal Killing of Elephants (CITES MIKE), the Dorothy N Batten Foundation, and other grants to reduce poaching and trafficking, which are major causes of key wildlife species decline. These efforts are critical for biodiversity and habitat maintenance and restoration, rural community resilience, and wildlife species conservation.
"The African Wildlife Foundation has developed a ten-year Country Conservation Strategy for Zimbabwe (2020 to 2030) in line with the Government of Zimbabwe's National Development Strategy (NDS1)," Olivia Mufute, AWF Country Director – Zimbabwe, expressed during the media tour. "The AWF Zimbabwe Country Strategy spells out a guiding framework for AWF Zimbabwe's work towards promoting sustainable development underpinned by sound management and utilization of wildlife and wildland resources. Our approach to wildlife and wildlands conservation is people-centric, and therefore recognizes conservation not as an end in itself, but a medium for attaining sustainable livelihoods and improved standards of living for current and future generations. This signifies AWF's long-term commitment to support biodiversity conservation.
"The Mid Zambezi Valley is one of AWF's focal landscapes, and we work in the area to ensure that we implement projects that have significant impact at the local, regional and global level. Other priority landscapes in the AWF 10-year conservation strategy include the South Eastern Lowveld Landscape and the Kavango Zambezi (Kaza) Trans-Frontier Conservation Area."
The EU-funded CITES MIKE grant project implementation started in March 2020 and will end in July 2023.
With support from the CITES MIKE grant, AWF donated three vehicles to Zimparks in 2021, one vehicle in 2022, and is supporting the installation of digital radio equipment for Chewore North and Chewore South all in a bid to improve patrol effectiveness in the Mid Zambezi Valley. For example, in March 2022, fuel worth USD 10,000 was purchased to support the operations of rangers in the landscape.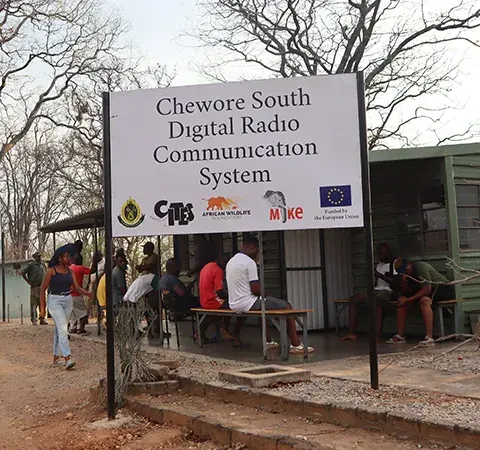 Currently, AWF is facilitating the installation of digital radio equipment systems in Chewore North and South under the CITES MIKE grant to improve communication across the landscape and to strengthen law enforcement operations systems.
"The installation of the digital radio system equipment in the Mid Zambezi valley will improve communication between rangers at the office and those doing patrols in wildlands," Simon Muchatibaya, AWF Mid Zambezi Valley Programs Manager, said. "Currently there is limited communication with rangers when they are deployed on patrols. AWF is assisting with the installation of a radio system that ensures good connectivity and communication links between stations and rangers on patrol."
Zimparks radio technicians underwent a refresher training on use and maintenance of the new radio system. This will ensure seamless integration into the Zambezi valley radio communication system and build the technicians' capacity to carry out troubleshooting and minor repairs in case of breakdowns. The training was conducted by Teltech Thompson Technology technicians who were awarded the contract to install the Chewore digital radio system in the landscape.
The African Wildlife Foundation is supporting cross-border collaboration efforts between Zambia and Zimbabwe through the establishment of various platforms for engagement for law enforcement agencies, local communities, and other key stakeholders in the transboundary landscape. Officials from Zambia and Zimbabwe meet regularly and conduct joint patrols along the Zambezi River, which enhances security for both wildlife and people and optimizes the use of resources on both sides of the border. Strengthening interagency collaboration between Zambia and Zimbabwe is on-going. The impact of the partnership between Zimparks and AWF is also seen through cordial relations being witnessed between Zimbabwe and Zambia law enforcement agents. These relations go a long way in combatting illegal wildlife trade and poaching as poachers sometimes use rivers as trafficking routes to evade borders.
"AWF strives to promote nature-positive social and economic development through building strong partnerships with stakeholders to collectively design conservation solutions in Zimbabwe," notes Mufute. 
A recent illustration on the strong relations between Zimbabwe and Zambia was witnessed on 2 September, 2022, when AWF in partnership with Conservation Lower Zambezi hosted a cross-border meeting for wildlife law enforcement agencies at the Tamarind Holiday and Conference Resort in Kariba. The meeting was meant to strengthen relationships and share intelligence information on illegal wildlife trade along the Zambezi River. It was attended by 17 Zambian participants and 20 from Zimbabwe, including representatives from the police, immigration, Zimbabwe Revenue Authority, Zambia Revenue Authority, Zimbabwe Parks and Wildlife Management Authority, Department of Fisheries, Drug Enforcement Commission, prisons, office of the president and cabinet, Conservation Lower Zambezi, and AWF.
"Since these collaborations started, we have realized a significant reduction in poaching and illegal use of natural resources," says Simon Muchatibaya, AWF Program Manager, Mid Zambezi Valley.
Under the Dorothy Batten Foundation, AWF commenced the construction of staff housing in the landscape. Currently, work is underway for the construction of one of the two staff accommodation houses for the Marongora vehicle workshop manager. The completion of the house near the workshop will enable him to be always on standby to attend to vehicles dedicated to conserving wildlife and wildlands in the landscape.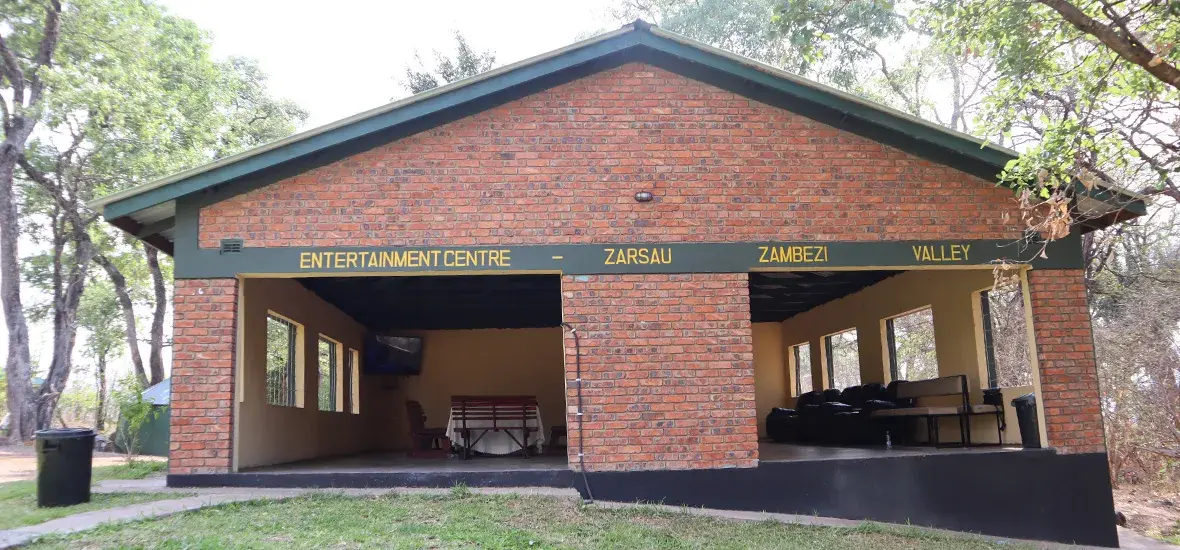 This development has come after the handover of the state-of-the-art vehicle workshop at Marongora Zimparks Field Station, a brand-new Toyota Hilux Twin GD6 twin cabin vehicle, one pelican boat, one sport fisher patrol boat, a newly established entertainment center, an operations room, and one office block at ZARSAU D Camp to Zimparks in December 2021.
"This is the new state-of-the-art workshop that has been constructed through assistance from AWF; from being a satellite workshop, it has become our central workshop for the mid Zambezi region servicing our vehicles from all 11 stations," Zimparks Regional Manager – Marongora, Felix Chimeramombe, said.
"As Zimparks, we are now saving quite a substantial amount of money for the servicing of our vehicles," he added. "In the past, we used to take our vehicles to private garages in Harare and pay for the services, but right now, we are doing everything related to vehicle service here on site without travelling long distances through AWF's support."
The Dorothy N Batten Foundation grant also contributed to the training of twenty-one rangers on the Spatial Monitoring and Reporting Tool (SMART) training held from 20 to 24 September, 2022, at D Camp and Mana Pools in the Mid Zambezi Valley. The adoption of the new SMART technology has enabled rangers to collect real-time information, respond rapidly, and implement adaptive management. 
ABOUT AFRICAN WILDLIFE FOUNDATION
The African Wildlife Foundation is the primary advocate for the protection of wildlife and their habitats as an essential part of a modern and prosperous Africa. Founded in 1961 during the African independence movement in order to build our capacity to steward our natural resources, AWF articulates a uniquely African vision, bridging science, education, public policy, and field programs to demonstrate the benefits of conservation and build a future for Africa where people and wildlife thrive. Learn more at www.awf.org
AWF MEDIA CONTACTS:
For more information, contact Wambui Odhiambo of AWF in Nairobi, Kenya, at wodhiambo@awf.org, +254 728 886987.