AWF Backs Continuation of US Funding to Stop Illegal Wildlife Trade
Press Release
AWF Backs Continuation of US Funding to Stop Illegal Wildlife Trade
General Inquiries
Tel:+254 711 063 000
Ngong Road, Karen, P.O. Box 310
00502 Nairobi, Kenya
WASHINGTON, D.C. AND NAIROBI, KENYA (October 22, 2020) – African Wildlife Foundation (AWF) today issued an official statement in support of "The Eliminate, Neutralize, and Disrupt (END) Wildlife Trafficking Act Reauthorization," introduced today by U.S. Senators Chris Coons (D-Del.) and Rob Portman (R-Ohio). The END Wildlife Trafficking Act is an instrumental policy that provides added support for law enforcement agencies in Africa to interdict, investigate, and prosecute wildlife offenders.
Didi Wamukoya, AWF's lead on wildlife law enforcement, stated: "The END Wildlife Trafficking Act has helped African Wildlife Foundation and partner governments to develop and field innovative programs to disrupt illegal wildlife trade, including the deployment of conservation detection dogs at major trafficking hubs to sniff out illegal wildlife products. The support provided by this Act, and distributed by the Bureau of International Narcotics and Law Enforcement and USAID has enabled AWF and its partners to push for a comprehensive review of wildlife laws in Kenya and Uganda, which now prescribe punitive penalties for wildlife trafficking among other procedural improvements in handling wildlife crime.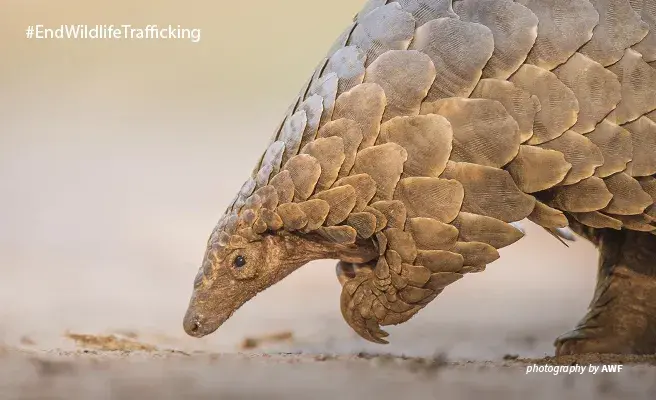 "In addition, support made possible by the END Wildlife Trafficking Act helped AWF to build and strengthen wildlife law enforcers' capacities through training and equipping. This involved enhanced inter-agency collaboration to enforce wildlife laws, cross-border policing, and regional collaboration."
While there have been many improvements attributed to END, wildlife poaching and trafficking remain a challenge, particularly in the current economic landscape. Some African countries are witnessing an upsurge in poaching due to the coronavirus pandemic.
Speaking on the reauthorization, AWF External Affairs Director Edwin Tambara said, "It is imperative to protect and build on the gains achieved so far in combating wildlife trafficking in Africa. That's why support for the 'END Wildlife Trafficking Reauthorization and Improvement Act of 2020' is critical – to continue organized and coordinated efforts from the United States Government to protect and further these gains in combating wildlife trafficking across the world."
About the Eliminate, Neutralize, and Disrupt (END) Wildlife Trafficking Act
The END Wildlife Trafficking Act combats wildlife poaching and trafficking by strengthening domestic and global enforcement, reducing the demand for illegally traded wildlife, and working with international partners, local communities, NGOs, private industry, and others to combat poaching and illegal wildlife trade.
The bipartisan bill, co-sponsored by Senators Chris Coons of Delaware and Rob Portman of Ohio, aims to continue the whole-of-government approach to ending global wildlife poaching and trafficking by reauthorizing the activities of the Presidential Task Force on Wildlife Trafficking.
About African Wildlife Foundation
The African Wildlife Foundation is the primary advocate for the protection of wildlife and wildlands as an essential part of a modern and prosperous Africa. Founded in 1961 to focus on Africa's conservation needs, we articulate a uniquely African vision, bridge science, and public policy, and demonstrate the benefits of conservation to ensure the survival of the continent's wildlife and wildlands.
MEDIA CONTACT:  For interviews about AWF's work and support of its conservation efforts through the END Wildlife Trafficking Act, contact Patrick Mitchell of AWF at PMitchell@awf.org or (202) 991-7508 or Nashipae Orumoy of AWF in Nairobi, Kenya at NOrumoy@awf.org, +254 701864021.