Organizational Updates
AWF Convenes African Leaders to Unlock Financing for Conservation in Africa
General Inquiries
Tel:+254 711 063 000
Ngong Road, Karen, P.O. Box 310
00502 Nairobi, Kenya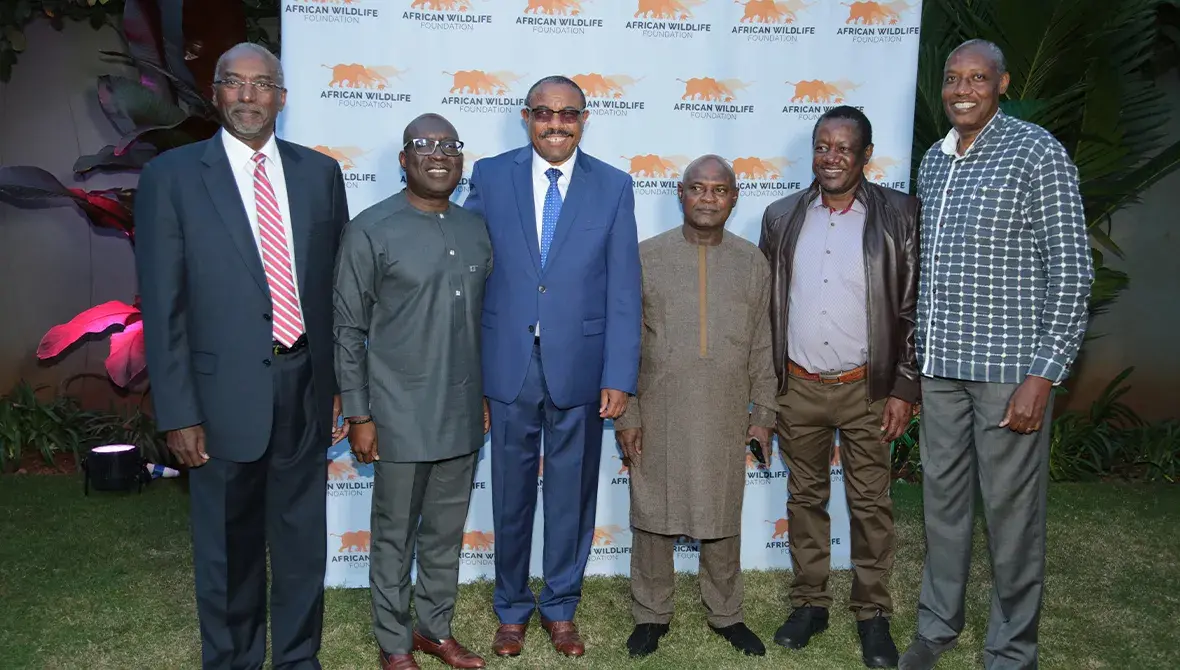 (NAIROBI, KENYA — June 16, 2022) The African Wildlife Foundation (AWF), in support of the African Protected Areas Directors (APAD), convened the Steering Committee of the African conservation financing mechanism, which sets out to deliver sustainable financing to all of Africa's protected and conserved areas. The Steering Committee serves as an interim governance structure that will lead the design of A Pan-African Conservation Trust (A-PACT).
A-PACT is the first-ever attempt to create a pan-African mechanism that strives to provide financing for the entire conservation estate on the continent. The ambition is to put the 6 million square kilometers of land and sea that Africa conserves on solid footing financially.
The idea was born out of dialogues with protected area directors from across the continent as they face growing funding gaps. A pan-African mechanism scales solutions for sustainable finance and ensures Africa's protected and conserved areas remain resilient in times of crisis such as the COVID-19 pandemic and the Ukraine-Russia war.
The A-PACT Steering Committee is chaired by H.E Hailemariam Desalegn, the former Prime Minister of Ethiopia, and a global board member of AWF.
"We believe that once implemented, A-PACT will mobilize the billions needed each year to support Africa's protected and conserved area estate. Funding will be galvanized by African leaders and investors committed to delivering on pan-African development aspirations set outlined in the African Union Agenda 2063 and by aligning those aspirations with global commitments to climate and biodiversity. We have a unique opportunity to show how African leadership can shape an African-led solution that drives the necessary finance for conservation action on the ground – for now, and the future," he said at a press briefing in Nairobi.
AWF CEO Kaddu Sebunya expressed AWF's continued commitment to working with African governments to secure a prosperous future for the continent's people as central to delivering lasting solutions for nature conservation.
"As one of the loudest champions of African voices in conservation, African Wildlife Foundation believes our primary responsibility is to support African governments and people willing to chart futures that embrace nature as a driver of development. The network of over 8,600 protected and conserved areas on the continent are key places to provide essential ecosystem goods and services necessary for current and future development and human well-being," he said.
A-PACT will be launched at the inaugural Africa Protected Areas Congress happening 18-23 July in Kigali, Rwanda. It is a key initiative of the African Protected Area Directors, a platform whose membership is open to all 54 African countries. A-PACT was endorsed by Africa's negotiators at the March consultations of the U.N. CBD in Geneva as a vehicle to support closing the gap in financing for biodiversity in Africa.
About African Wildlife Foundation
AWF is the primary advocate for the protection of wildlife and wild lands as an essential part of a modern and prosperous Africa. Founded in 1961 to focus on Africa's conservation needs, we articulate a uniquely African vision, bridge science and public policy, and demonstrate the benefits of conservation to ensure the survival of the continent's wildlife and wild lands. AWF is serving as a co-convener of the inaugural African Protected Areas Congress (APAC) in Kigali, Rwanda from 18-23 July 2022.
MEDIA CONTACTS: For more information or to arrange interviews contact:  Wambui Odhiambo, AWF Media Specialist at wodhiambo@awf.org