Organizational Updates
AWF Donates $5,000 to Aid in Elephant Conservation in Kenya
General Inquiries
Tel:+254 711 063 000
Ngong Road, Karen, P.O. Box 310
00502 Nairobi, Kenya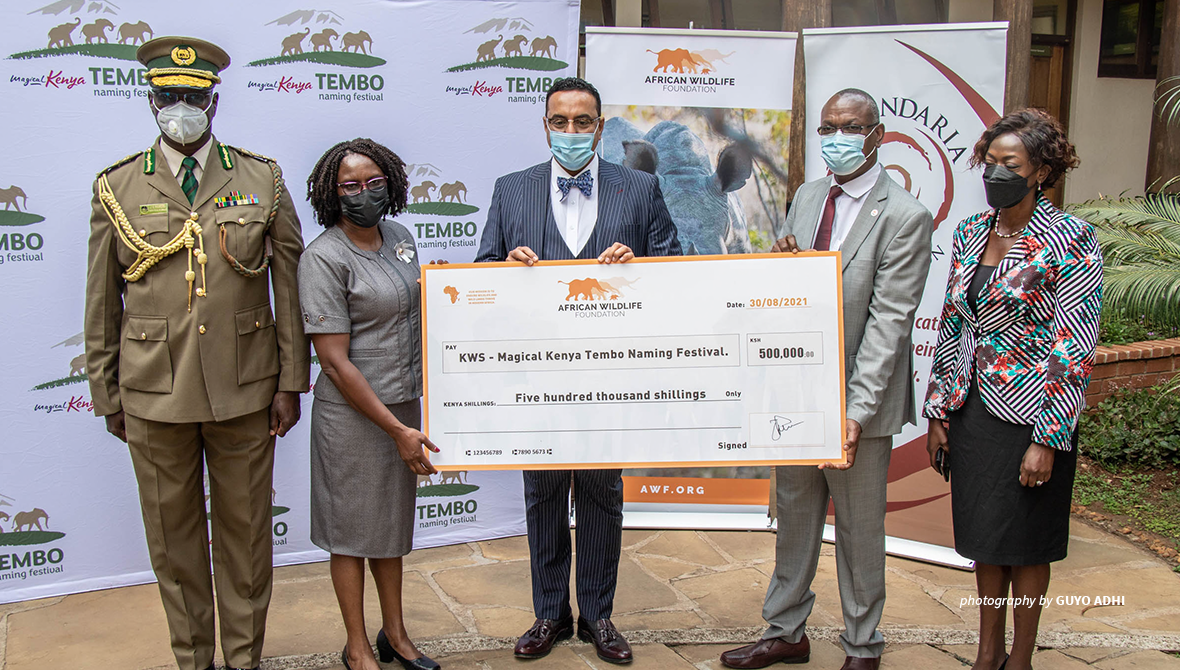 The African Wildlife Foundation (AWF) has on August 30, 2021, donated USD $5,000 to Kenya Wildlife Service for the inaugural Magical Kenya Tembo Naming Festival in an event held in Nairobi. This is an initiative inviting individuals, corporations, non-governmental organizations, and other stakeholders to raise money for conservation by donating funds to name an elephant calf, each at USD $5000. The naming ceremony will be held later this year on October 9, 2021.
AWF was represented at the ceremony by Vice President for Species Conservation and Science Dr. Philip Muruthi and Kenya Country Director Nancy Githaiga. In attendance was the Kenyan cabinet secretary for tourism Najib Balala, Kenya Wildlife Service Director General John Waweru, and Kenya Tourism Board CEO Dr. Betty Radier. In his speech, Dr. Muruthi recognized the need to partner with governments to rally conservation efforts across the continent, noting that natural environments provide us with the ecological goods and services that ensure our economic growth and human wellbeing.
"If elephants are in trouble, we are all in trouble," he said. "African Wildlife Foundation believes that sustainable development of Africa, including Kenya, is directly linked to how well humankind respects nature, allowing wildlife such as these magnificent elephants to continue to thrive in their natural environments."
Acknowledging the contributions from AWF and other stakeholders, Mr. Balala noted that the funds will go a long way in boosting conservation efforts while sending out a strong message on the role that conservation plays in tourism and by extension many livelihoods
"I wish to thank the sponsors for embracing and being part of this noble course. Conservation of our wildlife resources remains key for us to ensure that future generations enjoy our country's heritage, natural resources, and the incredible species that live within it. Therefore, it is ideal that we are here as we commence the first step towards the event which aims to ensure we have funds to support conservation of our elephants," said Balala.
He said that the elephant naming ceremony will aim to raise USD $1 million for the conservation of elephants in the country.
AWF is a long-term conservation partner of the Kenyan government, providing support for anti-poaching efforts, community conservancies, and building capacity for law enforcement and judicial officers to tackle wildlife crime.
About African Wildlife Foundation
The African Wildlife Foundation is the primary advocate for the protection of wildlife and wild lands as an essential part of a modern and prosperous Africa. Founded in 1961 to focus on Africa's conservation needs, we articulate a uniquely African vision, bridge science and public policy, and demonstrate the benefits of conservation to ensure the survival of the continent's wildlife and wild lands.