Organizational Updates
AWF Engages Communities in Cash for Work Program in the Simien Mountains National Park
General Inquiries
Tel:+254 711 063 000
Ngong Road, Karen, P.O. Box 310
00502 Nairobi, Kenya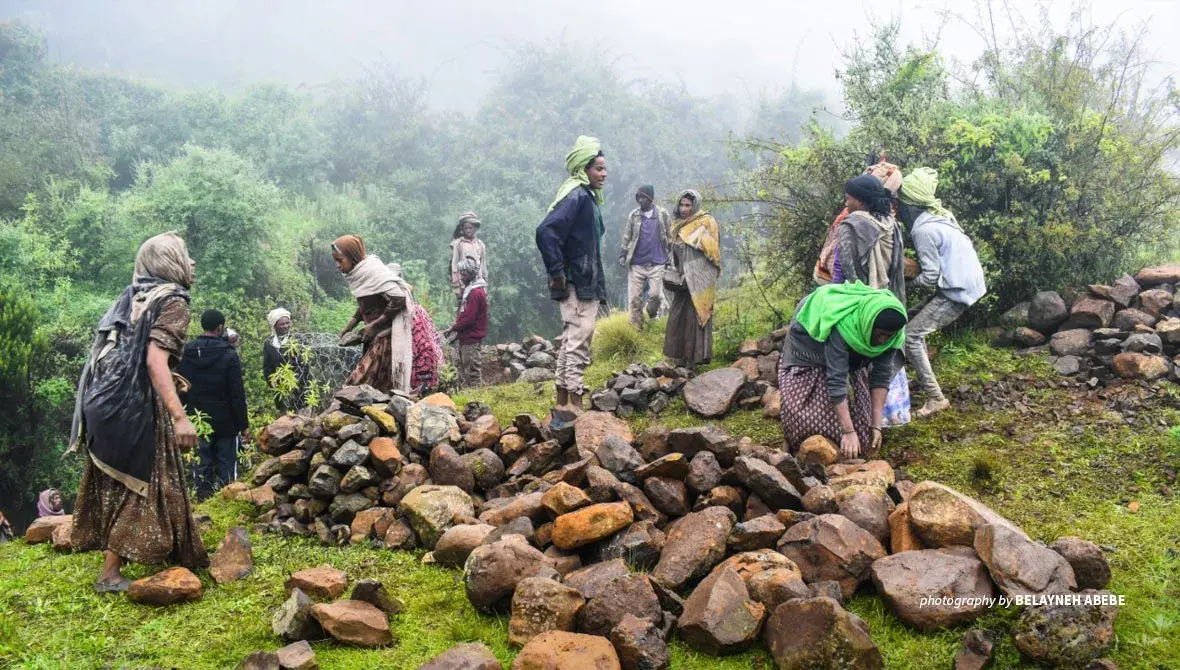 The African Wildlife Foundation (AWF) is running a cash for work program in the Simien Mountains National Park that has seen over 170 community members gain income from rehabilitating the U.N. Educational, Scientific and Cultural Organization (UNESCO) World Heritage Site in Ethiopia.
This is part of an initiative funded by the German Development Bank (KfW) and launched in 2018 to combat the serious environmental degradation in the park. The rehabilitation activities are divided into two pillars: vegetation restoration and soil and water conservation. At the heart of this activity is community engagement, providing jobs for hundreds whose incomes have plummeted as a result of the decline of tourism due to the ongoing COVID-19 pandemic.
Community engagement is important when it comes to the management of natural resources and the conservation of protected areas. This conservation model ensures that wildlife and wild lands thrive and, in return, become a source of livelihood for the community members adjacent to the protected areas. Conservation is a community empowering tool.
"Building good community relations and highlighting the value of wildlife is key to sustainable conservation," noted Brian May, AWF Chief Technical Advisor based in Ethiopia.
The ongoing COVID-19 pandemic has had an adverse impact on Africa's tourism industry, losing revenues for protected areas and leaving them with little resources to run operations, while also plunging community members into poverty. AWF launched the Cash for Work Program to provide an alternative source of livelihood for the affected local community members living near the Simien Mountains National Park. Since the onset of the rehabilitation activities, AWF has engaged a total of 177 community members from around the protected area, 105 for gully treatment and 72 in preparation of pits for plantation.
The beneficiaries include wildlife scouts who lost their jobs due to the pandemic as well as other community members not traditionally working in conservation but are now involved in follow-up and seedling management in the permanent nursery site in the park supported by AWF. In addition, one community member has been employed as a guard in the nursery. This is beneficial to the community both directly and indirectly. Besides reaping the rewards of healthy ecosystems and feeling a sense of ownership of their land, AWF pays them a daily rate of 100 Ethiopian Birr (USD $2.29).
"Rehabilitation of the Simien Mountains with the high level of community engagement could boost effective protected area conservation and create a healthier neighborhood. Being involved in this type of action fosters a sense of ownership and a commitment to protect what they plant," said Belayneh Abebe, AWF's Ecologist in the Simien Mountains landscape.
Simien Mountains National Park has been under serious threat from the expansion of settlement, cultivation, overgrazing, and deforestation, and associated problems. These anthropogenic pressures result in the deterioration of the park habitats and increase the formation of gullies and other land degradation features. According to a 2015 assessment conducted by AWF, out of the 41,200-hectare park area, 1,133 hectares are degraded. To mitigate this, AWF is promoting land-use planning and soil and water conservation as a key component of restoration activities. AWF prioritizes the use of science coupled with indigenous knowledge in the restoration of the Simien Mountains National Park.