AWF Enhances KWS Wildlife Cybercrime Investigations
General Inquiries
Tel:+254 711 063 000
Ngong Road, Karen, P.O. Box 310
00502 Nairobi, Kenya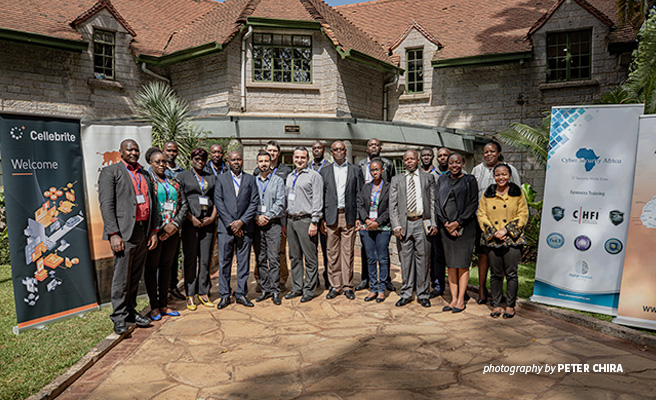 African Wildlife Foundation (AWF), cybersecurity firm Irdeto, and the Kenya Wildlife Service (KWS) have partnered to train cybercrime investigators in mobile technologies at AWF headquarters from February 17-23, 2020. The seven-day Mobile Forensic Certification Course targets investigators from KWS and is the first step in setting up the wildlife authority's digital forensic unit to fight illegal wildlife trade. Illegal wildlife trade and trafficking is a threat to regional, national, and international security. Poachers and other actors in the illicit trade of wildlife and their parts are getting smarter. They are devising new ways to sustain their activities. As a result, they have shifted from traditional platforms and are taking the trade to the internet. To combat this menace, investigators and law enforcers have to develop new tactics to ensure the survival of African wildlife and ultimately stop the trade. Since digital platforms are the means for the trade, then the same platforms can be used to counter the trade.
"Wildlife related crime is advanced, and times are changing. Tools required for the conservation of wildlife and wildlands in Africa are also changing. As the criminals are advancing there is a need to upgrade for the successful conservation of wildlife," said AWF Vice President, Conservation Science and Planning Dr. Philip Muruthi.
The expected outcome of the training is the development of the trainees' skills and core competencies associated with the examination of mobile devices using the latest equipment and methodology. These tools lead to enhanced enforcement to stop the trafficking of illegal wildlife products using digital devices and platforms.
Mr. Joseph Sarara, Head of Investigation at KWS, noted the importance of natural resources to both conservation and development. He said that the illicit trade of wildlife has serious implications not only on the ecosystem but also the species that are critically endangered. Communities around the wildlife-copious regions are equally affected.
"Illegal wildlife trade degrades our ecosystem and hinders the attainment of Sustainable Development Goals. It is a major obstacle to indigenous communities. Combatting the crime is essential for achieving peace in troubled regions," said Mr. Sarara.
AWF and Irdeto joined forces in 2018 to investigate, identify, and disrupt the sale of animal parts on the internet. The partnership aims to work with local law enforcement agencies, providing key forensic data and intelligence to help locate and arrest the criminals responsible for this illegal trading.