AWF Graduates 18 Launch-Master Coxswain Trainees in Lake Kariba
Organizational Updates
AWF Graduates 18 Launch-Master Coxswain Trainees in Lake Kariba
General Inquiries
Tel:+254 711 063 000
Ngong Road, Karen, P.O. Box 310
00502 Nairobi, Kenya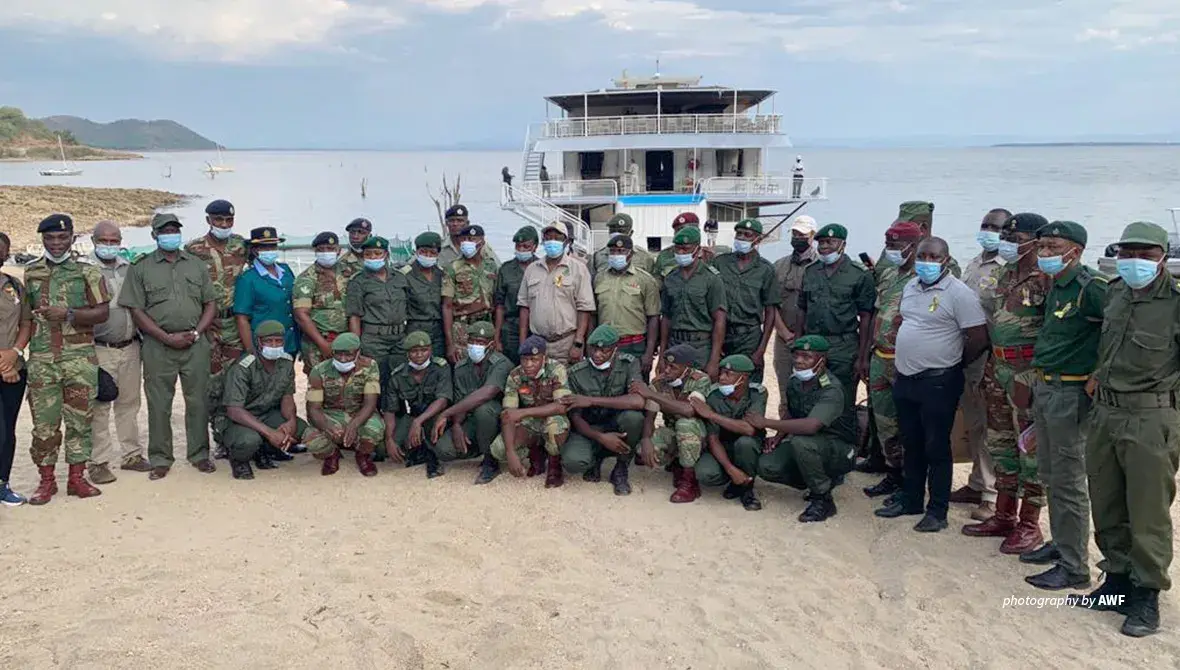 On December 16, 2021, the African Wildlife Foundation (AWF) passed out 18 launch-master coxswain trainees at one of Zimbabwe's premier tourist destinations, Lake Kariba. AWF has been working with the Zimbabwe National Army Boat Squadron Regiment and Zimbabwe Parks and Wildlife Management Authority (Zimparks) on training and equipping wildlife law enforcement officers with the skills they require when conducting river patrols.
The 18 trainees came from Zimparks and the Zimbabwe National Army (ZNA). Out of the 18 graduates, three are female and 15 are males, five graduated with class one and 13 with class two. Among the 18 is Rosemary Kateguru, who excelled in her performance and completed the Launch-Master Coxswain Class 1 Training Course, becoming the first-ever woman ranger to obtain this certificate in Zimbabwe.  
The trainees underwent a seven-week course, which included theory and other classroom-based learning, human rights training, and practical exercises which put their knowledge and skills to the test. They also completed fitness tests and academic exams; swimming and first aid training as well as other technical aspects challenging wildlife officer personal safety training.
These skills will benefit the Zambezi River Specialized Anti-Poaching Unit (ZARSAU) established in 2017 to enhance water-related security operations. The Zambezi River is commonly used by poachers as a conduit for illegal wildlife trophies and products and other contraband, supporting a growing transboundary illegal wildlife trade.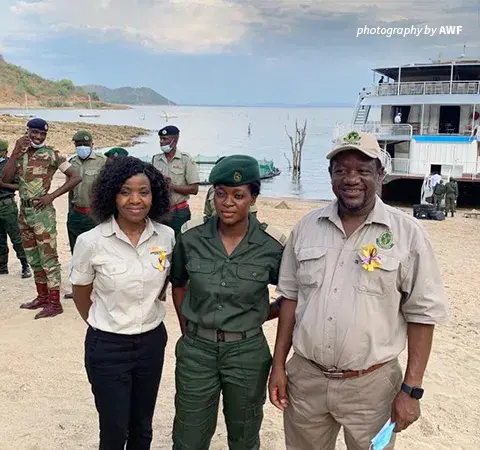 "This graduation ceremony that we are all gathered here for, is once again a pacesetter in efforts to reduce poaching, illegal wildlife trade, and trafficking while fostering coordinated law enforcement actions at a local level that are incorporated into mainstream long term national development strategies for the two state parties, Zambia and Zimbabwe," said Olivia Mufute, AWF Country Director, Zimbabwe.
In attendance were security agencies, local councilors, non-governmental organizations, the business community, the general public, and Zimparks senior officers including Director General Dr. Fulton Mangwanya who presented certificates to the trainees.
Dr. Mangwanya said in his speech, "I would like to thank AWF very much for funding this noble cause for conservation of wildlife and fish in Zimbabwe. We have over the past years witnessed increased and more accelerated conservation support from your organization, including the setting up of the Zambezi River Specialized Anti-poaching Unit, a water-based anti-poaching specialized unit operating on the Zambezi River stretch. This support has continued to improve the efficiency of law enforcement and has also brought about desired conservation outcomes."
AWF also committed to supporting the government and people of Zimbabwe in leveraging on the rich biodiversity through programs that not only support anti-poaching efforts but also programs that build the resilience of local communities providing alternative livelihood options, alleviating poverty and inequality through interventions that are predicated on principles of African leadership, empowerment, inclusivity, innovation and equitable sharing of conservation benefits.
"We strive to promote nature-positive social and economic development through building strong strategic partnerships with the private sector, academic institutions, local communities, development partners, non-governmental organizations, and other stakeholders to collectively design innovative science-based conservation solutions that enhance inclusive green growth. The developments at this ZARSAU camp are a true testimony of this resolve," said Mufute.
About African Wildlife Foundation
The African Wildlife Foundation is the primary advocate for the protection of wildlife and wildlands as an essential part of a modern and prosperous Africa. Founded in 1961 to focus on Africa's conservation needs, we articulate a uniquely African vision, bridge science, and public policy, and demonstrate the benefits of conservation to ensure the survival of the continent's wildlife and wildlands.