AWF Hands Over Canine Facility to TAWA
Organizational Updates
AWF Hands Over Canine Facility to TAWA
General Inquiries
Tel:+254 711 063 000
Ngong Road, Karen, P.O. Box 310
00502 Nairobi, Kenya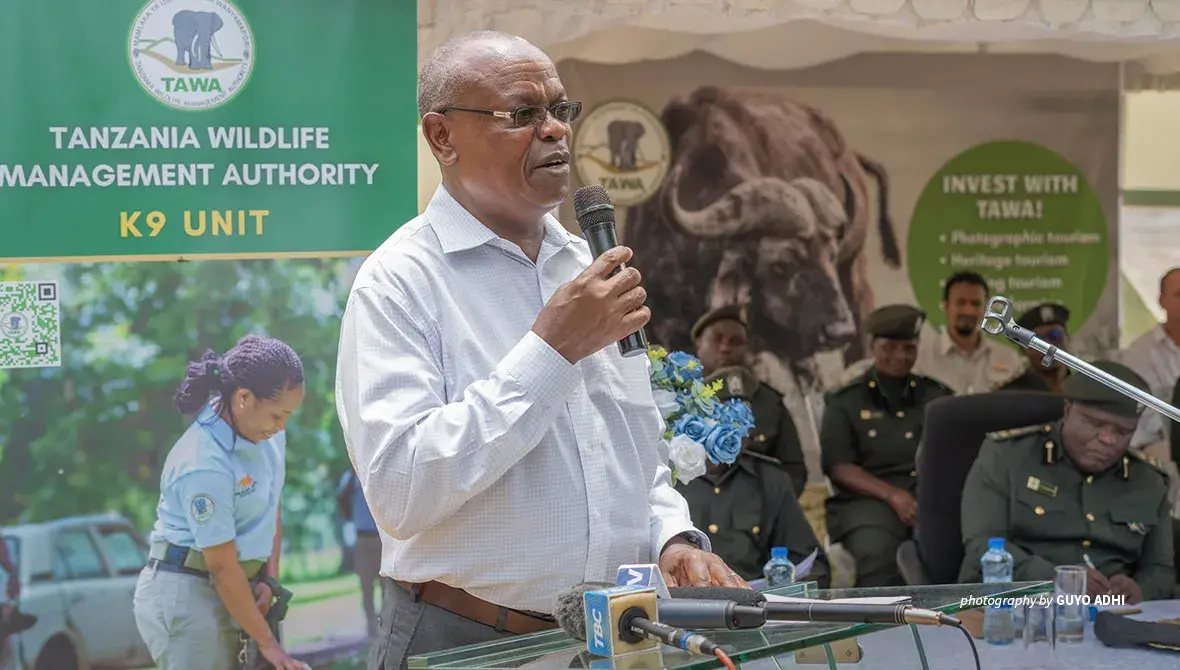 DAR ES SALAAM, TANZANIA (February 8, 2023) — Today, the African Wildlife Foundation (AWF) officially handed over a canine facility to the Tanzania Wildlife Management Authority (TAWA) at the TAWA base, Mbezi Beach. The transfer of the canine facility is intended to strengthen the wildlife management agency's capacity to combat illegal wildlife trafficking and trade, which endangers the survival of Africa's wildlife and the ecosystems on which they rely.
As one of East Africa's busiest ports, Dar es Salaam acts as a key entry point for international trade and business. A lot of cargo is imported and exported through the port. As a result, Dar es Salaam has become an important hub for regional and international trade, linking East African businesses and economies to the rest of the world. Unfortunately, organized crime syndicates have taken advantage of the busy nature of the sea and air ports to conduct illegal wildlife trade (IWT).
"We are pleased to hand over this facility to TAWA, who have been long-standing partners of AWF since our inception in Tanzania over six decades ago. It is a continuation of AWF's and TAWA's joint efforts and commitment towards deterring wildlife crime in the region. Canines play an important role in combating illegal wildlife trade because they have an olfactory system that is 100,000 times more sensitive than a human nose. They are also fast and can differentiate up to 30 different scents. At AWF, we remain strongly committed to working with African governments to enhance African stewardship of natural resources management on the continent, and this handover is an example of this partnership," said Dr. Philip Muruthi, AWF's Vice President for Species Conservation and Science.
TAWA's canine unit currently consists of eight detection dogs and 11 trained detection dog handlers stationed at the Julius Nyerere International Airport in Dar es Salaam and the Kilimanjaro International Airport in Arusha. These dog-and-handler teams have been instrumental in both preventing illegal wildlife product trafficking and deterring offenders at key transit points. The new facility comprises 10 dog kennels, two units of handler housing, an office, and a store.
Launched in 2015, AWF's Canines for Conservation Program, has been carrying out dog training, dog handler training, technical support, equipping, and tooling. The meticulous training takes place at a special facility in Usa River, near Arusha, Tanzania. Before the units are deployed to airports, harbors, and border points, wildlife authority officers from partner countries are paired with their canine partners and undergo rigorous training as dog handlers. The program has been essential in reducing the trafficking of ivory, rhino horn, and pangolin scales among other illegal wildlife products — and even live wildlife. Through our partnership, AWF has also assisted to deploy anti-poaching tracker dog teams at Serengeti, Mkomazi and Manyara in Tanzania.
About African Wildlife Foundation
The African Wildlife Foundation is the primary advocate for the protection of wildlife and their habitats as an essential part of a modern and prosperous Africa. Founded in 1961 during the African independence movement in order to build our capacity to steward our natural resources, AWF articulates a uniquely African vision, bridging science, education, public policy, and field programs to demonstrate the benefits of conservation and build a future for Africa where people and wildlife thrive.
MEDIA CONTACTS: For more information or to arrange interviews contact Wambui Odhiambo of AWF in Nairobi, Kenya at wodhiambo@awf.org