AWF Hands Over Equipment for UWA Anti-Poaching Forensics
Organizational Updates
AWF Hands Over Equipment for UWA Anti-Poaching Forensics
General Inquiries
Tel:+254 711 063 000
Ngong Road, Karen, P.O. Box 310
00502 Nairobi, Kenya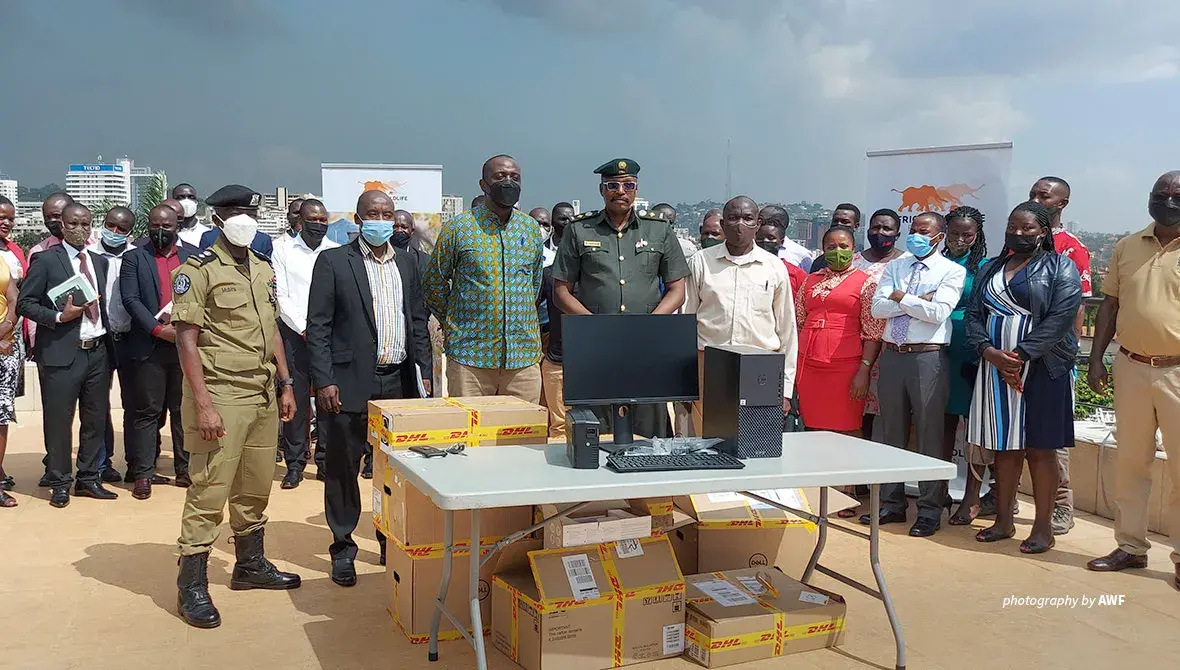 The African Wildlife Foundation (AWF) handed over four forensic workstations to the Uganda Wildlife Authority (UWA) on December 14, 2021 at a hotel in Kampala, Uganda. The workstations ensure that UWA investigators have the capacity to adequately investigate and prosecute wildlife cybercrime incidences in the country. They include forensic investigation desktop computers valued at US$ 11,119 and equipped with the requisite software to enhance wildlife cybercrime forensics.
Following the handover, AWF, UWA, and Uganda Police Force (UPF) will hold a Digital and Electronic Evidence Training of Trainers Workshop in Kampala from December 14-17, 2021. Target participants are investigators from UWA and experts from UPF, with AWF delivering the training content.
This workshop aims to build the capacity of UWA investigators to carry out training of first responders in the field on digital and electronic evidence, including identification, acquisition, storage, chain of custody, and case management of digital evidence.
"The AWF Wildlife Cybercrime Investigation Program seeks to combat cyber trafficking of illegal wildlife products. The program aims to build a network of information sharing to support law enforcement in uncovering, investigating, and disrupting illegal trade in wildlife and wildlife products through online platforms. AWF's research has revealed that most of the investigations and arrests by law enforcement agencies across Africa have ignored electronic evidence in possession of the offenders. This had allowed traffickers to continue committing wildlife cybercrimes," said AWF Program Manager, Uganda, Robert Senkungu.
AWF's wildlife cybercrime program is designed to improve the quality of wildlife crime investigations and prosecutions to contribute to wildlife protection. If wildlife crime cases are investigated well at the preliminary stage of detection, and all the investigative leads are pursued thoroughly for completeness, the result is high-impact prosecution.
"The world has become small as a result of the internet. Business can be done digitally, and so can crime. As such, law enforcement must stay ahead of the game to ensure that we disrupt this new frontier for wildlife crime. We must learn how to collect evidence acceptable in a court of law in order to successfully prosecute suspects," said Bashir Hangi, UWA Comms Manager, adding, "This training is therefore very important to build the capacity of our investigating officers. We are grateful to AWF for all their support.".
The training supports AWF's Uganda Country strategy in reducing wildlife crime, including wildlife trafficking. Since 2010, Uganda has seen an upsurge in trafficking of wildlife products. With AWF facilitation, UWA conducted two successful operations this year targeting poaching rings in Murchison Falls Conservation Area, Kampala, Queen Elizabeth National Park, and Kibale. The operations culminated in the arrests of 33 suspects and the recovery of exhibits including wildlife products and weapons.
About African Wildlife Foundation
The African Wildlife Foundation is the primary advocate for the protection of wildlife and wild lands as an essential part of a modern and prosperous Africa. Founded in 1961 to focus on Africa's conservation needs, we articulate a uniquely African vision, bridge science and public policy, and demonstrate the benefits of conservation to ensure the survival of the continent's wildlife and wild lands.
MEDIA CONTACT: For more information and interviews, contact Jacqueline Kubania at jkubania@awf.org