Organizational Updates
AWF Hosts European Union and DRC Wildlife Authority in Bili Uélé
General Inquiries
Tel:+254 711 063 000
Ngong Road, Karen, P.O. Box 310
00502 Nairobi, Kenya
The African Wildlife Foundation (AWF) on June 5, 2022 hosted a delegation from the European Union (EU) and the government of the Democratic Republic of Congo (DRC) in Bili Uélé, DRC. The visit, which started a day before World Environment Day, included EU representative Patrick Bernard-Brunet, Institut Congolais pour la Conservation de la Nature (ICCN) General Director Olivier Mushiete, and the President of the Administrative Council Garamba, Francois de Donnea.
Escorted by AWF's Bili Uélé landscape director Clive Meakin and other AWF, ICCN, and COOPI (Cooperazione Internationale) staff, the delegation assessed the progress and achievements made under the EU-funded ECOFAC 6 program funding in Bili Uélé.
The project, which was launched in 2018, counts among its successes the capacity building of ICCN ecoguards, the stabilization of security in the landscape, and community development activities such as sustainable livelihoods, the construction of a community radio, the rehabilitation of springs, and the construction of drinking water wells as well as the establishment of local collaborative governance structures which have been essential in developing a framework for natural resource management and community development in the landscape.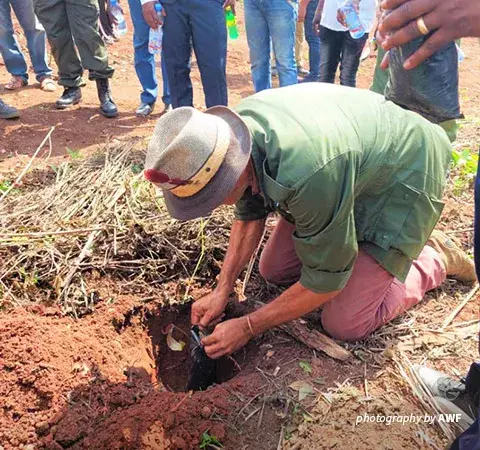 "This high-level visit allowed for positive and constructive engagement on a diverse range of subjects that are crucial to the future of the Bili landscape. We are in a much better position now to plan for long-term engagement here with encouraging donor commitments and partner cooperation in our strategy and vision," said Meakin.
The EU representative expressed his pleasure with the achievements of AWF in Bili Uélé, praising, in particular, the efforts made to set up safari camps as well as the construction of the joint ICCN-AWF offices, which is underway and whose progress is encouraging despite logistical difficulties due to the landscape's remoteness.
"I have seen great progress during this visit which I will report to the larger EU team. I would be very honored to come and cut the ribbon at the inauguration of the new buildings," said Bernard-Brunet.
The delegation was also welcomed by local communities and their traditional authorities with whom AWF and ICCN work closely to deliver conservation interventions.
Before leaving Bili Uélé, the ICCN Director-General planted a fruit tree to mark World Environment Day, symbolizing the DRC's commitment to collaborating with organizations such as AWF to deliver a sustainable future for people and wildlife in the country.