AWF Joins the World in Mourning the Loss of H.E. Benjamin Mkapa
General Inquiries
Tel:+254 711 063 000
Ngong Road, Karen, P.O. Box 310
00502 Nairobi, Kenya
African Wildlife Foundation joins the global community to mourn the loss of H.E. Benjamin Mkapa who passed away in Dar-es-Salaam earlier today. We extend our heartfelt condolences to his family, his friends and the nation of Tanzania who have lost a true gem.
"I am broken and deeply saddened by the tragic and sudden passing of my good friend and colleague Benjamin Mkapa. His dedication and commitment to wildlife conservation and brilliant diplomatic statesmanship was second to none. Africa mourns a great leader," AWF CEO Kaddu Sebunya said upon hearing the tragic news.
Above serving as the president of Tanzania between 1995 to 2005, Mkapa's portfolio and impact followed him beyond his time in office. As one of the continent's most celebrated thought-leaders, he was actively engaged in various leadership forums, boards and mediation talks. At AWF, he was the longest-serving board member, having joined in 2006 then took over as Vice Board Chair from 2011 until his passing.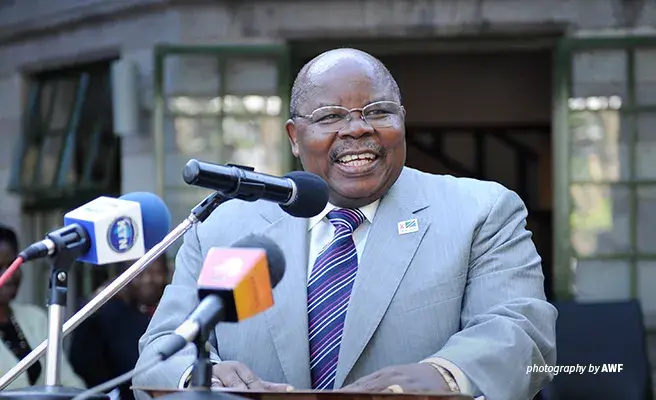 His deep understanding of conservation's importance, across multiple sectors, helped focus policy as he championed the need for wildlife and wild lands in a developing Africa. In recent months, amidst the pandemic, he worked closely with AWF leadership in various forums such as The First Virtual African Protected Areas Directors Conference where he emphasized, "Nature is an investment that should be prioritized as it is our insurance policy against zoonotic diseases. Africa can rise only if we do it right."
Nurturing young leaders is one legacy for which he will be remembered and through which his work on behalf of conservation will continue to thrive. In 2014, he conceptualized the African Leadership Forum in collaboration with The Uongozi Institute. The forum was conceived of as a space for Africa's eminent elders to interact with current and future leaders around strategic challenges facing the continent and help develop sustainable solutions.
Benjamin Mkapa was born in 1938 in Ndanda, Tanzania. He was a graduate of Makerere University in Uganda, and later attended Columbia University in the US, where he was awarded a master's degree in international affairs. Before he became president of Tanzania for a first term in 1995, he held positions as the Minister for Science, Technology and Higher Education. Early in his diplomatic career, he led the Tanzanian mission to Canada in 1982, and to the US from 1983-84. In the late 1970s, he served as the Tanzanian Minister of Foreign Affairs.
"Mzee was a dedicated board member who was always at hand to support AWF, and more… always. It has been an absolute pleasure serving on the board with him, and today I lead the AWF family in mourning his passing. We send our deepest sympathies to the Mkapa family, his many friends around the world, and the people of Tanzania and extend our profound appreciation for his generosity of time, passion and his unwavering support. Rest well, Mzee Mkapa. We will miss you. I will miss you," said Heather Sturt Haaga, AWF Board Chair.
About African Wildlife Foundation
The African Wildlife Foundation is the primary advocate for the protection of wildlife and wild lands as an essential part of a modern and prosperous Africa. Founded in 1961 to focus on Africa's conservation needs, we articulate a uniquely African vision, bridge science and public policy, and demonstrate the benefits of conservation to ensure the survival of the continent's wildlife and wild lands.
MEDIA CONTACTS: For interviews with AWF leadership about former President Mkapa's honorary role with AWF and his commitment to wildlife conservation across the African continent, contact Nashipae Orumoy of AWF in Nairobi, Kenya at Norumoy@awf.org, or for US media contact Patrick Mitchell of AWF at PMitchell@awf.org.