Press Release
AWF Names Baby Elephant at Magical Kenya Tembo Naming Festival 2023
General Inquiries
Tel:+254 711 063 000
Ngong Road, Karen, P.O. Box 310
00502 Nairobi, Kenya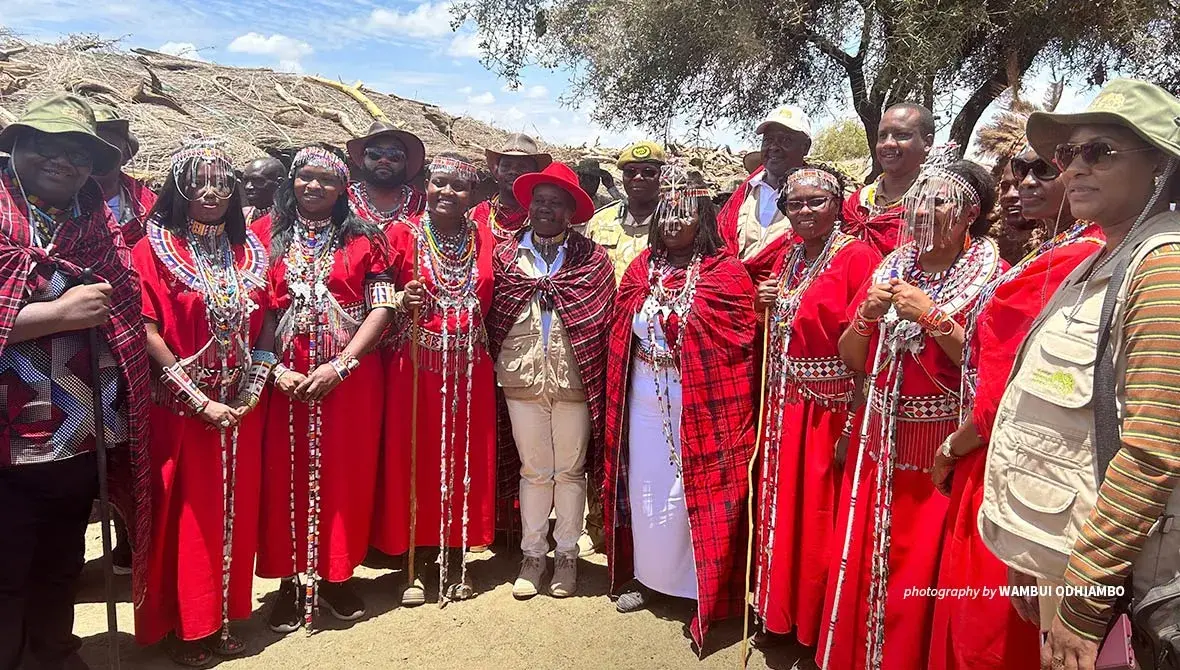 AWF selected the name 'Nashipae,' which means 'happiness' in Maasai language, for one newborn female calf
Amboseli National Park, Kenya (March 3, 2023) — African Wildlife Foundation (AWF) today attended the 2nd edition of the Magical Kenya Tembo Naming Festival at Amboseli National Park. The initiative, which was launched in 2021, is an innovative sustainability mechanism to champion elephant conservation in Kenya. It offers individuals and organizations an opportunity to fund conservation efforts by donating money to Kenya Wildlife Service by naming an elephant.
The elephant has a significant impact on our livelihoods, including the well-being of communities living near parks, reserves, conservancies, and other lands. While the poaching of elephants has decreased significantly in recent years, human-elephant conflicts have increased in many regions of the country because of habitat loss and competition for resources.
AWF selected the name 'Nashipae,' which means 'happiness' in Maasai language, for one newborn female calf. This name represents an optimistic future of happiness, especially as the country endures the most during the severe drought.
Speaking at the naming ceremony, AWF Country Director, Kenya, Nancy Githaiga expressed, "For over 60 years, the African Wildlife Foundation has remained at the forefront of conservation by working alongside communities, government authorities, and partners to ensure that wildlife and their habitats thrive in Africa. This event is a fitting example of how closely we are working with African governments across our landscapes to maintain Africa's biodiversity and ecological integrity, especially considering the visible drastic impacts of climate change. We look forward to strengthening our partnerships to elevate our conservation efforts to a higher level and safeguard Africa's future for the better."
The annual naming festival aims to secure a future for elephants and their habitats in peaceful co-existence with humans while providing benefits for posterity. The loss of ecosystem connectivity and rising human-elephant conflicts needs urgent attention from the public.
Kenya's elephant population is increasing by 5 percent annually, with an estimated 36,280 elephants in 2021. Of that population, 15,989 are in the Tsavo-Mkomazi Landscape between Kenya and Tanzania. During the last year, AWF has supported significant improvements in the landscape to mitigate human-wildlife conflict.
The number of trained and equipped farmers, scouts, and rangers has increased to over 3,500, and AWF has contributed tools such as torches, pressure horns, and fireworks to support their efforts. Access to sustainable water sources continues to be challenging in the Tsavo landscape.
AWF previously desilted two water pans — one inside the park and one in a community area and continues to monitor the impacts of the railway in the Tsavo Conservation Area. Underpasses were built under the railway and have been successfully used by the elephants to migrate from one area to another.
AWF continues to adopt a three-pronged approach for elephant protection — 'Stop the Killing,' 'Stop the Trafficking,' and 'Stop the Demand.' Furthermore, we assist countries in developing and implementing National Elephant Recovery and Action Plans.
About African Wildlife Foundation
The African Wildlife Foundation is the primary advocate for the protection of wildlife and their habitats as an essential part of a modern and prosperous Africa. Founded in 1961 during the African independence movement to build our capacity to steward our natural resources, AWF articulates a uniquely African vision, bridging science, education, public policy, and field programs to demonstrate the benefits of conservation and build a future for Africa where people and wildlife thrive.
MEDIA CONTACTS: To arrange interviews with AWF, contact Wambui Odhiambo of AWF in Nairobi, Kenya at wodhiambo@awf.org.