Press Release
AWF Officially Launches Revamped Conservation Leadership and Management Fellowship
General Inquiries
Tel:+254 711 063 000
Ngong Road, Karen, P.O. Box 310
00502 Nairobi, Kenya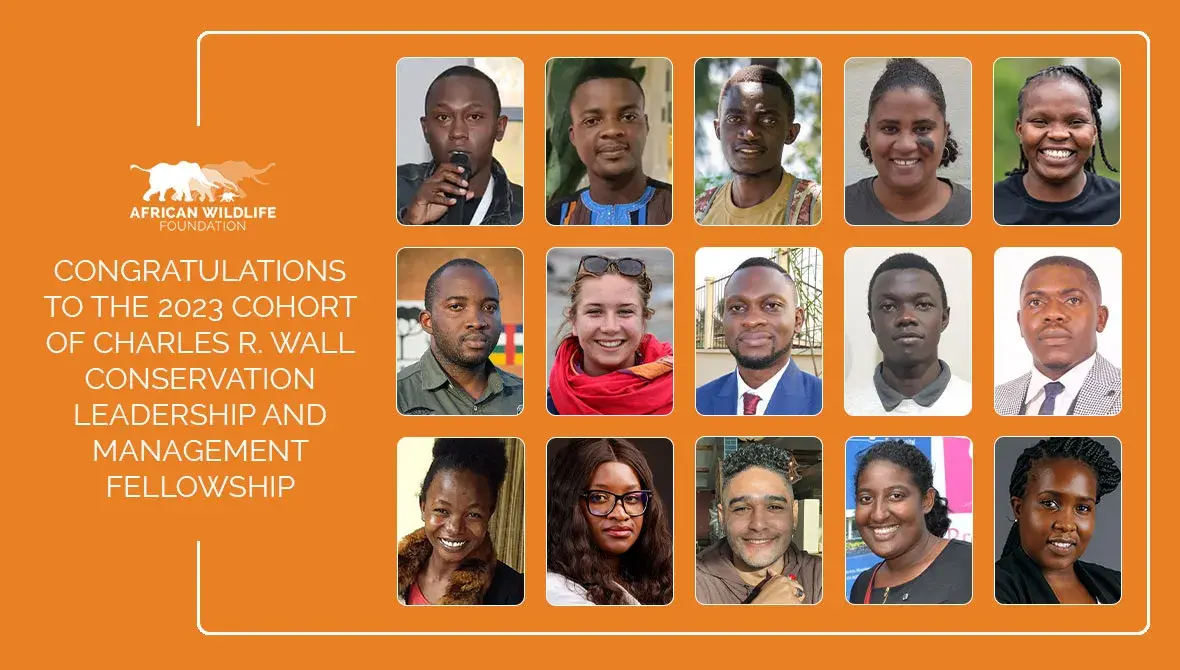 The African Wildlife Foundation (AWF) today officially welcomed 15 fellows selected from a pool of over 400 applicants to the inaugural cohort of the revamped Charles R. Wall Conservation Leadership and Management Fellowship (CLMF).
The program was first conceptualized about 10 years ago, then named the Conservation Leadership and Management Program, which focused on placing conservation professionals at a rotational two-year learning experience at the AWF headquarters and field offices as practical sessions. After eight successful years and continuous feedback from the alumni of the program, AWF paused the program to evaluate the opportunities that could create a larger space for meaningful impact.
This program is AWF's acknowledgment of how the spaces of conservation and environmental sustainability are changing rapidly, requiring open-minded and resilient individuals who can lead systemic change. The program intends to foster collaboration across the continent, as the 2023 cohort brings together fellows from 12 African countries from West, Central, Eastern and Southern Africa. Countries represented in this cohort include Cabo Verde, Benin, Cameroon, Central Africa Republic, Kenya, Rwanda, Uganda, Democratic Republic of Congo, Mauritius, Zimbabwe, Namibia, and South Africa.
Kaddu Sebunya, AWF CEO, shared his remarks at the launch of the fellowship: "The fact that you are here today is proof enough that you have what it takes to forge a new path for not only yourselves but for the millions of other youths coming after you. You are their trailblazer. I am encouraged that you have not chosen the easy path of disinterest and a hands-off approach but have fully embraced biodiversity conservation and have accepted to be our torch-bearers."
Most of the fellows have strong links to grassroots conservation interventions, which are integral in achieving global targets. Their skillsets in this space will bring a wealth of knowledge to the intense curriculum that seeks to equip fellows with knowledge, skills, and tools to understand the state of conservation across regions and impart leadership and management skills to lead systemic change in the different spaces they work.
"I foresee this program as an opportunity to improve my leadership skills and understand the relationship and integration in multi-cultural environments as I network with other passionate peers learning from their best practices and key lessons," Baouya Axel Yannick Emmanuel, CLMF 2023 fellow from Central African Republic who works at African Parks as a Human Resource Manager, shared.
The highly experiential and hands-on program spans three phases: a foundational course to introduce fellows to conservation fundamentals; a deep dive focused on personal, leadership, and management development sessions; and placement in an environmental organization for practical learning.
"I believe this platform will enable me to present our challenges in conservation as a country on an international level, building my capacity on issues of conservation leadership and management," commented Johanna Hainana, one of the fellows and Natural Resources Grants Officer at the Environmental Investment Fund of Namibia, commented. "I am also looking forward to sharing lessons from the work that we do with Community Based Natural Resource Management."
This engagement falls under the broader Charles R. Wall Leadership Programs that aim to enhance African-led solutions and effective conservation leadership through two distinct capacity-building programs: The Young African Policy Fellows Program and the Conservation Leadership & Management Fellowship. Fellows from the two programs are part of the Charles R. Wall Leadership Community, a platform for past, present and future fellows to drive peer learning, network, and build a movement of young professionals who are skilled and passionate about influencing effective environmental decisions across the continent.
About African Wildlife Foundation
The African Wildlife Foundation is the primary advocate for the protection of wildlife and wild lands as an essential part of a modern and prosperous Africa. Founded in 1961 to focus on Africa's conservation needs, we articulate a uniquely African vision, bridge science and public policy, and demonstrate the benefits of conservation to ensure the survival of the continent's wildlife and wild lands.
MEDIA CONTACTS: For more information or to arrange interviews, contact Eileen Kairu, AWF Strategic Communications Manager, at ekairu@awf.org