Organizational Updates
AWF Partners with KYBN to Engage Kenyan Youth on Biodiversity Priorities
General Inquiries
Tel:+254 711 063 000
Ngong Road, Karen, P.O. Box 310
00502 Nairobi, Kenya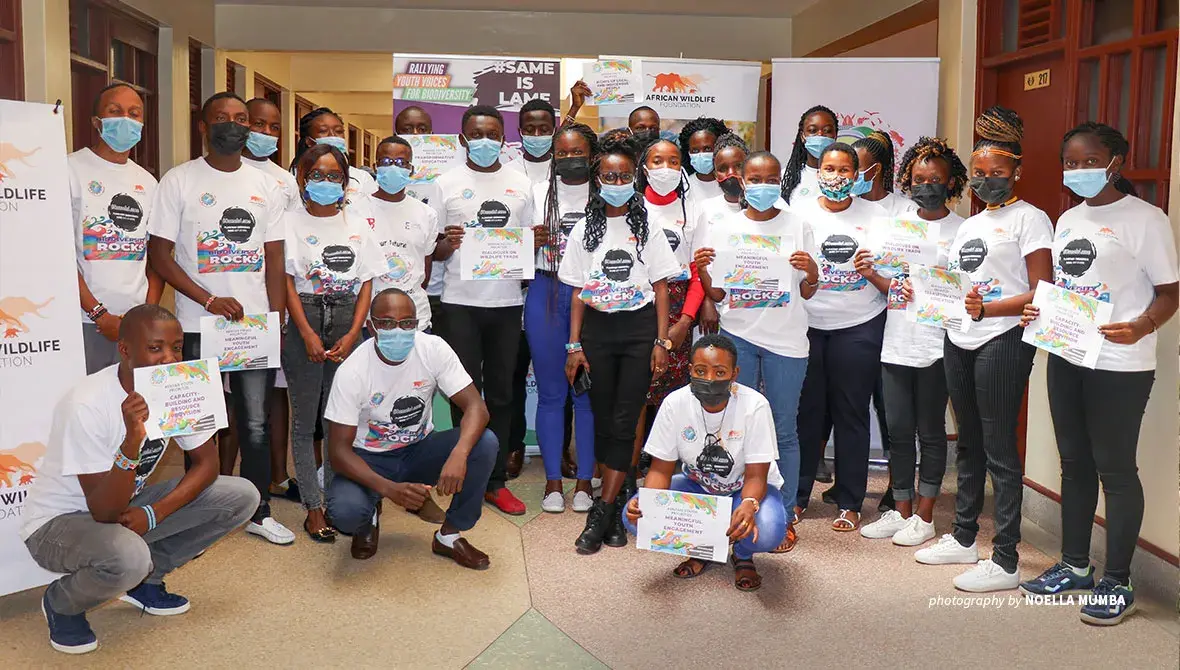 This week, in celebration of International Biological Diversity Month, the African Wildlife Foundation (AWF) in partnership with Global Youth Biodiversity Network Kenya Chapter (KYBN) convened the seventh inter-stakeholder meeting in Machakos, Kenya. For years, both organizations have actively engaged young conservation leaders to build their capacity and now, more than ever as we approach the 15th meeting of the Conference of the Parties to the Convention on Biological Diversity (CBD COP15), it is important to share a coherent standpoint on the continent's biodiversity priorities.
The three-day workshop, themed 'Youth are part of the solution,' aimed at discussing and popularizing KYBN priority areas in the Post-2020 Global Biodiversity Framework (GBF). With the participation of 20 selected participants from across the country, various priority areas were identified that would see the successful implementation of the framework.  
The Guest of Honor, Mukonyi Kavaka, the Head of Bioprospecting at the Kenya Wildlife Service (KWS), acknowledged that the Kenyan youth, being the most energetic generation, have an important place in biodiversity conservation.
"It has been recognized that youth have a major role in wildlife conservation.  I am happy to see that platforms such as KYBN have been established. These platforms enable young people to write concepts and proposals on elements of policies or legislation being reviewed," said Mr. Kavaka during his presentation on meaningful youth engagement in national-level policies.
During the same workshop, KYBN launched the #SameIsLame Campaign. This campaign is a rallying call by Kenyan Youth urging leaders to shift from the 'business as usual' approach to a more proactive one that advocates for more intentional engagement of young people in the formulation and implementation of policy frameworks at local, national, and international levels.
"#SameIsLame is the final wake-up call to our leaders to do things differently. It is a reminder that the current planetary crisis has been accelerated by doing things the SAME way over the years. The Post-2020 Global Biodiversity Framework provides another opportunity, one that could be the last, to evolve in our collective actions for nature," said Kevin Lunzalu, KYBN Coordinator.
Through the Youth Engagement program, AWF strengthens youth leadership, exposes them to new opportunities as well as builds their capacity in understanding the key processes that will get them a seat at the table.
"The Top 100 Young African Conservation Leaders is one of the initiatives that AWF and its partners launched earlier this year. It was born out of the need to profile young African conservation leaders championing the conservation of Africa's biodiversity. It also aimed at positioning the leaders as role models for the coming generations," Simangele Msweli, AWF's Senior Manager for Youth Engagement emphasized at the conference.