Organizational Updates
AWF Partners with Musanze District for Volcanoes National Park Expansion Pilot Project
General Inquiries
Tel:+254 711 063 000
Ngong Road, Karen, P.O. Box 310
00502 Nairobi, Kenya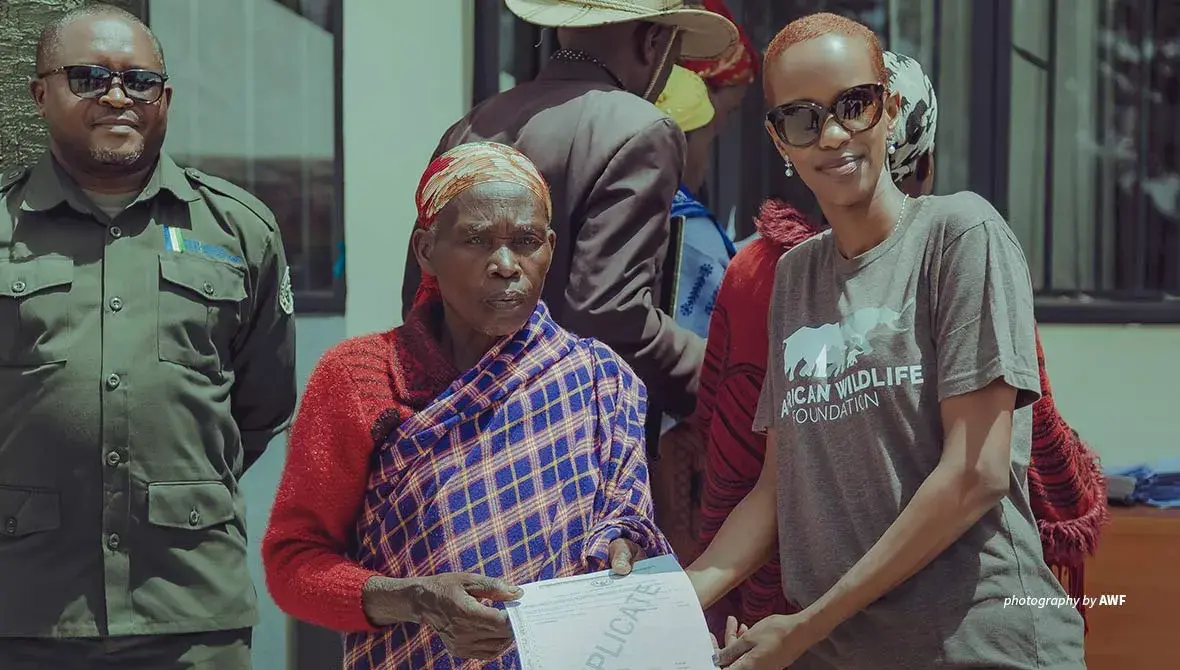 The program aims to improve the socio-economic opportunities and benefits for the 17,000 people directly affected by the expansion plan
MUSANZE, RWANDA (October 31, 2022) — The African Wildlife Foundation (AWF) in partnership with Musanze District has initiated a pilot project to serve as a trial run for the Volcanoes National Park Expansion program that will help determine if any adjustments to the implementation plan or adaptations to the program are necessary.
Community engagement is a very integral element in the primary step of the Resettlement Action Plan (RAP). This was incorporated in the first phase of the implementation. From September 7-9, 2022, AWF, Musanze District, and the Rwanda Development Board (RDB) conducted the first stakeholder engagement in Musanze District by consultation with local authorities. This engagement revolved around discussion with the affected community on detailed project activities and participatory identification of any adverse effects and how they can be avoided or mitigated in compliance with international standards. Finally, the community members elected a male and female representative to represent them in all Volcanoes National Park Expansion pilot project activities
Following the successful completion of the first stakeholder engagement, AWF, Musanze District, and RDB are launching the second phase of the community engagement campaign. AWF is investing in the Volcanoes National Park expansion to shape a model for African conservation that is grounded in Free, Prior and Informed Consent as a driver of the process.
Belise Kariza, AWF Country Director, Rwanda, said, "Today we are launching the second phase of community engagement campaign. This will concentrate on land week to support communities to register their land titles, training on grievance redress mechanisms to be used in this project and a study tour for community representatives to learn from similar projects implemented in other landscape."
The development and implementation of the RAP is designed to ensure the process is seamless and to see to it that community members are involved. It will ensure that all resettlement is voluntary, mitigation of unavoidable adverse social and economic impacts from land acquisition, improvement of living conditions of vulnerable persons who are physically displaced, and conception and execution of resettlement activities as sustainable development programs, providing sufficient investment resources to enable displaced persons to benefit directly from the project.
The project is targeting 1,080 hectares located in the western area to ease the population pressure in the high-density Bisoke area, and also to incorporate the already donated land from AWF. It encompasses the park expansion, the construction of a green village, and livelihood improvement which will ensure around 50 hectares will be allocated to smart agriculture production and other income-generating activities for the community.
Volcanoes National Park Expansion program's goal is to improve the conservation and biodiversity of the park while building the resilience of the surrounding community. The program's expected impacts are 23 percent increase in size and effective habitat functioning of the National Park, 50 percent reduction of mountain gorilla infant mortality, and 15-20 percent increase in mountain gorilla viewing opportunities.
Over the last three decades, the Virunga mountain gorilla population has increased, with approximately 1,004 gorillas in total that live exclusively in three national parks in Rwanda, Uganda, and the Democratic Republic of Congo. This positive growth has resulted in the need to expand their habitats. Efforts to expand gorilla habitat need to incorporate equal investments to ensure people living around the park benefit from park expansion. This translates to involving communities in the park expansion plan process, providing housing and social benefits to communities affected by the expansion, and investing in inclusive green growth to create jobs and opportunities for people adjacent to the park.
About African Wildlife Foundation
The African Wildlife Foundation is the primary advocate for the protection of wildlife and their habitats as an essential part of a modern and prosperous Africa. Founded in 1961 during the African independence movement in order to build our capacity to steward our natural resources, AWF articulates a uniquely African vision, bridging science, education, public policy, and field programs to demonstrate the benefits of conservation and build a future for Africa where people and wildlife thrive. Learn more at www.awf.org
AWF MEDIA CONTACTS: For more information contact: Wambui Odhiambo of AWF in Nairobi, Kenya at wodhiambo@awf.org, +254 728 886987.