AWF Partners with Uganda to Develop Landscape Strategy for Kidepo Valley
Organizational Updates
AWF Partners with Uganda to Develop Landscape Strategy for Kidepo Valley
General Inquiries
Tel:+254 711 063 000
Ngong Road, Karen, P.O. Box 310
00502 Nairobi, Kenya
In late April 2022, the African Wildlife Foundation (AWF) held a four-day workshop in Uganda to develop the Kidepo Valley Landscape Strategy. The workshop was graced by different stakeholders' presence and participation, including officials from the Ministry of Tourism, Wildlife and Antiquities, the Uganda Wildlife Authority, local government, the National Forestry Authority, and community elders representatives, youth, and women representatives.
Key in the lively deliberations was agreeing on the scope of the landscape and setting a shared vision for it. The participants expressed appreciation of AWF's rights-based conservation approach, noting that it will be essential in guiding conservation interventions in the landscape. They also displayed enthusiastic ownership of the strategy development, actively contributing to discussions about what they envision for the landscape, its inhabitants, and beneficiaries.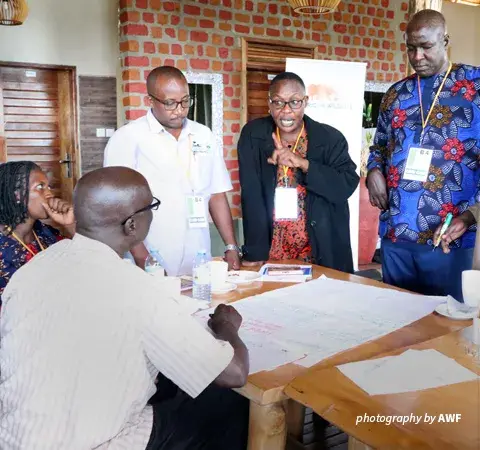 "I commend AWF for incorporating the business engagement sessions because if the business opportunities we have identified are implemented in the community, prevalent threats like poaching will be solved since poachers will have alternative sources of income. These opportunities will also shield human-wildlife conflict victims from trauma due to losses incurred," said Akello Paska, who attended in her capacity as chairperson for a women's peace forum in Kidepo.
The workshop integrated presentations from key speakers, group discussions, and participatory mapping. At the end of the deliberations, the over 70 participants formulated a shared vision for the landscape, identified and mapped threats to the landscape, formulated strategies, and set goals to measure conservation success and human well-being.
The Kidepo strategy development workshop is the latest in a series of similar workshops organized across the landscapes where AWF works and is critical to fulfilling the organization's ten-year vision that embraces the conservation of wildlife and wildlands while supporting human development.
"We are glad we took on such an exciting and effective approach of having key stakeholders at the local level take lead in developing this transboundary landscape strategy. This spells the success that will come from implementation," said AWF Country Director, Uganda Sudi Bamulesewa.
The strategy will inform AWF's conservation actions in Kidepo for the next ten years while also guiding fundraising efforts to ensure that there are sufficient resources to achieve desired results. It is expected to be finalized by the end of July 2022.