AWF Provides Solar Equipment for Uganda Wildlife Authority Operations
Organizational Updates
AWF Provides Solar Equipment for Uganda Wildlife Authority Operations
General Inquiries
Tel:+254 711 063 000
Ngong Road, Karen, P.O. Box 310
00502 Nairobi, Kenya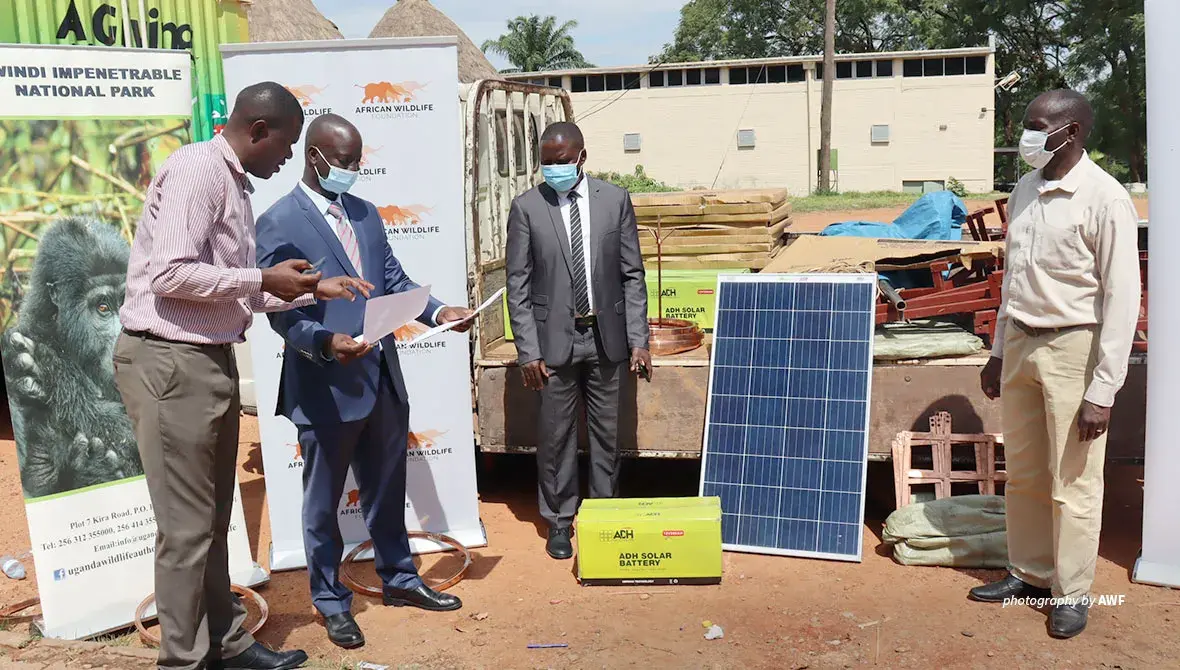 The African Wildlife Foundation (AWF) early this week handed over solar equipment to the Uganda Wildlife Authority (UWA) to address some of the challenges faced by UWA from the COVID-19 pandemic.
The equipment, worth US$ 27,000, consists of 10 rechargeable solar batteries, 10 solar panels with 125 watts capacity, 30 lightning isolators, and 10 fabricated trays to support the batteries. It was procured with funding from the U.S. Agency for International Development (USAID) and the U.S. Forest Services. This consignment supplements previous COVID-19 relief support provided to UWA by AWF over the past two years of the pandemic.
"Light is key in our operations in the wild, therefore we appreciate the support AWF has given to UWA since the onset of the COVID-19 pandemic and we pledge to put this to good use for our teams in the field," said Mugisa Jimmy, the Director Finance and Administration at UWA. The items will be distributed to selected ranger outposts in Uganda's national parks.
The pandemic came with a reduction in tourism revenues which left UWA field operations crippled with few resources to conduct patrols and park operations. This challenge has been experienced by other conservation agencies across Africa, leaving them struggling to manage extensive conservation areas, and it is expected to persist for the next few years. Uganda's wildlife authorities also admit that the reduction in tourism income has decimated household earnings in rural areas, resulting in people turning to poaching as a source of livelihood.
Other AWF support to UWA includes 248,000 liters of fuel to support patrol operations and ranger allowances amounting to US$ 39,179. AWF has also donated patrol equipment like sleeping pads and gumboots, as well as food rations. These provisions have significantly enhanced UWA's operations and helped to restore normalcy as the country's tourism industry recovers.
AWF remains committed to working with African governments to ensure that wildlife and wildlands thrive in a modern Africa.