Press Release
AWF Renews MoU with Cameroon's Ministry of Forestry and Wildlife
General Inquiries
Tel:+254 711 063 000
Ngong Road, Karen, P.O. Box 310
00502 Nairobi, Kenya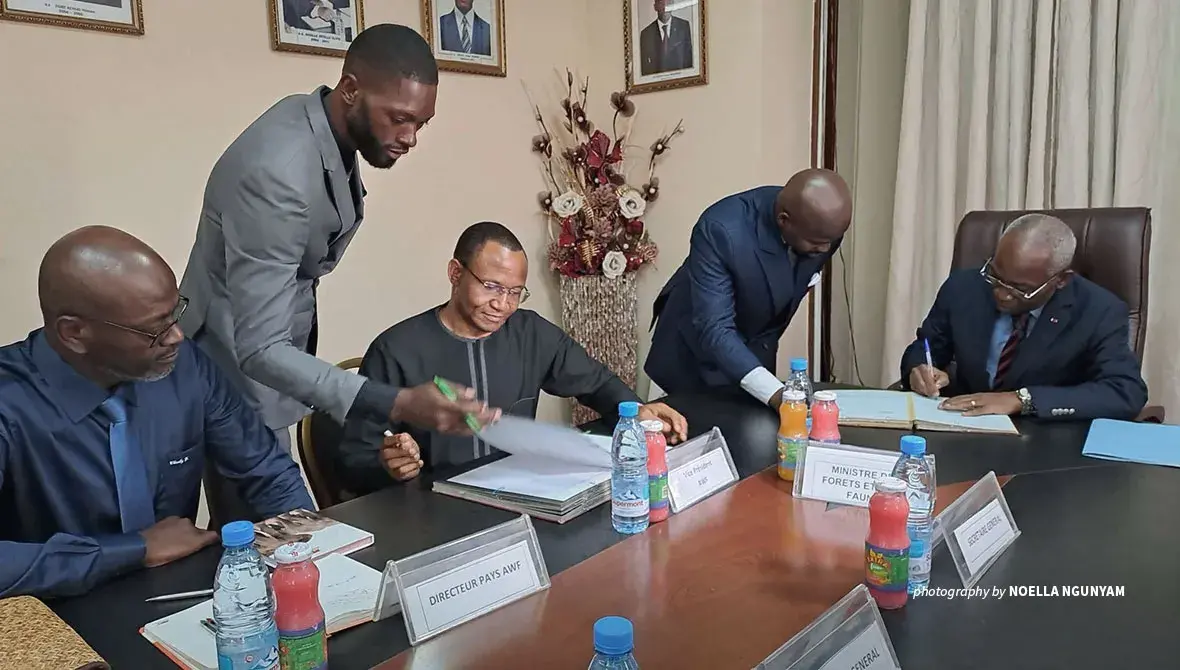 The African Wildlife Foundation (AWF) and the Ministry of Forestry and Wildlife in Cameroon (MINFOF) have renewed their Memorandum of Understanding, sealing their partnership for the conservation of the country's biodiversity for the next five years.
The event took place on April 17, 2023, at the MINFOF Conference Hall in Yaounde. In attendance were H.E. Jules Doret Ndongo, Minister of Forestry and Wildlife, Joseph Lekealem, Director of Wildlife and Protected Areas, alongside other MINFOF officials for MINFOF. The AWF delegation was led by Senior Vice President, Conservation Strategy, Impact and Learning, Charly Facheux, who was accompanied by AWF Country Director, Cameroon, Norbert Sonne.
Before the official signing of the agreement, Charly Facheux was granted an audience by the Minister, during which they revisited the fruitful collaboration between MINFOF and AWF and agreed on joint efforts for wildlife conservation in Cameroon. Thereafter, both parties joined the other stakeholders present for the official signing of the documents.
The agreement reiterates AWF's commitment to providing technical assistance to MINFOF in the sustainable management and conservation of Dja Faunal Reserve, Faro National Park, and Campo Ma'an National Park and their peripheries, and the full implementation of the Canines for Conservation program at airports in Cameroon.
Charly Facheux underlined AWF's vision of ensuring healthy ecosystems and thriving biodiversity that support human well-being and contribute to Cameroon's National Development Strategy 2020-2030. "This is a significant step for AWF to help achieve one of the goals we have set for Cameroon before 2030, which is to push for Cameroonian leaders to champion, influence, and prioritize conservation to support sustainable development. We are ready to accompany the government in the implementation of its favorable environmental policies to push for a winning conservation agenda for the Cameroonian nation and its people," he said.
H.E. Jules Doret Ndongo applauded AWF's efforts in championing biodiversity conservation in the country and pledged to provide all support necessary to aid the organization in achieving its strategic vision and conservation goals for Cameroon. AWF Country Director, Cameroon, Norbert Sonne then joined the Minister to exchange signatures, opening a new period of collaboration between AWF and the Cameroon government.