AWF Safari Program Celebrates International Women's Day with AdventureWomen Partnership
Organizational Updates
AWF Safari Program Celebrates International Women's Day with AdventureWomen Partnership
General Inquiries
Tel:+254 711 063 000
Ngong Road, Karen, P.O. Box 310
00502 Nairobi, Kenya
Each year, more than 32 million American women travel without a partner. In addition to being more independent and adventurous than their single male counterparts, women around the world are putting more thought into where they go – prioritizing meaningful and fulfilling travel experiences. This helps explain why 75 percent of the trips that women booked in 2019 were for cultural and natural sightseeing. Sustainable wildlife tourism in Africa is a conduit for the solo female traveler, who is looking for unique new adventures, but also opportunities for education, networking, and even spiritual growth.
On International Women's Day, African Wildlife Foundation (AWF) is celebrating its expanding partnership with AdventureWomen. We are excited to be working with AdventureWomen to meet the upsurge in female travelers and committed to restoring in-person African safari as the global pandemic recedes. To help #BreakTheBias and embrace a world that is diverse, equitable and inclusive, we are releasing additional details and information about our highly-anticipated all-women safari to Zimbabwe, scheduled for next spring. Leading this trek will be many African women working in wildlife conservation and other fields. Their involvement will shine a light on important female-focused community projects throughout Zimbabwe.
With the world's fastest growing under-25 youth population, Africa holds tremendous promise for young women. Rapid growth in urban areas and expanding economies offer emerging markets for women to take advantage and to fill leadership roles. Still, the bulk of success stories for women take place in a narrow echelon, far removed from the millions of African women in local and rural communities. In places on the front lines of conservation, in particular, failure to embrace gender diversity impedes the social and economic progress of millions of African women, who will not reach their full potential. At AWF, we create pathways for African women from all walks of life and hold up examples of that work to inspire women around the world.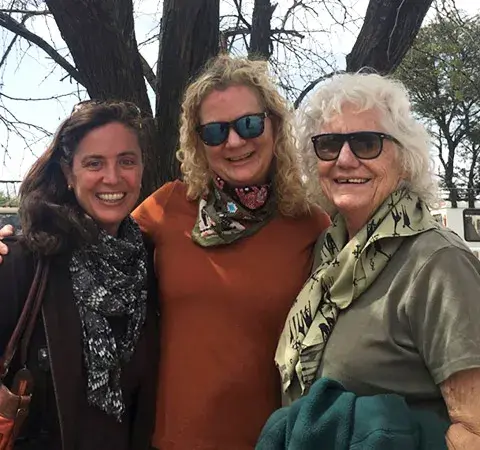 AWF Safari Manager Carter Smith said: "Women in Africa have a critical role to play in conservation and environmental stewardship, yet we still see distressing barriers that create an unequal playing field for women, including land and resource rights, access to higher education, and exclusionary decision-making processes. Despite the obstacles, African women typically manage natural resources at the family and community levels, including food & water, fuel, and sustaining agriculture. AWF Safari Program allows participants to see the value of community-rooted conservation and learn how it makes a difference for African women."
AWF's all-women Zimbabwe safari with AdventureWomen is designed with integrated stops along the way, introducing guests to exceptional African women changing the status quo. In addition to once-in-a-lifetime adventures — including Victoria Falls, a walking safari to see the rare white rhinos, and a sunset cruise along the Zambezi River – participants will visit the Lupani Primary School in Kazungula, Zambia. The school was rebuilt as an initiative of the African Wildlife Foundation's Classroom Africa program, providing a safe learning environment for girls and boys across seven grades.
With more single women traveling, agencies that solely cater to female consumers have increased by 250 percent. However, AdventureWomen is not just meeting this fresh demand; they have been setting the bar for adventure travel for women since 1982, custom-designing the most unique adventure travel tours for active women, worldwide. Owner Judi Wineland describes AdventureWomen as a 'relationship company' where women create connections with other women, while exploring new frontiers and active outdoor adventure.
Wineland said: "During our adventures, we get to know local women from a wide-spectrum of backgrounds. Through these women-to-women exchanges, guests have the intimate chance to see the world through their eyes. Guests may explore a new medium with female artisans in Thailand, converse with an apprentice geisha in Japan, or participate in the age-old tradition of rose petal harvesting with farmers in Turkey. On the AWF Zimbabwe Safari, we'll get to know Olivia Mufute, the first female Chief Ecologist at the Zimbabwe Parks and Wildlife Management Authority and the current Zimbabwe country director for AWF; and Sharon Stead, founder of the Mother Africa Trust, which supports female-focused projects throughout Zimbabwe. Although the worlds of our women guests and experts seem vastly different, we find our hearts and aspirations are very alike through intimate conversations."
International Women's Day contemplates a world free of bias, stereotypes, and discrimination. AWF and AdventureWomen believe in encouraging all women, who prioritize travel that fulfills them – to engage in solo trips and safaris that expose and break down persisting barriers. AWF's partnership with AdventureWomen leverages female-to-female connections to help elevate women in leadership roles. We are excited about AWF's budding partnership with AdventureWomen, and honored to participate in this beautifully crafted safari with Judi Wineland.
The all-women Zimbabwe safari will feature women ambassadors, travelers, and conservation heroes. We cannot wait for this inspiring adventure to begin.
About AdventureWomen
AdventureWomen® has been a pioneer and a leader in adventure travel for women since 1982, custom-designing and leading some of the most unique adventure travel tours for active women, worldwide. Owners Judi Wineland, President of Wineland-Thomson Adventures Inc., and her daughters Erica Landerson and Nicole Wineland-Thomson, describe AdventureWomen as a "relationship company" where women create connections with other women while exploring new frontiers and active outdoor adventure. Offering adventure tours to over 20 countries each year, AdventureWomen invites women to physically and mentally challenge themselves while exploring the world at their own pace and on their own terms.
About African Wildlife Foundation
The African Wildlife Foundation is the primary advocate for the protection of wildlife and wild lands as an essential part of a modern and prosperous Africa. Founded in 1961 to focus on Africa's conservation needs, we articulate a uniquely African vision, bridge science and public policy, and demonstrate the benefits of conservation to ensure the survival of the continent's wildlife and wild lands.
MEDIA CONTACT: For more information or to arrange interviews with AWF's Safari Program team, contact: Patrick Mitchell of AWF in Washington, D.C. at pmitchell@awf.org or 202-441-7647.