Organizational Updates
AWF Shares Guidelines for Investigating IWT with East African Journalists
General Inquiries
Tel:+254 711 063 000
Ngong Road, Karen, P.O. Box 310
00502 Nairobi, Kenya
In celebration of Earth Day on April 22, 2021, the African Wildlife Foundation (AWF) joined like-minded partners in a webinar organised by Earth Journalism Network (EJN). The webinar, called 'Following the money: Tips for journalists investigating illegal wildlife trade in East Africa's aimed at supporting the continued efforts of environmental journalists in East Africa to expose wildlife trafficking and environmental crime.
The webinar was moderated by Kiundu Waweru, EJN Project Manager, Wildlife and Conservation Media Coverage in East Africa. The panelists at the virtual event were Didi Wamukoya, AWF's Senior Manager, Wildlife Law Enforcement, Wankyo Simon, Senior State Attorney, Office of the National Prosecutions Services, Tanzania, and Annika McGinnis, the Co-Founder and Director, InfoNile and member of Africa Water Journalists.
The three panelists discussed the challenges of prosecuting the kingpins of wildlife trafficking and what journalists should look out for if they want to do investigative stories on them. The panel also shared how prosecutors and the courts are using anti-money laundering laws to nab organized criminals engaged in illegal wildlife trade (IWT) and gave examples of some of the best investigative work on money laundering and wildlife trafficking from a leading environmental journalism nonprofit in East Africa.
IWT not only robs us of our unique wildlife but also human health. The ongoing COVID-19 pandemic is linked to the wildlife trade. According to the U.N. Office on Drugs and Crime (UNODC), IWT is the fourth largest illegal trade in the world. IWT is a menace in East Africa since the region is both a source and transit point. In a bid to curb this vice, law enforcement often arrests "small fish" in the IWT chain, leaving the kingpins scot-free.
Money laundering laws are important in nabbing organized crime networks. Simon advised the environmental journalists present during the webinar on where to look for financial evidence when investigating money laundering, which aids IWT in East Africa. He highlighted why the Money Laundering Act is needed in investigating and combating IWT.
"Crimes are not local in nature because a group of criminals who were committing crimes in local jurisdictions have become more global expanding their operations beyond their country's borders to become regional and organized criminal groups," said Simon.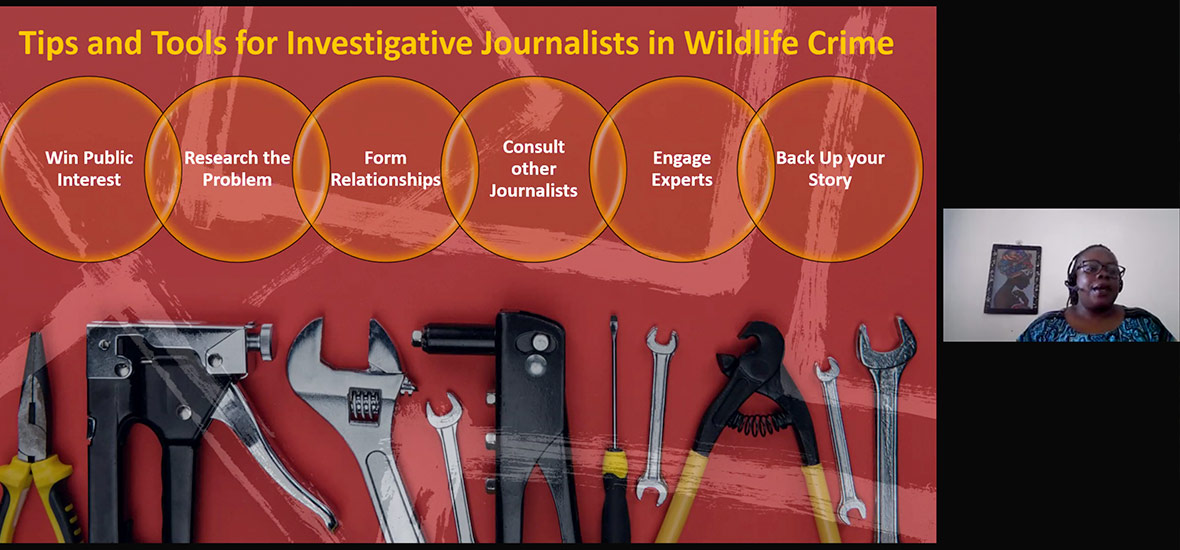 In her presentation, Wamukoya extensively described the IWT chain focusing on the kingpins and their role in the chain. It is quite challenging to prosecute these IWT kingpins as they have no direct contact with the poachers, they use shell companies and there is also no evidence trail with the proceeds from the illicit trade. She acknowledged the important role played by journalists in reporting on IWT, which drives human interest in the crime. Reporting also gives a different angle to the issue being investigated and has at times been quoted by judges during their judgment.
"The journalist has the ability to get and tell multiple angles of the story whereby in law enforcement we are just pursuing evidence with the aim of getting a conviction. There are low evidence thresholds. In law enforcement, we need to prove the case beyond reasonable doubt but in investigative journalism, you want to get a credible story which can lead to a lot of information that can help law enforcement," noted Wamukoya.
Journalists are urged to be proactive in their investigations and leverage cross-border collaboration in weeding out kingpins and organized criminal groups. They have proven to play a key role in investigating and reporting on IWT that often arise from arrests or a court case. Law enforcers should engage journalists more to tell the stories
The recording of the full webinar can be accessed here.