Organizational Updates
AWF Supports Mentorship of KWS Prosecutors and Investigators to Counter Wildlife Trafficking
General Inquiries
Tel:+254 711 063 000
Ngong Road, Karen, P.O. Box 310
00502 Nairobi, Kenya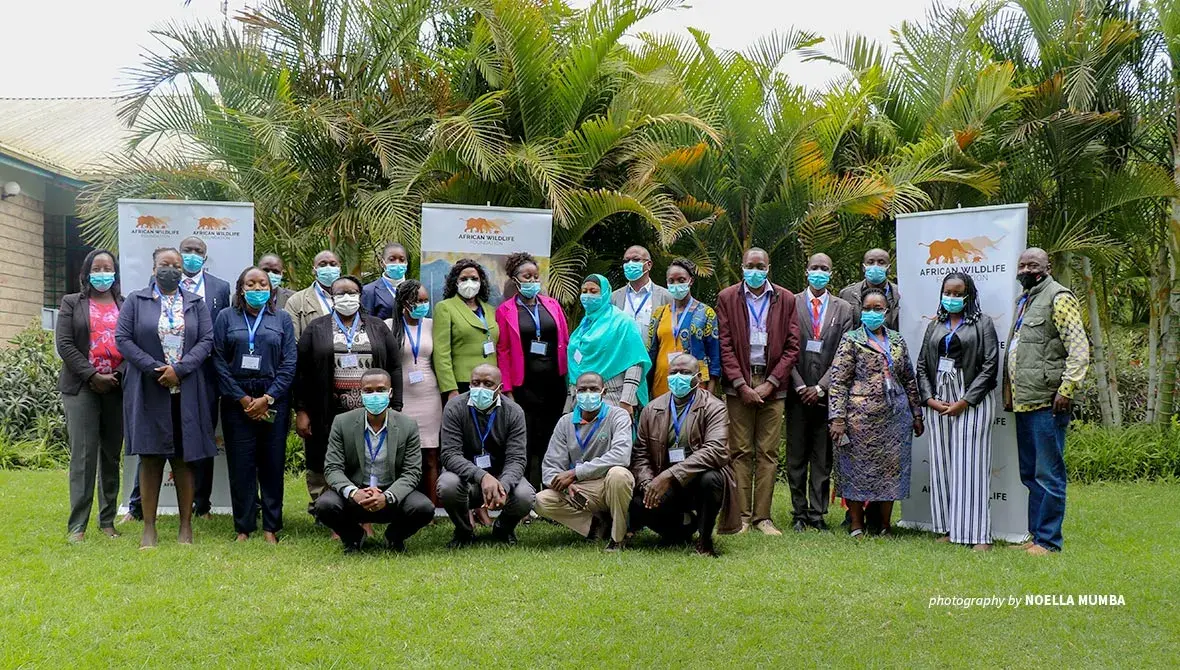 On June 22, 2021, the African Wildlife Foundation (AWF) in collaboration with Kenya Wildlife Service (KWS) launched the On the Job Support for Prosecutors and Investigators in Machakos County, Kenya. The mentorship program aims to ensure the successful investigation and prosecution of wildlife cases and broaden and deepen the investigators' and prosecutors' knowledge and skills in the investigation and prosecution of wildlife crimes.
The mentorship program will run for a year and will be split into four modules facilitated by experienced mentors in prosecution and investigation: Florence Magoma, the Chief Prosecutor at KWS and Maurice Omondi, the Principal Investigation Officer at AWF. Prosecutors and investigators play an indispensable role in the criminal justice system. Their collaboration often leads to successful cases and, in the long run, enhances species protection efforts.
"As much as our investigators and prosecutors are well trained, criminals are always a step ahead and keep changing tack to avoid detection. Training of investigators and prosecutors, therefore, needs to be continuous. They need to understand new modus operandi being employed by criminals as well as new or innovative solutions that are continually becoming available to help address wildlife crime," said Celina Mwangangi as she officially opened the workshop.
The mentorship program is under the Countering Wildlife Trafficking in Kenya project funded by the Bureau for International Narcotics and Law Enforcement Affairs (INL). AWF is one of the implementing partners with the International Fund for Animal Welfare (IFAW). The mentorship program falls under the project's second objective to enhance prosecutorial and judicial capacity to successfully prosecute those illegally transiting wildlife products with adequate sentencing. The mentorship program aims to overcome any weaknesses in the law and in practice that may hamper the success of the investigation and prosecution of wildlife crime.
"The OJTs aims at identifying weaknesses and knowledge and skill gaps among wildlife crime prosecutors and investigators and curing those weaknesses. They also aim at improving communication and collaboration among prosecutors and law enforcement agencies," said Philip Muruthi, AWF's Vice President of Conservation Science and Planning.
The value of the mentorship program will be related to specific outcomes such as properly worked case files, prosecution-guided investigations, use of supporting legislation, proper investigation, and prosecution and ultimately deterrence of wildlife offenders.
Wildlife trafficking not only affects wildlife but humanity, as proven by the emergence of zoonotic diseases. Therefore, such targeted training programs strive to impart prosecutors and investigators with skills and knowledge to prevent wildlife crime from taking an additional toll on species that have become increasingly vulnerable to existing threats.