Organizational Updates
AWF Trains KWS Wildlife Crime Investigators on Digital Evidence
General Inquiries
Tel:+254 711 063 000
Ngong Road, Karen, P.O. Box 310
00502 Nairobi, Kenya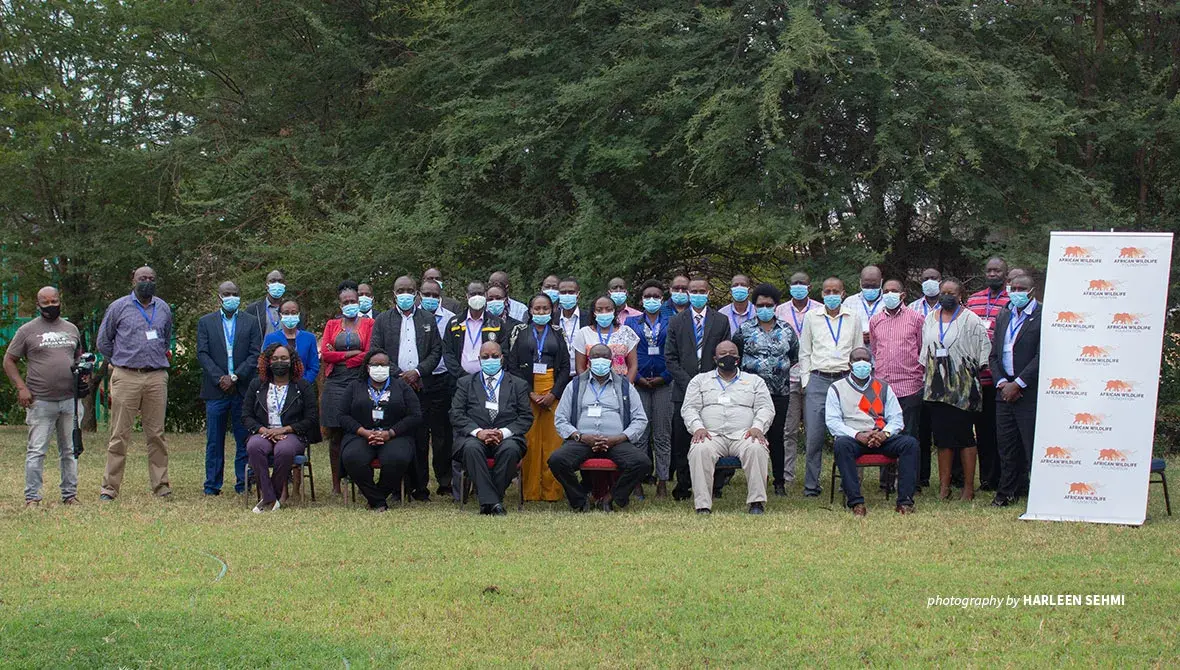 African Wildlife Foundation (AWF) organized an intensive digital and electronic evidence workshop for investigations and intelligence officers from the Kenya Wildlife Service (KWS) from June 8 - 11, 2021 at Voi Wildlife Lodge.
Led by AWF's Counter Wildlife Trafficking team and digital forensic experts from the Directorate of Criminal Investigations (DCI), the four-day workshop equipped 23 senior wildlife crime investigators from various conservation areas in Kenya and KWS headquarters with the technical knowledge and training skills to improve the management of digital and electronic evidence in wildlife crime cases. The trainees will, in turn, build the capacity of wildlife rangers in the field who encounter wildlife crime scenes as first responders but often lack the knowledge and skills in identifying, acquiring, and storing digital and electronic devices such as mobile phones and computers. These devices hold important information and are a potential source of evidence for successful wildlife crime investigations and prosecutions.
"Digital and electronic evidence is fragile and hence, the first responder needs to understand the process of collecting, preserving and submitting it for forensic examination," explained Ernest Agina, AWF's Cybercrime Investigations Manager. He added that AWF and the DCI would help participants address gaps in digital forensics training and sharpen their knowledge of Kenya's cybercrime policies and laws during the Training of Trainers Workshop. Agina cited the results of AWF's Court Monitoring program, noting that between July - October 2019, no digital evidence was collected for the 215 cases in the courts adjoining the Tsavo Conservation Area (Makindu, Wundanyi, Taveta, and Voi).
In his opening remarks, KWS Assistant Director overseeing Tsavo East National Park Capt. Kenneth Ochieng said that the landscape is one of the largest conservation areas in Kenya and faces unique challenges and transboundary issues. Capt. Ochieng underscored the important role of partners like AWF and the need for multiagency collaboration in strengthening wildlife law enforcement capacity, which is a key pillar of the wildlife management authority's new strategic plan.
In addition to providing an overview of digital and electronic evidence and wildlife cybercrime, AWF and DCI experts facilitated important discussions on various legal and ethical considerations of cybercrime investigations and digital data collection. The participants also engaged with case studies to improve procedural techniques such as interviewing witnesses and recording statements. They also learned about training design as well as practical presentation and facilitation skills that will enable them to conduct engaging and informative training sessions for their teams in the field and the KWS forensics laboratory.
The Training of Trainers Workshop in Voi comes six months after AWF organized a cybercrime sensitization workshop in conjunction with the DCI and Space for Giants for KWS investigators in November 2020. During this meeting, participants reviewed a best practice manual for frontline law enforcers to properly manage wildlife cybercrime scenes. The handbook, produced by AWF with support from the Batten Foundation and Draper Foundation, enables KWS wildlife officers to maximize the quality of digital evidence admitted in wildlife crime cases and strengthen investigations.
KWS Investigation Officer Jarvis Galole, based at the Taveta-Holili border post, attended both workshops and is prepared to practice the important lessons learned about collecting digital evidence, particularly mobile phones. "With the first reponder manual, it will be easy for me to start imparting the knowledge to the officers under my command immediately. I will tell them that we should not take anything lightly," he said.
In closing the workshop on June 11, 2021, James Githinji, Superintendent of the National Police Service and Head of Investigations at Immigration, said, "I wish to thank AWF for this noble venture of bringing together partners so that we can be able to share ideas and resources." He noted how the same illegal firearm could be used in multiple cases. "Criminals don't have boundaries. When we decide that we are fighting crime by suppressing poachers, by extension, we are equally suppressing someone who might commission another offence," said Githinji.
Following the workshop, attendees will undertake a week-long mentorship program at the DCI headquarters in Nairobi to gain further insight into digital forensics and foster interagency collaboration in the fight against illegal wildlife crime.