Press Release
COP15: AWF Statement on the Newly Adopted Kunming-Montreal Global Biodiversity Framework
General Inquiries
Tel:+254 711 063 000
Ngong Road, Karen, P.O. Box 310
00502 Nairobi, Kenya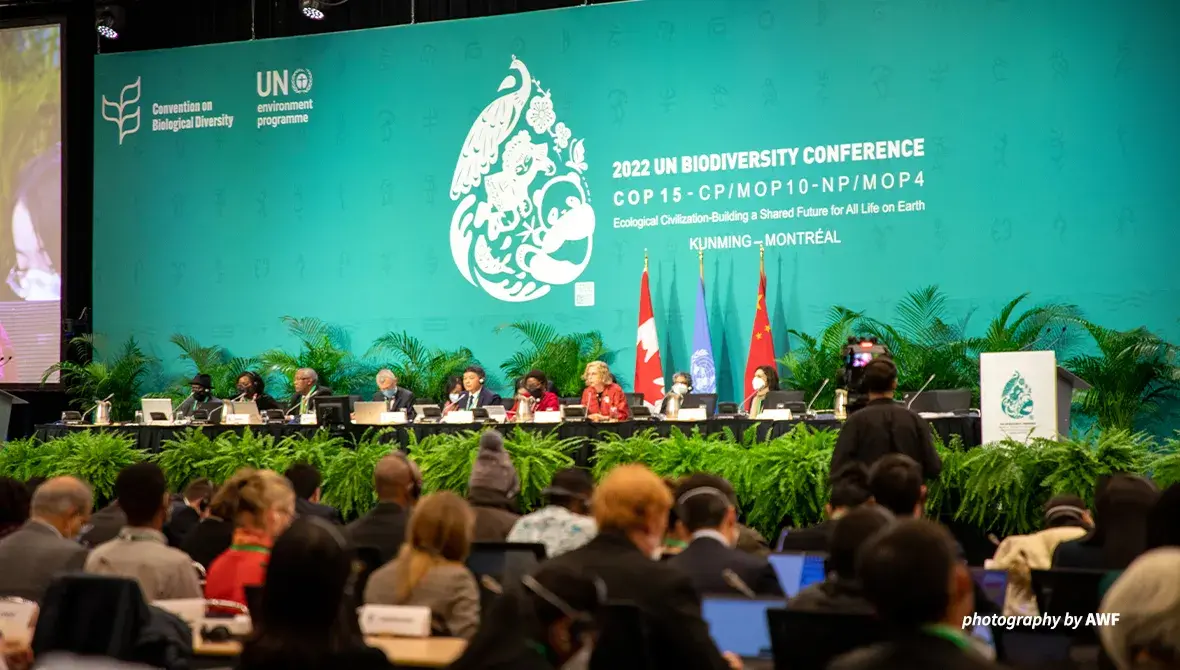 The biodiversity negotiations have officially come to an end with the adoption of the Kunming-Montreal Global Biodiversity Framework (GBF). The African Wildlife Foundation (AWF) has actively supported African negotiators, youth, and civil society in the processes for the past four years leading up to this monumental convention. Today, 196 nations came together to set the global targets to be achieved by 2030 that will enable us to safeguard biodiversity, putting people at the center of the implementation phase.
As we welcome what has been dubbed the "peace pact with nature," AWF acknowledges that The African Group of Negotiators was more actively engaged than ever before and has a solid resolve to speak with one voice even beyond the negotiations.
"Africa feels strongly that the financial commitments in this agreement must reach communities coexisting with wildlife if we are to realize the Kunming-Montreal GBF," Fred Kwame Kumah, AWF's Vice President of Global Leadership, comments from the Palais de Congress in Montreal as the sessions come to a close today. "We remain committed to supporting the efforts of African nations in the implementation phase of the GBF with a strong emphasis on the establishment of effective financing mechanisms that deliver for people such as the proposed Pan-African Conservation Trust (A-PACT) that was launched at the first ever Africa Protected Areas Congress (APAC)."
Additionally, AWF strongly agrees with the Indigenous People and Local Communities' (IPLCs') call to ensure that the framework addresses how they can access funds directly. This will ensure that their rights are respected with free, prior, and informed consent and that local and sustainable solutions to protecting natural resources are elevated significantly, bringing us closer to achieving the ambitious targets.
In this regard, AWF is committed to ensuring the Kunming-Montreal GBF is well-implemented across all sectors, contributing to sustainable development and recognizing the rights of IPLCs, women, and youth, with a human rights-based approach to conservation, elevating the role that sustainable use plays in conservation.
Moreover, AWF strongly advocates that the private sector, which was actively engaged in the negotiations more than ever before, deliver on their commitments towards safeguarding biodiversity as we strive to work with governments to set up legal administrative and policy frameworks that hold businesses accountable.
AWF also commends party negotiators for actively bringing into focus the linkages between biodiversity protection and climate change, with many of the sessions reeling in the issues and solutions that were dominant at UNFCCC COP27 last month.
AWF plans to significantly scale up our efforts in promoting public awareness and communication of the Kunming-Montreal Global Biodiversity Framework through strategic partnerships with African CSOs and other key stakeholders. We will continue working closely with political and corporate leaders on the continent to ensure that the principles in the GBF are integrated into decision-making at the highest levels, positively accelerating impactful implementation on the ground.