Exodus Travels and AWF Launch Partnership with Curated Safari Collection
Press Release
Exodus Travels and AWF Launch Partnership with Curated Safari Collection
General Inquiries
Tel:+254 711 063 000
Ngong Road, Karen, P.O. Box 310
00502 Nairobi, Kenya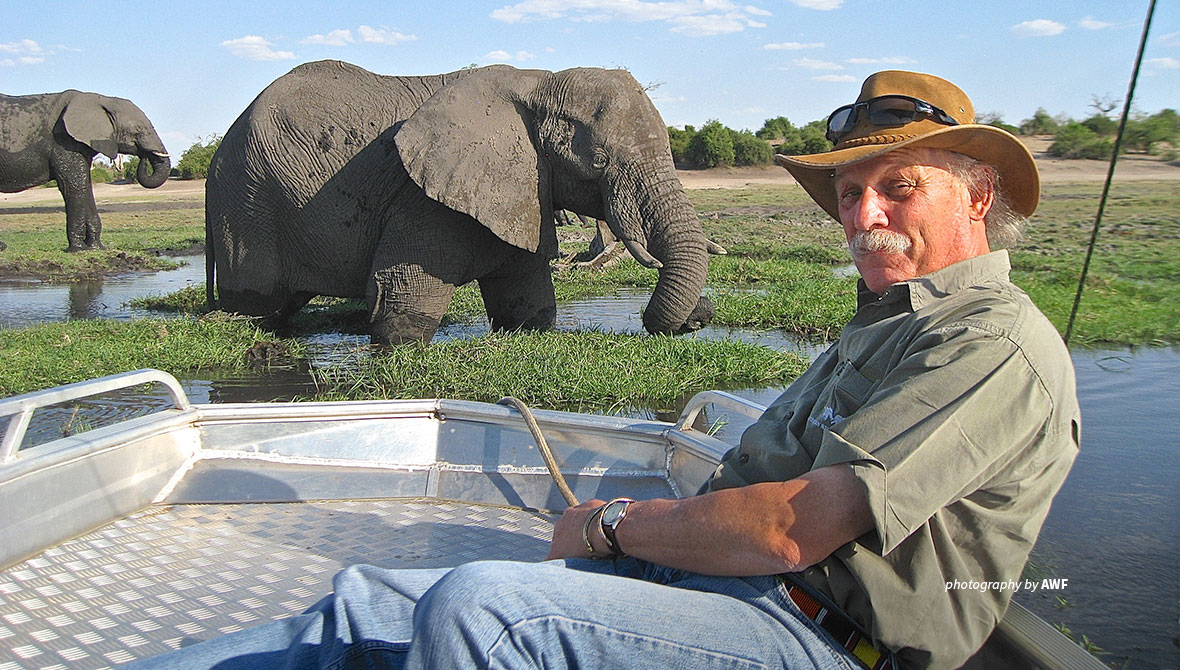 The premium safaris highlight Africa's vast wilderness along with the important conservation efforts of the African Wildlife Foundation
TORONTO AND WASHINGTON, D.C. — Exodus Travels today announced a new partnership with the African Wildlife Foundation (AWF). This portfolio of carefully curated luxury adventures offers travelers the chance to go behind the scenes of regular safaris and learn from wildlife experts about gorilla conservation in Uganda, conserving elephants and elephant habitat in Zimbabwe, and protecting a fragile population of wolves in the historic highlands of Ethiopia.
Since 1961, AWF has been helping local communities to recognize the benefits of conserving wildlife, rather than viewing it as a threat to their livelihoods. The organization is revered globally for its work to ensure conservation strategies work for wildlife and people. Not only will travelers on these safaris witness Africa's extraordinary creatures firsthand, but they'll also experience VIP access into AWF projects across the continent and meet with the incredible people and personalities making a difference along the way.
"During these times, supporting incredible, like-minded organizations such as the African Wildlife Foundation is more important than ever before," says Robin Brooks, Marketing Director for Exodus Travels. "We are honored to join forces with such an incredible group of people and their efforts through this partnership and as with all Exodus adventures across the globe are dedicated to ensuring tourism dollars are used responsibly to support regenerative and sustainable initiatives and organizations that benefit destinations and the communities within."
Each itinerary will be led by one of AWF's knowledgeable conservationists, Carter Smith and Craig Sholley. With decades of experience, their passion for wildlife conservation and the people of Africa make for a truly once-in-a-lifetime adventure with them at the helm. To highlight their exceptional careers, Carter worked with Sir Iain Douglas-Hamilton at Save the Elephants, spent years rehabilitating birds of prey in the bush, and owned her own safari company; while Craig studied mountain gorillas with Dian Fossey at Rwanda's celebrated Karisoke Research Centre, was a scientific advisor for the award-winning IMAX film, Mountain Gorilla and currently serves as the Senior Vice President of AWF.
Safaris will begin departing as of September 2021 with bookable trips that run in both 2021 and 2022. Exodus is committed to responsible, regenerative, and sustainable small-group tours to ensure that every adventure they run is a beneficial experience for everyone involved, most importantly the local community. As part of this partnership, Exodus will donate a portion of each sale back to AWF for one if its local projects. Collection details and highlights listed below.
Virtual Safari
To bring the joy of an AWF Safari to as many people as possible, Exodus and AWF will be hosting a free virtual safari from Uganda on Thursday, March 25 at 1 pm EST. Those interested can sign up on the Exodus Travels Facebook Page and join the safari remotely, from anywhere in the world.
"When I started designing safaris in Africa nearly two decades ago, I never imagined I would be creating safaris for an online audience," said AWF's Carter Smith. "Our virtual safaris have exceeded my expectations during the pandemic, in terms of lifting spirits, creating a platform to reminisce, and allowing us to dream of a time we will travel again. It is rewarding to bring the beauty of these countries to people who cannot travel, as well as connect individuals with AWF conservationists."
View the Collection
Extraordinary Ethiopia: Highlands and Beyond
Explore Ethiopia with the AWF and discover remote Bale Mountains National Park—home to the rare Ethiopian wolf and over 300 species of birds. Visit the Simien Mountains National Park where the engaging gelada baboons reside. Ethiopia is celebrated for its legendary historical sites, including some of the earliest churches known to Christendom in Lalibela and the royal castles of Gondar. Guests will learn more about the AWF's important work with a stay at Limalimo, a conservation enterprise lodge developed by AWF, and visit an AWF Classroom Africa school, which provides primary education for local children. For more itinerary highlights, click here.
Namibia Flying Safari
This Namibia safari explores some of the most remote areas of the country — areas rarely explored by others, making this a true journey of discovery. From the dunes of Sossusvlei to the dramatic coastline of the Skeleton Coast, littered with historic remnants of shipwrecks, and remote Etosha National Park, home to white and black rhinos and more than 340 species of birds, this safari covers a lot of ground, and is filled with memorable experiences. For more itinerary highlights, click here.
Uganda: Great Apes & Wild Savannas
Uganda is a diverse country, green and tropical, with savannahs, forests, lakes, branches of the Nile and snow-covered peaks. Enjoy the convenience and comfort of scenic bush flights to the remote wildlife savannas of Kidepo Valley, the Nile River, Murchison Falls and the Bwindi Impenetrable Forest. Guests will also track chimpanzees and gorillas on foot, take game drives among herds of buffalo and zebra and enjoy private boat cruises on the Nile, to see elephants, giraffes, hippos, crocodiles, and the rare shoebill. For more itinerary highlights, click here.
Zimbabwe, the Wild Zambezi & Victoria Falls
Join this special departure with AWF and experience an anti-poaching unit in action; track rhinos in populations supported by AWF; and visit Lupani, an AWF Classroom Africa school. Travelers will spend two full days in Savé Valley Conservancy, a vast private reserve home to plains game and one of Africa's largest populations of black and white rhino. Travelers will also have a chance to view hippos and crocodiles, during a relaxing Zambezi River cruise. For more itinerary highlights, click here.
Learn more about Exodus' AWF Collection
About Exodus Travels
Celebrating 45 years and winner of the 2019 National Geographic Traveler Reader Awards, leading adventure tour operator Exodus has a vast range of adventure and activity holidays across seven continents, offering places as diverse and as exhilarating as Kilimanjaro, Machu Picchu, the Ice Hotel and Antarctica. We have hosted over 250,000+ travelers on adventures across the globe. Whether it is solo travelers, couples, groups or families, Exodus offers an incredible choice of trips for all ages and activity levels. Operating in 100+ countries with 600+ tours, Exodus insists on low impact tourism and contributing to local communities. Learn more at ExodusTravels.com.
About African Wildlife Foundation
The African Wildlife Foundation is the primary advocate for the protection of wildlife and wild lands as an essential part of a modern and prosperous Africa. Founded in 1961 to focus on Africa's conservation needs, we articulate a uniquely African vision, bridge science and public policy, and demonstrate the benefits of conservation to ensure the survival of the continent's wildlife and wild lands.
AWF MEDIA CONTACTS: For more information or to arrange interviews contact: Wambui Odhiambo of AWF in Nairobi, Kenya at wodhiambo@awf.org or +254 728 886987 or Patrick Mitchell of AWF in Washington, D.C. at pmitchell@awf.org or phone +1 202-441-7647.
EXODUS MEDIA CONTACTS: For more information or to arrange interviews contact: Ally Carlson of Exodus Travels at ally@bannikin.com or phone 905-424-5411.