New York Grade Schoolers Publish Children's Book Instilling Conservation Values
New York Grade Schoolers Publish Children's Book Instilling Conservation Values
General Inquiries
Tel:+1 888 494-5354
1100 New Jersy Ave SE, Suite 900
Washington, DC 20003, USA
BROOKLYN, N.Y. AND WASHINGTON, D.C. (June 24, 2020) – At PS 107 in Brooklyn, the PTA goes above and beyond its routine work by making a special contribution to the global community. Each year, the "Beast Relief" committee at PS 107 partners with a leading wildlife conservation group to publish a children's book about an endangered species. The books are written and illustrated by the fifth graders at PS 107, with all proceeds going to help protect wild animals and wildlands. African Wildlife Foundation today announced its hot-off-the-press collaboration with the kids from PS 107: "One Special Lion: The Story of Sion," about a lion pride from Manyara Ranch Conservancy in Tanzania.
"One Special Lion: The Story of Sion" teaches children the important ways that a lion's life in Africa benefits both the natural ecosystem and neighboring human populations. Told through the eyes of the main character, a 14-year old lioness named Sion, the story is conveyed with beautiful illustrations from the fifth-grade class at PS 107. Included is a foreword by former Tanzania President H.E. Benjamin W. Mkapa, who explains why protected areas in Africa also depend on human livelihood and sustainable development for survival.
AWF Board of Trustees Member Lynn Dolnick, said: "I am so proud of AWF's collaboration with the talented kids at PS 107. Their artwork is so beautiful. Popularized by television and film, lions transcend every culture. We all love lions, in particular our children. But now more than ever, lions in Africa face growing existential risks from habitat loss, illegal poaching, and human-wildlife conflict. With travel bans halting wildlife tourism and lockdowns from the coronavirus pandemic in protected areas, communities that work to protect lions are in need of emergency assistance. Proceeds from 'One Special Lion' will help AWF programs in Tanzania."
Katherine Eban, founder and co-chair of Beast Relief, said: "We hope that One Special Lion will help AWF in its critical educational and hands-on mission to help lions and that other children will read the story of Sion, and come to love and cherish the New Wazi pride in Manyara Ranch as much as PS 107's fifth graders do."  
Isobel Levenson, PS 107 student and co-author of "One Special Lion: The Story of Sion," said: "The book-writing project helped me to understand what is happening to lions. I really want to help these lions, and I'm so happy the book will do that!  The best part is that I got to write, draw, and do this with my friends so it's a memory I will carry forever."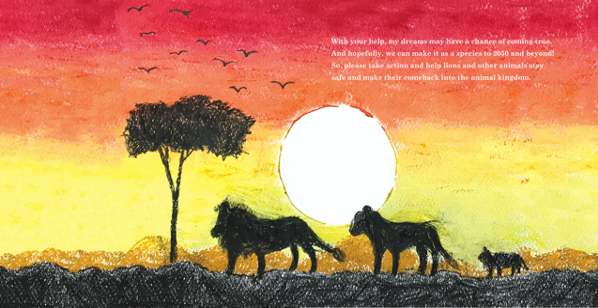 One Special Lion: The Story of Sion
For Amazon.com ordering information visit: www.awf.org/sion. To request a review copy of "One Special Lion: The Story of Sion," members of the news media should contact Patrick Mitchell of AWF at (202) 991-7508 or pmitchell@awf.org.
All proceeds from the book sale will go to support AWF's lion conservation work, including at Manyara Ranch and the important communities and primary school adjacent to the ranch, which helps to ensure the ongoing protection of lions in the Tarangire and Lake Manyara landscapes in Tanzania.
African Lion Resources
More information on African lions and conservation challenges is available at https://www.awf.org/wildlife-conservation/lion. 
AWF has a long history of success in lion conservation. In Tanzania's Manyara Ranch, AWF tags lions with high-tech collars equipped with radio transmitters to track the animals' natural movements. This allows scientists and conservationists to monitor for potential disease outbreaks, home range, productivity, behavior, habitat use, survival, predator-prey interactions, and ultimately population estimates.
About African Wildlife Foundation
The African Wildlife Foundation (http://www.awf.org) is the primary advocate for the protection of wildlife and wildlands as an essential part of a modern and prosperous Africa. Founded in 1961 to focus on Africa's conservation needs, we articulate a uniquely African vision, bridge science, and public policy, and demonstrate the benefits of conservation to ensure the survival of the continent's wildlife and wildlands.