Organizational Updates
Uganda Wildlife Authority to Benefit from Cybercrime Investigations Training
General Inquiries
Tel:+254 711 063 000
Ngong Road, Karen, P.O. Box 310
00502 Nairobi, Kenya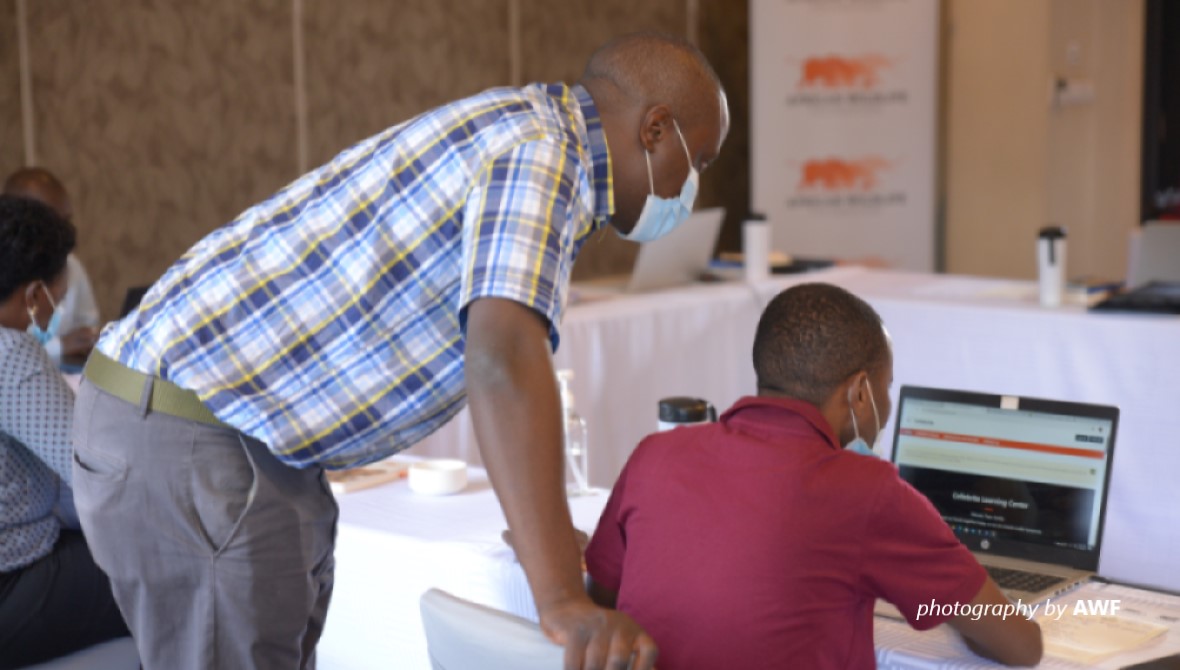 KAMPALA, UGANDA (APRIL 15, 2021) – African Wildlife Foundation (AWF) has partnered with the Ugandan government and digital intelligence firm Cellebrite to train and certify wildlife law enforcement officers from Uganda Wildlife Authority on mobile forensic investigations to enhance inhouse investigation capacity in the context of illegal wildlife trade. The ongoing COVID19 pandemic has driven wildlife crime online with the acceleration of technology-powered communication and financial transactions, forcing law enforcement officers to develop new tactics to mitigate these emerging threats.
AWF, in collaboration with Uganda Wildlife Authority (UWA), have enlisted the services of Cyber Security Africa, a local partner of Cellebrite, to conduct three modules: Cellebrite Mobile Forensic Fundamentals (CMFF), Cellebrite Certified Operator (COO), and Cellebrite Certified Physical Analyst (CCPA). The training will take place from April 16, 2021 to April 23, 2021, at Mestil Hotel Nsambya in Kampala, Uganda.
The AWF workshop is intended to address any gaps and shortcomings that frontline law enforcers may have as first responders to wildlife crime scenes containing digital and electronic evidence. Participants will sharpen their skills in the proper identification, acquisition, storage, chain of custody and case management of digital evidence.  The workshop will help to ensure that wildlife crime investigations incorporate digital evidence in order to achieve successful prosecution and deterrent sentencing.
"This training will develop UWA officers' competence in dealing with cybercrime activities, and will certify them to give expert evidence and as well secure sentences while using electronic evidence," said Ernest Agina, cybercrime investigations manager, at AWF.
The AWF cybercrime program was launched in 2019 with Kenya and Uganda as the focal countries. Past trainings have been carried out in Nairobi, Kenya, with Kenya Wildlife Service (KWS).
About Cellebrite
Cellebrite is an Israeli company that manufactures data extraction, transfer and analysis devices for cellular phones and mobile devices. Cellebrite enables investigators to capture insights in today's complex, digital world. Its digital intelligence platform provides a complete and objective picture of evidence, empowering agencies and investigators to solve and close cases faster than ever.
About African Wildlife Foundation
The African Wildlife Foundation is the primary advocate for the protection of wildlife and wild lands as an essential part of a modern and prosperous Africa. Founded in 1961 to focus on Africa's conservation needs, we articulate a uniquely African vision, bridge science and public policy, and demonstrate the benefits of conservation to ensure the survival of the continent's wildlife and wild lands. 
AWF MEDIA CONTACTS: To arrange interviews and for more information, please contact Nasasira Bridget, Field Communication Intern, AWF, Kampala, Uganda at BNasasira@awf.org or +256789316435, or Wambui Odhiambo, Media Specialist, AWF, Nairobi, Kenya at WOdhiambo@awf.org or +254728886987.