Virungas
Overview
The Virunga mountains straddle Rwanda, Burundi, the DRC, and Uganda and include three national parks. This landscape has global biodiversity significance and is ranked by the IUCN as having the highest priority for conservation in Africa. Our current work here is focused on our partnership with the Rwandan government to restore Volcanoes National Park.
AWF's History in the Virungas
The rebound of the world's precious mountain gorilla population from only a few hundred at the lowest point to over 1,000 today is one of conservation's most celebrated victories and a testament to the value of decades of investment in conservation leadership. Although the iconic great apes' conservation status remains fragile, African Wildlife Foundation's role in this success story — intricately linked to our vision for African leadership — represents one of our proudest chapters.
For more than four decades, AWF has partnered with the Rwandan government and has been a leader in mountain gorilla conservation. In 1981, AWF was one of the founders of the Mountain Gorilla Project. For a decade, AWF led the project in developing anti-poaching programs, supporting park planning, instituting community education programs, and implementing Rwanda's ground-breaking gorilla tourism industry. In 1991, AWF and partners expanded the Rwandan country-level program to create the International Gorilla Conservation Program — a transboundary program focused on conservation throughout the species' entire range. In 2007, AWF financed and developed Rwanda's first luxury community-owned enterprise—Sabyinyo Silverback Lodge.
AWF's Senior Vice President and mountain gorilla expert, Craig Sholley believes that the partnership with the government — and ultimately the government's leadership in this area — has culminated in the success we are seeing today: "The course of our early mountain gorilla conservation efforts, from the first days, through the transfer of the Mountain Gorilla Project to the Rwandan government, through today, a time in which the Rwandan government is arguably leading the way in African wildlife conservation — all of this I believe proves the wisdom of AWF's founding vision, that conservation, to be successful, must be led by and owned by Africa's people and governments."
Today, AWF is supporting the Rwandan government — including the Rwandan Development Board — to address the needs of a growing mountain gorilla population in ways that also improve the lives of people living throughout the Volcanoes National Park region.
The Challenge Today
With conservation success, new challenges face Rwanda's mountain gorillas
Thanks to decades of successful conservation and development interventions, mountain gorillas are the only great ape whose population is increasing. These magnificent apes are viewed as a valued cultural and natural resource by the people living around the park. However, this conservation success is now posing a significant challenge: adequate space.
With one of Africa's highest population densities, available land is an issue facing both Rwanda's people and its gorillas. Today, gorilla families frequently roam outside the park boundary, putting them in direct conflict with people and exposing them to threats like deadly diseases. These and other threats represent a critical challenge to the long-term viability of the species.
Meeting the Challenge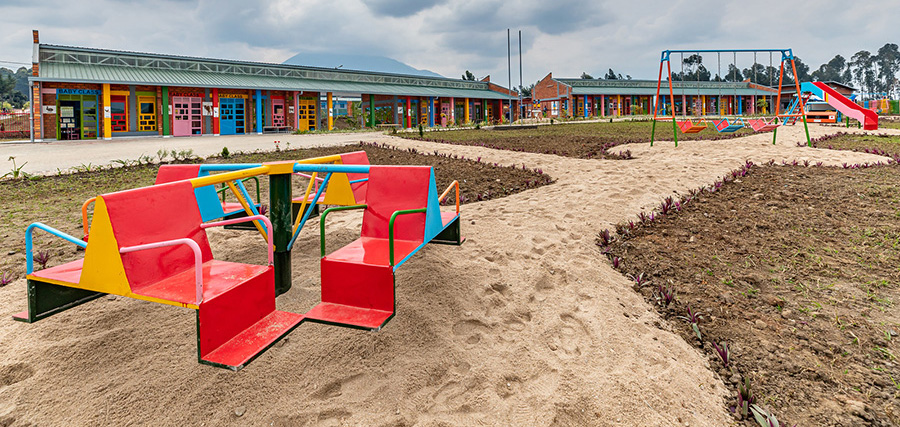 Our solutions to protecting Rwanda's unique biodiversity include:
A pioneering program to benefit mountain gorillas and communities
Recognizing the need to restore Volcanoes National Park to support the mountain gorillas and to maintain the thriving tourism industry, the Government of Rwanda, with AWF's support as technical advisor, has developed a holistic vision to strategically restore Volcanoes National Park and continue to improve the lives of Rwandans. The government's vision includes restoring park habitat, enhancing biodiversity, and promoting an improved tourism experience that will increase park revenues, support employment, spin-off businesses, and enhance the quality of life and economic opportunities for Rwandans living in the surrounding area.
This innovative new strategy is projected to:
Restore 3,740 hectares (37.4 square kilometers) of degraded park space.
Restore mountain gorilla habitat to support a 15-20% increase in population and reduce the number of human-wildlife conflicts by a projected 80%.
Improve conservation-based tourism resulting in a 20% increase in mountain gorilla viewing opportunities.
Improve the quality of life for more than 17,000 Rwandans living around the national park through improved schools and more than US$ 140 million investment in social housing and infrastructure.
Provide skills development and jobs for more than 7,500 Rwandans within the tourism, construction/trades, agriculture, and service sectors.
In 2018, AWF took the first important step in this groundbreaking initiative by donating 27.8 hectares of land to the Rwandan government — who added it to the park, increasing park coverage for the first time in 30 years.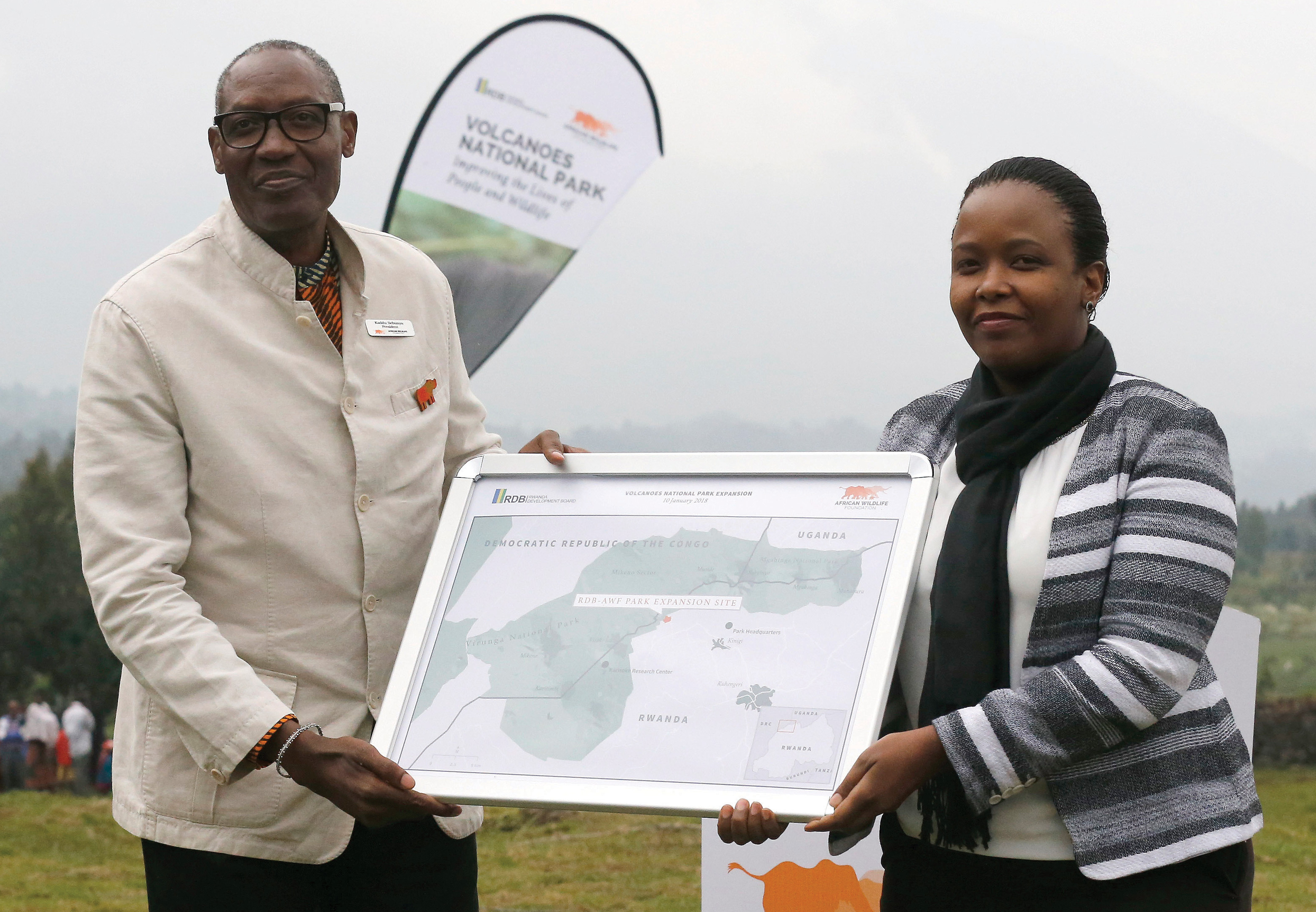 The area is now being restored using bamboo and other native species, creating habitat for wildlife, reducing erosion risks from flooding and setting, marking the first expansion of park boundaries in over three decades, and establishing a significant precedent for ecosystem restoration.
Establishing a conservation model for the world
We are now working with communities, the Government of Rwanda, the private sector, and civil society partners to design and deliver a pilot program as proof of concept — to show that efforts to restore gorilla habitat can incorporate equal investments to ensure people living around the park benefit from park restoration. This translates to involving communities in the park restoration plan process, providing housing and social benefits to communities affected by the restoration, and investing in inclusive green growth to create jobs and opportunities for people adjacent to the park.
This phase is engaging 1,016 households to restore an additional 1,080 hectares of the park to ease the population pressure in the high-density Bisoke area, and includes the following components:
Park restoration, including removal of infrastructure and alien species and restoration of indigenous species
Development of a green village — a smart village will be constructed to host the community and will include a housing component and basic infrastructures like a school, a health post, and a small market
Livelihood improvements including smart agriculture production and other income-generating activities for the community will be complemented by the support of different business plans developed by the community.
The pilot will also establish the governance frameworks, procedures, rights safeguards, and learnings required to apply for international funding for the complete park restoration. This work is informed and guided by a rigorous set of ecological, social, and economic studies and international gold standards to ensure the rights of communities are at the forefront of the entire process, resulting in a plan embraced by all key stakeholders.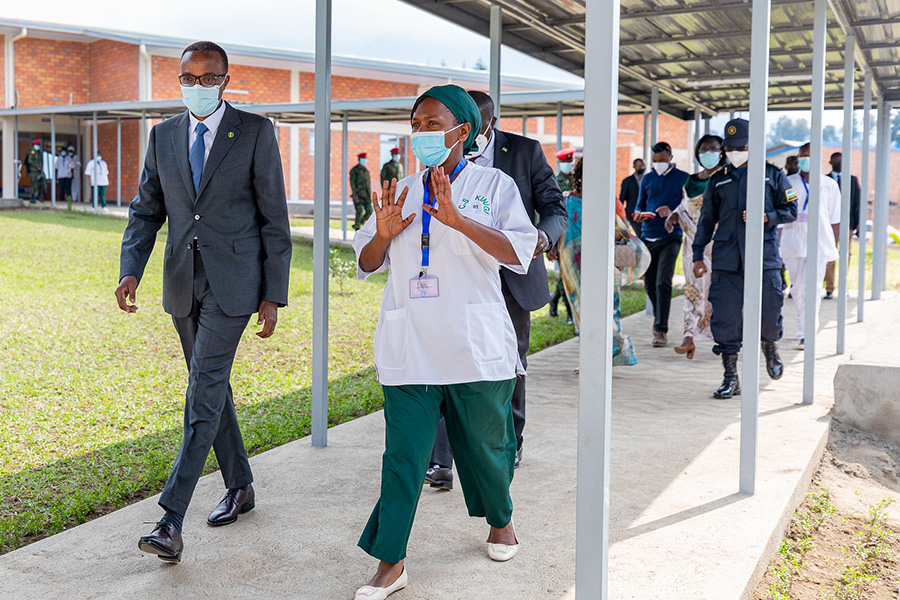 Landscape text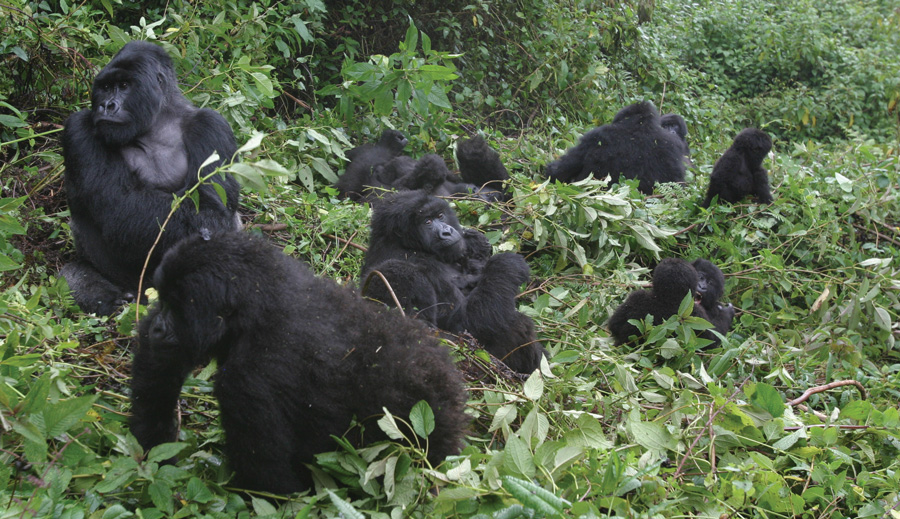 "Become a partner in this groundbreaking program and help us create a new conservation model for the world."

Learn More
The Government of Rwanda's leadership in conservation and demonstration that conservation can support economic development and the lives of its citizens is a model that should be replicated and one that AWF is proud to support. AWF is partnering with the Rwandan government, local communities, private sector and civil society organizations to translate this vision into reality.
We invite you to join us in this initiative to conserve the highly endangered mountain gorilla, while simultaneously improving the lives of thousands of Rwandan citizens who share the Volcano National Park and its surrounding area as home. Please help us purchase additional strategically identified land to further restore this vital park and demonstrate an innovative conservation and development model, not just for Africa, but for the world.