Scientific name
Olive baboon (Papio anubis) Yellow baboon (Papio cynocephalus) Sacred baboon (Papio hamadryas) Chacma baboon (Papio ursinus) Guinea baboon (Papio papio)
Weight
9 to 31 kilograms (20 to 70 pounds)
Size
50 to 76 centimeters at the shoulder (20 to 30 inches)
Predators
Humans, leopards, and cheetahs
Baboons use more than
30
distinct vocalizations
There are
5
species of baboon
Troops can have up to
300
members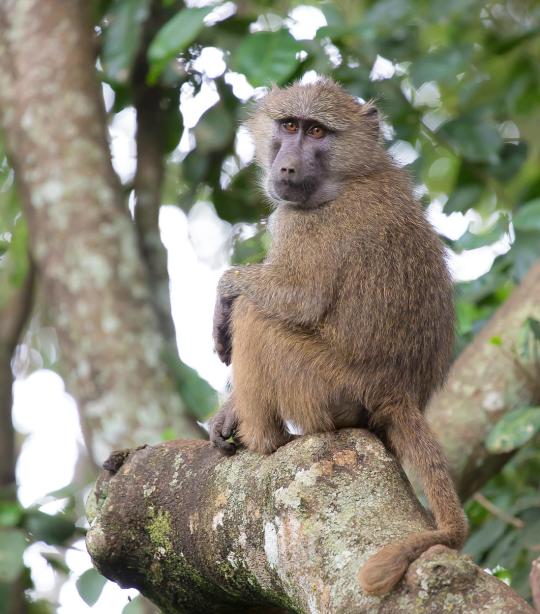 Challenges
The baboon's major predators are humans.
Baboons are often intentionally poisoned and killed because they tend to be considered as a pest species. They are also hunted for their skins—this is more common with the sacred baboon. Use of baboons in laboratories and medical research has also increased.
Baboons are losing their homes.
Habitat loss due to overgrazing, agricultural expansion, irrigation projects, and overall human settlement growth is a threat to this species.
Solutions
Our solutions to protecting the baboon:
Engage communities.
African Wildlife Foundation works with communities to develop appropriate sustainable solutions that benefit both the threatened monkey and humans. By using technology, like Geographic Information System (GIS) to identify threats, AWF can lead to more effective conservation plans. We also provide training on agricultural best practices, ensuring that communities' agriculture activities are sustainable and more productive, thereby protecting more space for baboons.
Make the connection between conservation and education.
AWF works with rural communities, living in close proximity to wildlife, to build schools in exchange for practicing conservation. In Tanzania, we rebuilt Manyara Ranch Primary School and equipped it with a full technology lab and a conservation curriculum. By working with communities to provide tangible incentives for conservation and educating future generations in conservation principles, we are able to foster a culture of conservation.