Weight
225 kilograms to 410 kilograms (500 to 900 pounds)
Size
1.2 meters at the shoulder (50 inches)
Life span
Up to 21 years in captivity. No data for in the wild.
Habitat
Rainforests, dense forests, and forest-savannas
Predators
Humans, hyenas, leopards, lions
Horns can grow up to
1
Meter long (3 feet)
Population has declined
20%
over three generations
There are
2
subspecies of bongo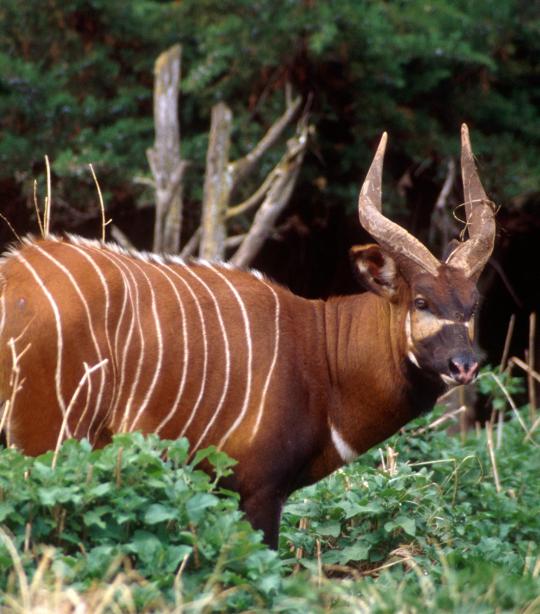 Challenges
Natural predators take their toll on bongo populations.
Young bongos are vulnerable to pythons, leopards, and hyenas. Lions have also been reported to kill bongos.
Today, the bongo's biggest threat is humans.
Even though there are taboos against eating bongo meat by locals, the lowland bongo are still subject to snare hunting due to expanding commercial forestry exploitation. They are the primary target of tourist safari hunting in central Africa, and the demand has been increasing during the past decade. Large-scale and continuous hunting has completely eliminated this species in some areas.
Solutions
Our solutions to protecting the bongo:
Set aside space for wildlife.
African Wildlife Foundation works with governments and villages to designate wildlife corridors — large swaths of land that bongos can use to roam freely and safely from one park, or country, to another. Corridors link protected areas and allow wildlife to follow rains or travel to their calving grounds without disturbing human settlements.
Provide agricultural training.
AWF engages communities living near wildlife to create sustainable practices for agricultural and settlement growth by providing training on best practices and incentivizing conservation agriculture in exchange for community members allowing local wildlife to live peacefully near their communities without encroaching on their territories.