Weight
25 to 70 kilograms (57 to 154 pounds)
Size
About 1 to 2 meters tall (3 to 5.5 feet)
Life span
Unknown but estimated to be up to 50 years
Habitat
Forests, lowland forests, swamp forests, savanna woodland
Estimated at most
300,000
remain in the wild
Communities include up to
150
individuals
Become independent at
4
years old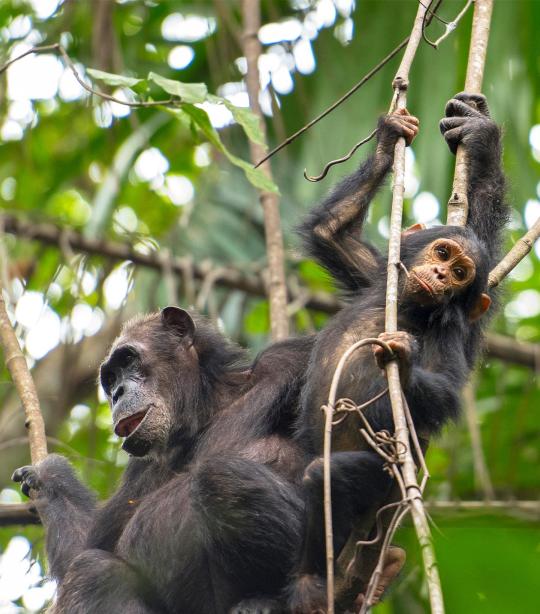 Challenges
Chimps are losing their homes.
The number of chimps in the wild is steadily decreasing. One of the main causes is the alarming rate at which forests are cut down for farming, settlements, and other activities.
The chimpanzee is hunted for bushmeat.
While bushmeat has always been a popular source of dietary protein for local communities, the scale of hunting has increased dramatically, and the activity has become heavily commercialized with much more of the meat now going to urban residents.
Solutions
Our solutions to protecting the endangered chimpanzee:
Work with communities.
African Wildlife Foundation works with local communities to provide education, and at times, incentivize conservation. For example, we built Lupani School — a conservation school in the Sekute community. AWF agreed to work with the community on the grounds they would practice sustainable agriculture and conserve their local wildlife. Also, conservation is built into the school's curriculum to teach younger generations about protecting their wildlife.
Provide agricultural training.
AWF engages communities living near chimps to create sustainable practices for agricultural and settlement growth by providing training on best practices and incentivizing conservation when appropriate.