Scientific name
Blue duiker (Cephalophus monticla) <br /> Yellow-backed duiker (Cephalophus silvicultor) <br /> Bush duiker (Sylvicapra grimmia)
Life span
Up to 12 years in captivity
Habitat
Forests, coastal scrublands, farmland, and bush
Predators
Humans, eagles, lions, and leopards
There are
21
species of duiker
Only an estimated
14,000
Ader's duikers remain
Yellow duikers can reach
80
kilograms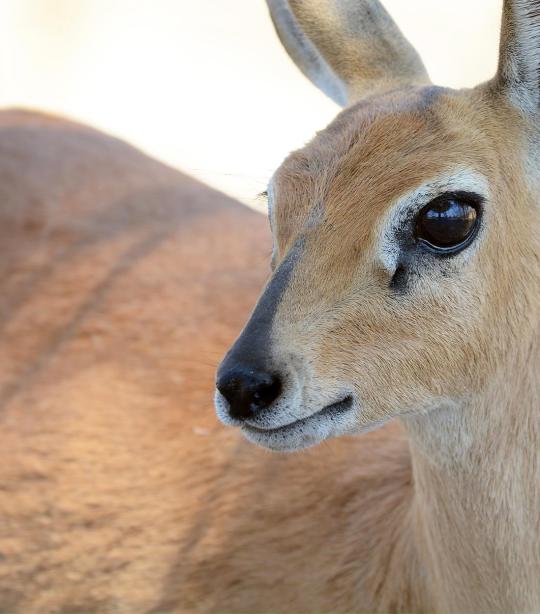 Challenges
Humans are encroaching on their habitats.
Duikers are losing their habitats to the expansion of roads, settlements, and agriculture as a result of human population growth and are being pushed into close quarters with humans.
Duikers are hunted by humans.
The animals are hunted for their meat, skins, and horns, which are popular in some areas as charms against evil spirits. Bush duikers may be hunted in reprisal for raiding crops.
Solutions
Our solutions to protecting the duiker:
Develop conservation tourism.
African Wildlife Foundation brings together communities and private investors to construct conservation tourism lodges, like Koija Starbeds Lodge, in Kenya. The lodge provides sustainable income for the community and the 500-acre conservancy is a safe home to a variety of wildlife.
Set aside protected spaces.
AWF works with governments and villages to designate wildlife corridors — large swaths of land that duikers, and other wildlife, use to roam freely and safely from one park, or country, to another. Corridors link protected areas and allow this species to follow rains or travel to their calving grounds.