Scientific name
Helogale parvula (Common dwarf mongoose) Helogale hirtula (Somali/Desert dwarf mongoose)
Weight
About 275 grams (1 pound)
Size
20 to 30 centimeters long (8 to 12 inches)
Life span
No data for in the wild; up to 10 years in captivity
Habitat
Forests, open woodlands, thickets, wooded savannahs, semi-arid areas. Wherever there are termites, rock outcroppings, or trees.
Predators
Birds of prey, snakes, jackals, and larger mongoose species.
Found in areas up to
2,000
meters in altitude
Their range can cover
75
acres
Live in groups of
20
or less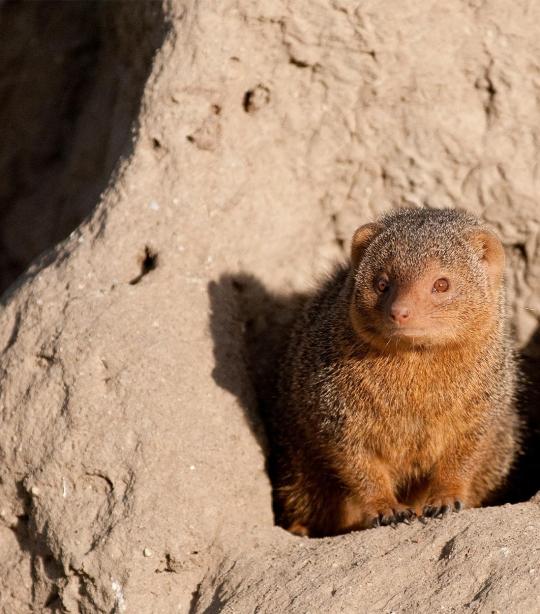 Challenges
Humans hunt mongooses.
In some regions of Africa, they are hunted for food. They are also often persecuted as a pest species because they are egg thieves in regions where their habitat is in close proximity to humans.
Solutions
Our solution to protecting the dwarf mongoose:
Expand conservation tourism.
African Wildlife Foundation brings together communities and private investors to construct conservation tourism lodges, like The Sanctuary at Ole Lentille, in Kenya. The lodge provides sustainable income for the community and the 20,000-acre conservancy is a safe home to mongooses and a variety of other wildlife.