Weight
Females: average 15 kilograms (33 pounds) Males: average 20 kilograms (44 pounds)
Size
Males: 69 to 74 centimeters (27 to 30 inches) tails add 45 to 50 centimeters (17 to 20 inches) Females: 50 to 65 centimeters (19 to 21 inches) tails add 30 to 41 centimeters (11 to 16 inches)
Lifespan
14 to 20 years in the wild; up to 30 years in captivity
Habitat
Mountain grasslands, mountains
Predators
Leopards, hyenas, feral dogs, bearded vulture, jackals, foxes, servals, humans
There are
3
subspecies of the gelada
Geladas spend roughly
99%
of their time on the ground
About
200,000
exist in the wild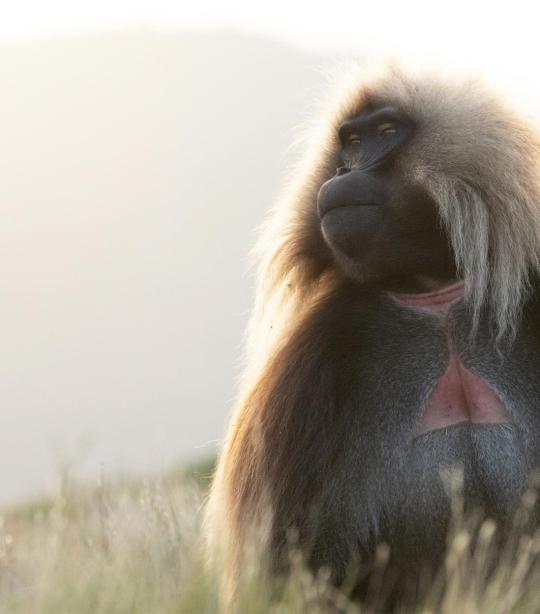 Challenges
Geladas are losing the battle for food.
As Ethiopia's agriculture expands, competition for grazing areas is increasing between the monkeys and domestic livestock. Geladas are the ones losing ground, being pushed to less productive mountain slopes. Deforestation and soil erosion are also seriously harming their food supply.
People pose a threat.
Humans also take a toll on the gelada population, shooting these monkeys when they are perceived as crop pests, or sometimes capturing them for use as lab animals. Historic records indicate their capes used to be made into fur hats for tourists though that practice is now banned, and additionally, indigenous peoples use their manes in traditional coming-of-age ceremonies.
Solutions
Our solutions to protecting the gelada:
Create income alternatives.
African Wildlife Foundation is working to establish new mechanisms for ensuring local communities' livelihoods. Our Simien Mountains Cultural Tourism project is improving infrastructure and accommodations in and around the national park. Increased revenue from community-owned and operated tourism will reduce dependence on subsistence farming.
Help communities with holistic land-use planning.
AWF works with communities to enhance livelihoods, food security, and conservation through sustainable, long-term land-use planning. We help communities understand their goals for the future and help them zone their lands in ways that will make their vision a reality and sustain it over the long term.