Scientific name
Common genet (Genetta genetta), Large-spotted genet (Genetta tigrina), Bourlon's genet (Genetta bourloni), Forest genet (Genetta servalina), etc.
Weight
1 to 3 kilograms (2 to 7 pounds)
Size
40 to 60 centimeters in length, excluding the 40 to 55 centimeter tail. (16 to 24 inches; 15 to 22 inch tail)
Life span
About 8 years in the wild; 13 to 34 years in captivity
Predators
Owls, leopards, pythons, honey badgers, humans
Native to more than
25
African countries
Eyes won't open for
10
days after birth
There are approximately
14
species identified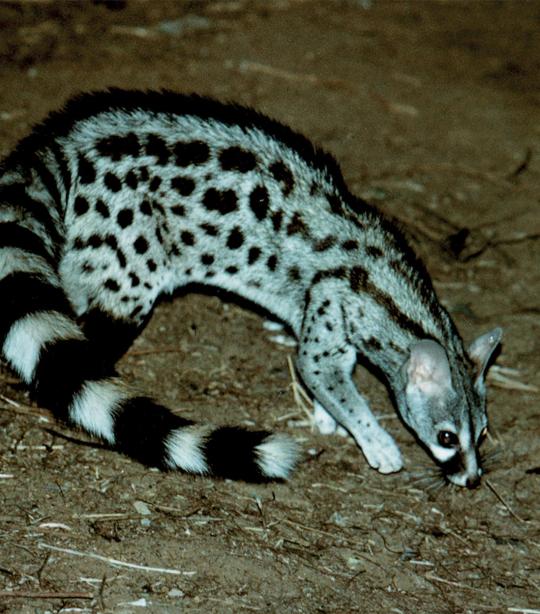 Challenges
Genets are hunted as pests.
Due to human population growth and expanding communities, some species have adapted to cultivated areas and human settlements, where they have developed a taste for poultry causing people to kill them in retaliation. Hides and tails have sometimes been found in traditional tribal clothing.
Solutions
Our solutions to protecting the genet:
Foster a conservation mindset.
African Wildlife Foundation works with communities living in close proximity to wildlife to incentivize conservation. In exchange for refraining from retaliatory killing or hunting for bushmeat, communities receive training in sustainable, and more productive, agriculture techniques that lead to enhanced food and economic security and also prevent habitat loss.
Provide income alternatives.
AWF has a long history of working with pastoralist communities to improve sustainable livelihoods. In Tanzania and Kenya, AWF, with funding from USAID, launched the Livestock for Livelihoods program. The program aims to eradicate poverty among pastoralist communities, while simultaneously protecting landscapes and wildlife. The revenue reduces pressure on the landscape by reducing the need for farming and charcoal burning, thereby freeing more space for wildlife.