Weight
29 to 58 kilograms (63 to 128 pounds)
Size
140 to 160 centimeters (55 to 63 inches)
Life span
10 to 12 years in the wild, up to 13 years in captivity
Habitat
Woodland forest to open plains
Predators
Humans, wild dogs, cheetahs, leopards, lions, jackals, servals, honey badger, caracals
An estimated
95,000
remain
Live across
5
different countries
Only
10%
occur in protected areas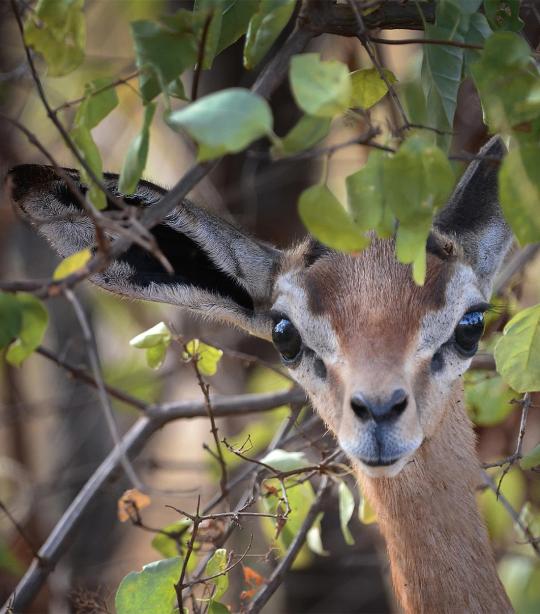 Challenges
Habitat loss and fragmentation are the biggest threats to gerenuk populations.
They are able to withstand hunting pressures to some degree, which is what has enabled them to survive widely in unprotected regions. However, as human populations grow, they expand settlements, roads, and agriculture, causing in lost or segmented habitats for this species and other wildlife. This makes it more difficult for them to find food and shelter themselves from predators. Due to these threats, populations have declined by 25 percent over the last 14 years (three generations) and is now estimated to be close to meeting the threshold for uplisting to vulnerable.
Solutions
Our solutions to conserving the gerenuk:
Work with governments.
African Wildlife Foundation engages with government entities to help plan and propose alternative solutions to habitat fragmentation by providing our scientists and researchers as resources to assist in proper planning to ensure a balance between modernization and conservation.
Expand conservation tourism.
AWF brings together private investors and communities to construct tourism lodges, like Satao Elerai, a luxury lodge situated on 5,000 acres in Kenya. The land is protected, so gerenuks and other wildlife can roam safely and freely, and the revenue is reinvested into the community and into local wildlife conservation.