Weight
75 to 200 kilograms (165 to 440 pounds)
Size
1.5 to 2.45 meters in length (5 to 8 feet) 1 to 1.5 meters at the shoulder (3 to 5 feet)
Habitat
Open plains and grassland
Predators
Cheetahs, jackals, lions, hyenas, leopards, hunting dogs, humans
There are a total of
8
recognized subspecies
Estimated population of
360,000
hartebeest
Native to over
25
African countries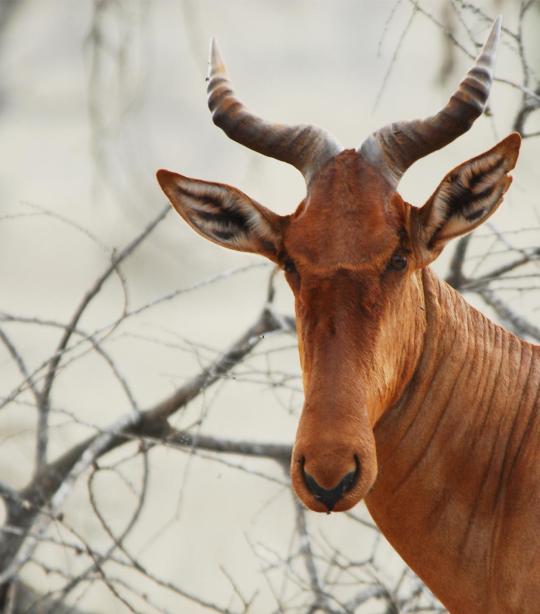 Challenges
The hartebeest is competing with cattle for food.
As human populations are growing and cattle raising expands, hartebeests have found themselves competing for the grasses they love to eat.
Hartebeests are easily hunted.
Humans are hunting the hartebeest. These large antelopes are fairly sedentary and, as such, are easy hunting targets.
Solutions
Our solutions to protecting the hartebeest:
Create more protected spaces.
African Wildlife Foundation works with governments and villages to designate wildlife corridors — large swaths of land that hartebeest use to roam freely and safely from one park, or country, to another. Corridors link protected areas and allow wildlife to follow rains or travel to their calving grounds in safety.
Provide livestock management training.
AWF financed The Linking Livestock Markets to Conservation initiative in Kenya. With this project, pastoralists have improved their livelihoods through a partnership with Ol Pejeta Conservancy, which links pastoralists to premium livestock markets and provides high prices to those who adhere to conservation criteria, thereby reducing overstocking, rangeland degradation, and resource competition for wildlife while simultaneously increasing revenue for pastoralists.