Scientific name
Hippopotamus amphibius: Common Hippo; Choeropsis liberiensis: Pygmy Hippo
Weight
Common Hippo: 1.4 to 5 tons; Pygmy Hippo: 160 to 275 kilograms (352-606 pounds)
Size
Common Hippo: 2 to 5 meters in length (6 to 16.5 feet) and stand about 1.5 meters tall (5 feet); Pygmy Hippo: 1.5 to 1.75 meters in length (about 5 feet) and stand about 1 meter tall (3 feet)
Life span
Up to 50 years in the wild
Habitat
Wetlands, rivers, and swamps
Gestation
Common Hippo: Average 10 months; Pygmy Hippo: Average 6.5 months
Predators
Humans, lions, crocodiles, hyenas
Native to over
30
African countries
Hippos often weigh only
55
kg when born
More than
95%
of population lost in DRC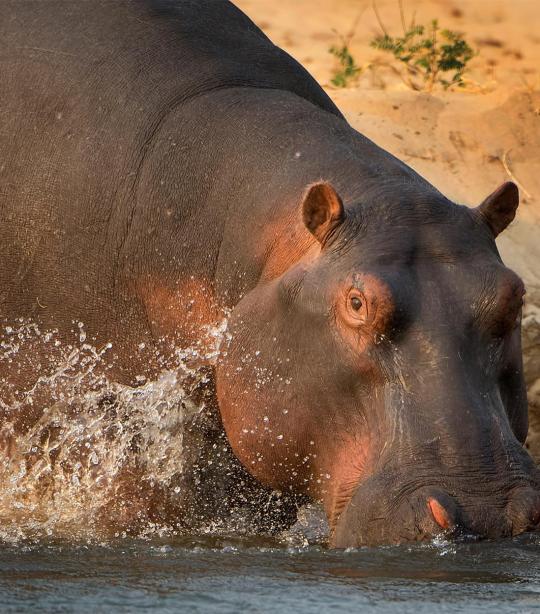 Challenges
Hippopotamus populations are threatened by hunting.
Hundreds of hippos are shot each year to minimize human-wildlife conflict, despite the fact that ditches or low fences easily deter them. It is more likely that the popularity of their meat is the reason for this strategy. Their fat and ivory tusks are also valuable to humans. At the beginning of the 21st century, the population of the common hippo declined more than 95 percent in the Democratic Republic of the Congo. In 2002, about 5.5 tons of hippo teeth were exported from Uganda, which equates to an estimated 2,000 individual animals. Hippopotamus teeth have been excluded from many of the strengthened ivory bans now spreading across the world making this vulnerable species at an increased risk from ivory poachers.
While the pygmy hippo is not generally a primary target for subsistence hunting, they are reported to be hunted opportunistically by bushmeat hunters.
Humans are pushing hippos out of their habitats.
As human populations grow, they encroach on wildlife habitats as they build new settlements, increase agricultural production, and construct new roads. The hippopotamus once ranged from the Nile Delta to the Cape, but now is mostly confined to protected areas. The primary threats to both hippopotamus species are habitat loss and deforestation.
Solutions
Our solutions to conserving the hippopotamus:
Engage communities.
African Wildlife Foundation helps communities build enclosures, fences, and construct ditches to protect agriculture and farmland from grazing hippos, thereby minimizing human-wildlife conflict.
Create protected spaces.
We strengthen and protect the hippo's habitat by providing funding and improving infrastructures of parks, such as the Lower Zambezi National Park. Located along the Zambezi River, Lower Zambezi National Park is a critical habitat for hippos, elephants, African wild dogs, cheetahs, and more. AWF worked with Zambia